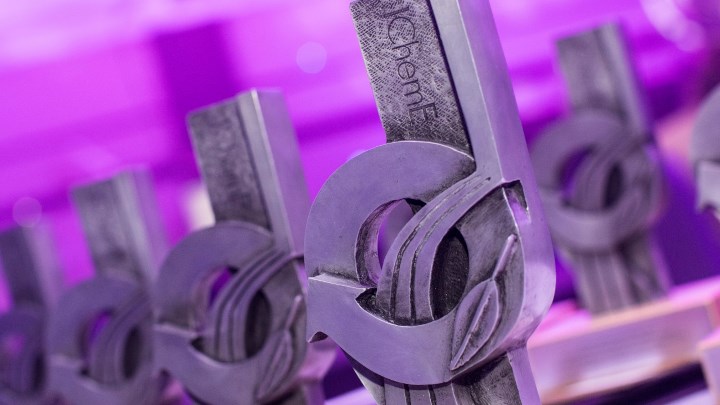 MALAYSIAN energy group Petronas is in the running for more than ten IChemE Global Awards, accolades that celebrate professional excellence, positive environmental impact, process safety, societal benefit, and other key qualities.
More than 100 people and projects demonstrating excellence in chemical, biochemical, and process engineering made the shortlist for the 2023 Global Awards, widely recognised as the world's most prestigious chemical engineering awards.
Up for both the Energy Award and the Industry Project Award is the "Petronas PEM Electrolyser – the Hydrogen Game Changer". Developed in just three years from ideas to commercial product, the advanced PEM hydrogen electrolyser is claimed to be "game-changing" technology for green hydrogen production, achieving a cost of US$4/kg with a 14% reduction in power demand. It was developed through collaboration between researchers and engineers from Universiti Kebangsaan, Malaysia and Petronas.
Universiti Teknologi Petronas, Malaysia, which is wholly owned by Petronas, is also in the running to win multiple awards, including the Research Project Award for its solar-integrated digester and aerobic composter (SIDAC). The SIDAC is a mini circular economy-based facility that treats waste produced at home and/or at community scale level to generate biomethane suitable for heating applications or for use as biofertilizer. Offering a cheaper and environmentally friendly alternative to urea, it exploits solar energy and abundant, nutrient-rich organic waste.
Petronas is further represented in the two individual awards categories.
Mohamad Fakhrul Ridhwan Samsudin, an executive researcher in process technology at Petronas Research, is up for the Young Industrialist gong. Samsudin has received more than 30 awards, published more than 30 articles, reviewed more than 400 articles, and holds three intellectual properties.
A finalist for the Young Researcher Award is M Devendran Manogaran, a research officer and part-time PhD student attached to the HiCOE-Centre for Biofuel and Biochemical Research at Universiti Teknologi Petronas. Manogaran was an integral member in developing the SIDAC, which supports multiple UN sustainable development goals (SDGs), particularly affordable and clean energy (SDG 7). Less than two years into his PhD candidacy, he has co-authored more than ten journal articles and won more than ten innovation competitions.
Keith Batchelor, chair of the IChemE Global Awards volunteer judging panel, paid tribute to the finalists, among them Rolls Royce SMR, ExxonMobil, University of Oxford, and Saudi Aramco. "The Global Awards recognise the fantastic achievements of chemical engineers around the world as our profession focuses on tackling our global challenges and creating a more sustainable future," said Batchelor. "I've been delighted by the innovative and varied projects submitted to the panel this year, all demonstrating why chemical engineering really matters, and our thanks go to every entrant, as well as our rigorous judges. Our peer-reviewed awards are a real accolade within the profession, and I look forward to seeing our finalists at the awards ceremony so that we can celebrate the highest standards in chemical engineering."
Winners in the two individual categories and 17 organisation categories from 23 countries will be announced at a ceremony at the Hilton Metropole Birmingham, UK on 30 November. Each organisation category winner will also be in with a chance of scooping the top prize – the Outstanding Achievement in Chemical and Process Engineering Award, which goes to the standout entry across all categories.
The Global Awards ceremony is one of the largest gatherings of chemical and process engineers in the UK. This year's event will be hosted by football legend and former England national team manager, Kevin Keegan.
Find out more about the Global Awards on the IChemE website.
2023 Global Awards finalists
Best Consultancy Award
Abbott Risk Consulting, UK – Abbott Risk Consulting
Axiom, UK – Process Safety in a Complex World
DJS Process Consulting, UK – DJS Process Consulting
Kent, UK –Kent 
Worley Group, US – Debottlenecking of Softwater Brine System
Worley Group, US – Automation of Engineering Design Steps
Biochemical Engineering Award (Sponsored by DPS Group)
HiCOE-Centre for Biofuel & Biochemical Research; Universiti Teknologi PETRONAS, Malaysia – Solar-integrated Anaerobic Digester and Aerobic Composter
University of Tennessee at Chattanooga, US – Pathogen Watch in Food Manufacturing
Business Start-up Award (Sponsored by Sellafield Ltd)
Basecamp Research, UK – Predictive Biocatalysis through Biodiscovery and AI
Ohmium International, UK – Accelerating the Adoption of Green Hydrogen
ReVentas, UK – ReVentas Reinvent Plastic Waste
Rolls Royce SMR, UK – Rolls Royce SMR: Clean, Affordable Energy For All
University of Oxford; Oxsed, UK – Rapid Test for Covid-19
Diversity and Inclusion Award (Sponsored by Harbour Energy)
Exxon Mobil, UK – Promoting Workplace Pride
Petroliam Nasional Berhad (Petronas), Malaysia – Embracing Diversity: Moving Forward Together
Petroliam Nasional Berhad (Petronas), Malaysia – Leap of Faith: Embracing Neurodiversity
PM Group, Ireland – PM Group's Blueprint for Inclusion Success
WSP, UK – WSP: Diversity and Inclusion Award
WSP, Canada – WSP: Water and Wastewater Prairies 
Energy Award (Sponsored by Rolls-Royce)
Johnson Matthey, UK –JM's eMERALDTM Methanol
Nuada, UK –Nuada Carbon Capture
Ohmium International, UK – Accelerating the Adoption of Green Hydrogen
PETRONAS; Universiti Kebangsaan, Malaysia – Petronas PEM Electrolyser - The Hydrogen Game Changer 
Rolls Royce SMR, UK – New Nuclear, New Ideas - Delivering a Small Modular Reactor Island
University of Manchester, UK; Ganjiang Innovation Academy, Chinese Academy of Sciences, China; The University of Melbourne, Australia – Hydrogen From the Air
Industry Project Award (Sponsored by adi Group)
Johnson Matthey, UK – JM's eMERALDTM Methanol
PETRONAS; Universiti Kebangsaan, Malaysia – PETRONAS PEM Electrolyser - the Hydrogen Game Changer
RAS; Croda Europe, UK – Collaborative Approach to Process Safety Integration
RJM International; Ince Bio Power, owned by Evero, UK – Delivering Performance Improvements for EfW Site
Worley Group, US –Capacity Increase Through Existing Clarifiers
Worley Group, US – Novel Industrial Gas Recovery Project
Innovative Product Award
DOW, China – SPECFLEX Microcellular Polyurethane Powering Sustainable Mobility
DOW, Germany – Low Emissions DOW ENDURANCE HFDD-4201
DOW Silicones, China – Immersion Cooling Technology Revolutionises Heat Management
Nuada, UK – Nuada Carbon Capture
Pulpex, UK – Pulpex - The Future of Sustainable Packaging
University of Oxford; Oxsed, UK – Rapid Test for Covid-19
Nuclear Engineering Award
Michigan State University, US – Hydrogen Recombiner Implementation at FRIB
Rolls Royce SMR, UK – Bore Off! Designing a Commercial Pressurised Water Reactor Without Soluble Boron
Rolls Royce SMR, UK – New Nuclear, New Ideas - Delivering a Small Modular Reactor Island
Sellafield Ltd; Shepley Decontamination Services, UK – Hydro-Cyclone Unblocking Using High-Pressure Water Jetting
Sellafield Ltd, UK – Replacement Analytical Project (RAP), An Exercise in Flexibility and Team Work
Oil and Gas Award
Kent, UK – Kent's Carbon Intensity Reduction Package
PETROLIAM Nasional Berhad, Malaysia – Tank Internal In-Service Robotic Inspection (TIIRI)
Saudi Aramco, Saudi Arabia; Clariant, US – Novel Chemicals for Iron Sulfide Mitigation
Saudi Aramco Process & Control Systems Department, Saudi Arabia – Saudi Aramco's Process Digital Twin Program
Trinidad Petroleum Holdings, Trinidad and Tobago– Continued Operation Assurance
Universiti Teknologi PETRONAS, Malaysia – Hollow Fiber Membrane Prediction Program
Pharma Award (Sponsored by Bouygues)
Eli Lilly, US; Imperial College London; University College London; Queen Mary University London, UK – Smart Experiments for Pharmaceutical Process Development
Hovione Farmaciência, Portugal – Digital Twin for Design of Continuous Tableting Processes
University of Cambridge; Cambridge Cares, Singapore; Computational Modelling Cambridge (CMCL), UK – Digital Lab Framework - The World Avatar
University of Strathclyde; National Physical Laboratory (NPL), UK – Continuous Micro-Feeder for Pharmaceutical Materials
Process Automation and Digitalisation Award
Aramco Americas, US – Automated NanoTagging Technology
British Bakels; Newcastle University; Teesside University, UK – Inline NIR Bakery Ingredient Quality Measurement
ExxonMobil, UK – Higher Olefins: Real Time Optimisation
Petroliam Nasional Berhad (PETRONAS), Malaysia – H2 Optimisation & CO2 Reduction
Saudi Aramco Process & Control Systems Department, Saudi Arabia – Saudi Aramco's Process Digital Twin Program
Worley Group, US – Automation of Engineering Design Steps
Process Safety Award (Sponsored by PM Group)
EMCL, UK – Enhancing Process Safety
Kent, UK – Process Safety in a First of a Kind CO2 Transportation and Storage Project
Malaysian Refining Company, Malaysia – Barrier Management Risk Control
PETROLIAM Nasional Berhad, Malaysia – Tank Internal In-Service Robotic Inspection (TIIRI)
PETRONAS Penapisan Terengganu, Malaysia – Furnace Smart Torch (FST)
Trinidad Petroleum Holdings, Trinidad and Tobago –Continued Operation Assurance
Research Project Award
BITS Pilani, India; Kohler Co; Caltech University, US – Closed Loop Advanced Sanitation System (CLASS) for Blackwater Treatment
Cardiff University, UK; UBE Corporation, Japan; Shanghai Jiao Tong University, China – A Greener Route to Nylon Production
DOW, UK – Novel Polyurethane Elastomer for Impact Protection
DOW Polyurethanes; Dow Chemical Company, US – Single Component Sustainable Dust Control Coating
Universiti Teknologi PETRONAS, Malaysia – Solar-Integrated Anaerobic Digester and Aerobic Composter
Worley Group, US – Cracking of Fischer-Tropsch Products Using Zeolite
Sustainability Award (Sponsored by Johnson Matthey)
BlueAlp Innovations, The Netherlands – BlueAlp
BP, UK; Hempel, Denmark – Advanced Energy Efficient Ship Hull Coatings
Manrochem, UK – SteamBio Africa
PETRONAS, Malaysia – Diverse and Inclusive Research Culture Providing Sustainable Energy Solutions
ReVentas, UK – ReVentas Reinvent Plastic Waste
UKRI Interdisciplinary Centre for Circular Chemical Economy, UK – Building a Circular Economy for the UKs Chemical Industry
Team Award (Sponsored by BakerHicks)
All Energy, Australia – Water Recycling to Alleviate Water Stress 
PETRONAS; The Queen's University Belfast (QUB); Imperial College London (ICL); University of Manchester (UoM); Heriot Watt University (HWU), UK – UK Academic Research Collaborations - Enriching Lives for a Sustainable Future 
UKRI Interdisciplinary Centre for Circular Chemical Economy, UK – Building a Circular Economy for the UKs Chemical Industry
University of Strathclyde, UK – ReallySmallScience
WSP; Mace; HOK; BB, UK – Rosalind Frankin Laboratory Team Award
WSP, Canada– Responding to the Iqaluit Water Crisis
Training and Development Award (Sponsored by WSP)
adi Group, UK – adi Group's Pre-Apprenticeship and Apprenticeship Schemes
Briggs of Burton, UK – Briggs Accredited Company Training Scheme
Dow, UK – Dow Technical Service Training Academy
PETRONAS, Malaysia – OE R2 Empowerment: Unlocking the Potential Within
Saudi Aramco, Saudi Arabia – NAHR Academy
University of Strathclyde, UK – ReallySmallScience
Water Award
All Energy Pty, Australia – Water Recycling to Alleviate Water Stress 
BITS Pilani, India; Kohler; Caltech University, US – Closed Loop Advanced Sanitation System (CLASS) for Blackwater Treatment
BP, UK; Solenis, Germany – Real-Time Cooling Water Optimisation and Automation
Malaysian Refining Company, Malaysia – Phosphate Elimination at Cooling Water Ecosystem (PEACE)
PETRONAS Penapisan Terengganu; PETRONAS Chemical, Malaysia – Oil Spill Kit Floater Optimised the Use of Oil Spill KIt
Wessex Water Services; AECOM, UK– Durleigh WTC Upgrade Optimal Operation
Young Industrialist
Charlotte Ransom – Sellafield Ltd, UK
Matt Chadwick – ExxonMobil, UK
Mohamad Fakhrul Ridhwan Samsudin – PETRONAS, Malaysia
Patrick John Taylor – WSP, UK
Sam Dean – PM Group, UK
Tazim Jaffer – BOC, UK
Young Researcher
Billie Hiew Yan Zhang – Heriot-Watt University, Malaysia
Isaac Appelquist Løge – Technical University of Denmark
Juan Bartolome Garcia Martinez – Alliance to Feed the World in Disasters, UK
Devendran A/L Manogaran – Universiti Teknologi PETRONAS, Malaysia
Woojeong Kim – University of New South Wales, Australia
Zong Yang Kong – Sunway University, Malaysia