LYONDELLBASELL, Technip Energies, and Chevron Phillips Chemical (CPChem) have signed a memorandum of understanding (MoU) to design, construct, and operate a demonstration unit using Technip's electric steam cracking furnace technology (e-Furnace by T.EN). The partners say this is an essential step in the development of e-furnace technology, and towards construction of a full-scale unit.
Conventional steam cracking furnaces rely on heat from burning fossil fuels to achieve the high temperatures needed to break down hydrocarbons into olefins and aromatics used in chemical production. Crackers that use renewable electricity to produce heat instead of fossil fuels have the potential to reduce greenhouse gas (GHG) emissions by up to 90%, in comparison.
The planned demonstration unit will allow LyondellBasell to test Technip's technology and confirm that its continuous olefin production process can use electricity as a heat source. The new technology could allow the company to significantly reduce the GHG footprint of its olefins production and allow it to meet its climate targets.
LyondellBasell aims to reach net zero in its scope 1 and 2 emissions by 2050. It has set interim targets to reduce these emissions by 42% (from 23.2m t/y in 2020), and scope 3 emissions by 30% (from 98.4m t/y in 2020).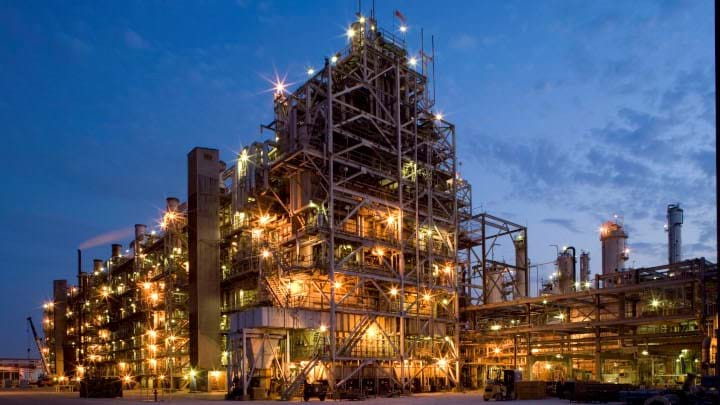 LyondellBasell
The demonstration unit will be built at LyondellBasell's Channelview petrochemical complex in Texas, US. The chemical company said its Channelview site offers an optimal environment due to its operational excellence, feedstock flexibility, electric grid infrastructure, access to expertise at its Houston Technology Center, and proximity to the other MoU partners.
The partners will assemble a joint development team to support this project. They expect to sign a joint development agreement later this year.
Arnaud Pieton, CEO of Technip Energies: "We are delighted to team up with LyondellBasell and CPChem to bring the eFurnace by T.EN to fruition.
"Consistent with our purpose to engineer a much-needed sustainable future, Technip Energies is making huge strides toward reducing the CO2 emissions resulting from the production of ethylene and this design will enable olefins producers to take advantage of the growing supply of available renewable energy to operate the most energy-intensive part of the plant."
Bruce Chinn, CEO of CPChem, said this project supports the company's efforts to lower the carbon intensity of its operations and demonstrates its continued focus on "accelerating change for a sustainable future".
Other partnerships advancing greener cracking technology
This recent partnership is not the only show of industry making moves to adopt e-cracker technology. In a strategic partnership announced earlier this year, Linde is working with Coolbrook to develop and deploy a turbomachine that offers a green alternative to conventional steam cracking.
Linde is also working with BASF and SABIC, and the group last year began electrifying a steam cracker at BASF's Ludwigshafen chemicals complex in Germany.
Also last year, Dow and Shell started up a joint-experiment to electrically heat steam cracker furnaces.
BASF, SABIC, and LyondellBasell are all former co-founding partners of The Cracker of the Future consortium which was established by six companies committed to jointly investigating steam crackers that use renewable electricity. They withdrew due to "strategic business reasons", according to the remaining partners. In 2021, Repsol and Versalis joined the consortium, which includes Borealis, BP, and TotalEnergies.