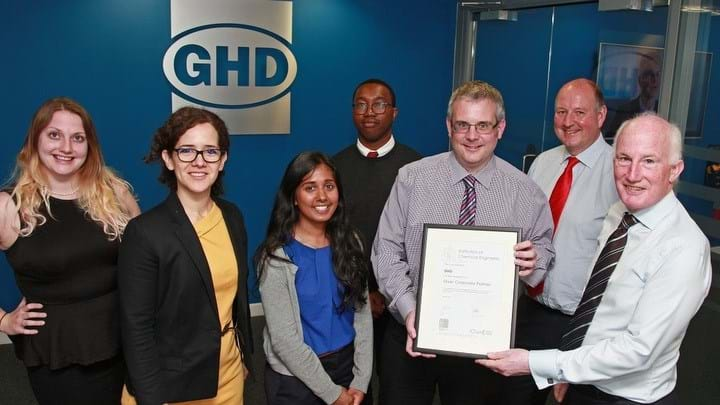 GHD has been awarded Silver Corporate Partner status by IChemE.
The award recognises the professional services company's efforts to champion Chartered Engineer status among its employees, and its efforts inspiring the next generation of chemical engineers.
The Award was presented on 11 September to associate director, Ian Walker at GHD's head office in Chester, UK, by IChemE president Ken Rivers and IChemE CEO Jon Prichard.
GHD's chemical and process engineers are mostly based in its Manchester and Chester offices, providing design services for clients in the water, energy from waste, chemicals and nuclear industries.
In its Corporate Partner application, GHD demonstrated a commitment to enhancing the technical and professional skills of its engineers, providing them with an extensive range of learning opportunities to support their work towards becoming a Chartered Chemical Engineer. 
GHD's IChemE Accredited Company Training Scheme (ACTS) currently has five mentors to aid graduate chemical engineers in their professional development. Thirteen of its engineers are currently working towards Chartered Engineer status.
GHD has also been recognised for its work with aspiring engineers, assisting engineering students at local universities with final-year design projects and helping with technical appraisals for coursework. The company also provides six-week internships for chemical engineering undergraduates, with one intern per year receiving corporate sponsorship in the final two years of their degree course.
Rivers said: "I'm delighted to present GHD with the IChemE Silver Corporate Partner Award. As a company, it has shown a continued commitment to professional development and provides the right amount of encouragement for its engineers to build their careers and demonstrate good practice in the industry. It's been great to hear more about its ongoing outreach work with students during our visit, as well as its activities working with our Institution. Congratulations to everyone involved."
GHD associate director Ian Walker accepted the Award on the firm's behalf, and said: "We're delighted to be awarded Silver Corporate Partner status which builds on our strong relationship with IChemE. At GHD, we remain committed to inspiring young people, championing professional development, and helping our engineers to achieve Chartered Chemical Engineer status. Our work with schools, universities and young professionals is testament to this and it is a privilege to be recognised by IChemE for our efforts."
Chemical engineers at GHD are strengthening their relationship with IChemE by actively supporting IChemE member groups in the North West, Warrington and Widnes, and South Manchester; with some taking up committee roles. The engineers organise regular technical talks, and work as volunteer interviewers on competence and commitment reports, as well as assessors for Accredited Company Training Schemes.