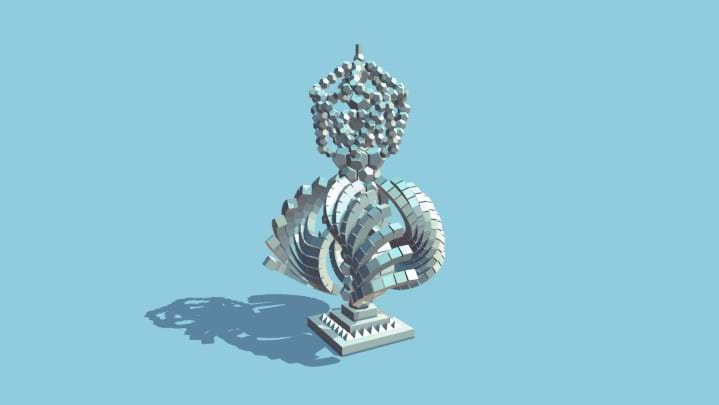 Queen Elizabeth Prize for Engineering Foundation
THE Queen Elizabeth Prize for Engineering Foundation (QEPrize) has launched its Create the Trophy competition, aimed at young designers aged 14–24 around the world.
The QEPrize and the Create the Trophy competition have run every two years since 2011. Create the Trophy invites budding designers to submit ideas for the trophy that captures the wonders of engineering.
The 2019 competition had entries from more than 50 countries and was won by 16-year old Jack Jiang from Hong Kong, whose design impressed judges for its complexity and balance. The QEPrize was won last year by Bradford Parkinson, James Spilker, Hugo Fruehauf, and Richard Schwartz for their work on GPS.
The designs are submitted via the QEPrize3D app, which provides a library of shapes and materials, as well as a photo library. Users can also submit photos and text alongside the designs. The competition closes on 21 December and further information on how to enter can be found here. The winner will be announced on 2 February 2021 alongside the winners of the 2021 QEPrize.
Lord Browne of Madingley, Chairman of the Queen Elizabeth Prize for Engineering Foundation, said: "Engineering is fundamentally a creative discipline. Engineers take quite disparate scientific discoveries and fashion them into innovative solutions which eventually become indispensable to our daily lives. Last year's prize-winning innovation – GPS – is a prime example. The engineers behind it built upon a set of novel technologies to create a powerful system that now benefits billions of people every day.
"The Create the Trophy competition is a showcase for creativity. It gives young people around the world the opportunity to create innovative designs that represent the profound impact of engineering on humanity."
Ian Blatchford, Director and Chief Executive of the Science Museum Group and Chair of the competition judging panel, said: "Create the Trophy is a wonderful competition which enables young people to express their creativity, design skills and engineering application.
"The QEPrize winners are incredible figures who are respected throughout the world, and to be able to create a lasting award recognising their achievement has proved to be incredibly inspiring to our entrants. I think Create the Trophy is a marvellous opportunity to introduce young people to the challenges and opportunities of a career in modern engineering."