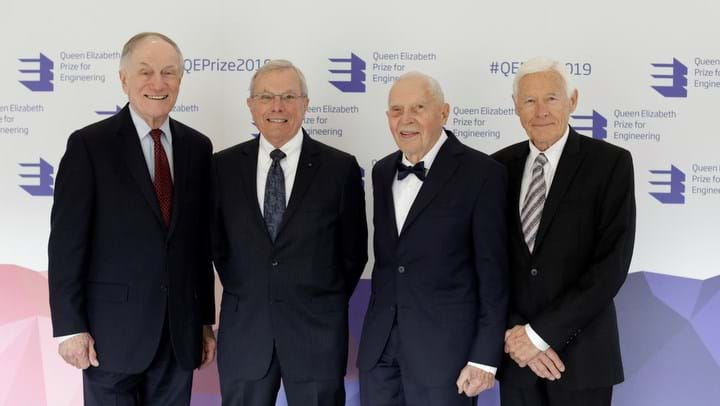 FOUR engineers responsible for creating the first global, satellite-based positioning system – GPS – have won this year's Queen Elizabeth Prize for Engineering (QEPrize).
The £1m (US$1.3m) prize has been awarded to Bradford Parkinson, James Spilker Jr, Hugo Fruehauf and Richard Schwartz. The Royal Academy of Engineering established the biennial prize in 2013 to celebrate those whose work has been of global benefit to humanity. Today, an estimated 4bn people use GPS, with applications ranging from navigation and disaster relief through to climate monitoring and banking.
The GPS system relies on a series of orbiting satellites, ground stations and receiving devices. Each satellite broadcasts a radio signal containing its location and the time from an extremely accurate onboard atomic clock. The receivers on the ground, which thanks to their low US$2 cost are readily used in today's consumer devices, speak to at least four satellites to determine their position. They measure the time delay in each signal to calculate the distance to each satellite, then use that information to pinpoint the receiver's location, which in the case of your smartphone makes it possible for you to use Google Maps to determine within 2 m your position on Earth so you can very accurately navigate on foot or by car.
Parkinson, known as the "father of GPS", directed the programme for the US Air Force in the 1970s that led to the system's development. Spilker Jr was the main designer of the GPS civil signal and with his team at Stanford Telecommunications built the receiver that processed the first GPS satellite signals. Fruehauf, working for Rockwell, developed a highly accurate atomic clock achieved using miniature rubidium vapour atomic oscillator technology. Schwartz, also of Rockwell, designed a satellite hardened to resist intense radiation in space. Twenty four satellites were launched between 1978 and 1994, and thanks to Schwartz efforts they lasted more than three times their expected three-year lifetime.
Speaking in London at the ceremony today, Parkinson said it was a "deep honour" to have been given the award.
"It's a recognition not just of the four of us – it's a recognition of scores of engineers who made it possible. Its like so many things in our civilisation: it is the building of technology, pieces that are gathered together in a new and exciting way."
Asked whether he knew GPS would change the world, Parkinson said: "Back in 1978, I made a few drawings that depicted GPS applications that I could personally foresee. They included an automobile navigation system, semi-automatic air traffic control, and wide-area vehicle monitoring, and seem to be rather accurate 41 years later. That said, none of us could fathom the sheer breadth of GPS applications – the many ways that it would become a 'system for humanity'."
Freuhauf said he has been "blown away" by the response from industry. "The world's tech industry reduced a 40 lb (18 kg), US$100k backpack-sized GPS receiver into a fingernail-sized chip that now costs US$2."
Schwartz said he imagines that in the not too distant future, GPS will enable him to step into a driverless car, tell it where he wants to go, and then sit back and enjoy the ride.
"The second prediction relates to farming, as we are already starting to see rapid innovation in agriculture. If farmers can precisely tend to their fields around the clock – at low cost – then food supply around the world will significantly increase, providing the next step towards ending world hunger."
The prize has been likened to the missing Nobel Prize for the engineering discipline. Previous winners include MIT chemical engineer Bob Langer for his work developing controlled release of drugs which has transformed the lives of billions of people.