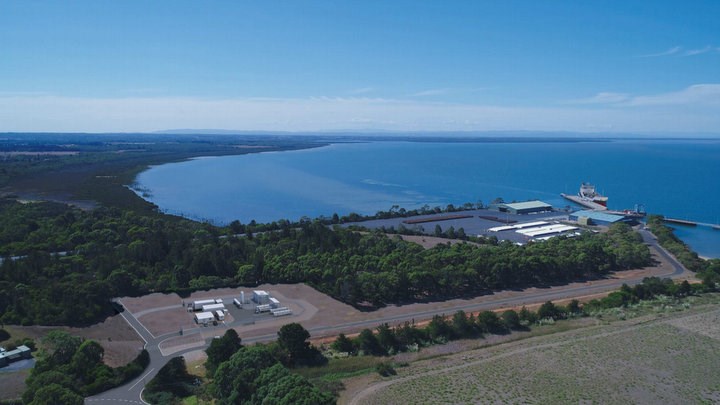 HESC / Kawasaki Heavy Industries
CONSTRUCTION has begun on a pilot project in Victoria, Australia, which will convert brown coal to hydrogen.
The Hydrogen Energy Supply Chain (HESC) will convert brown coal to hydrogen which will then be exported to Japan. The pilot phase involves a gasification plant in the Latrobe Valley and a liquification facility at the Port of Hastings. Construction on the HESC Liquefaction and Loading Facility at the Port of Hastings began earlier this month.
The A$500m (US$344m) project is supported by the Japanese Government and Japanese industry, and the Australian and Victorian Governments have contributed A$50m each in funding.
Brown coal gasification to produce hydrogen will take place at the AGL Loy Yang Complex in the Latrobe Valley. The coal is reacted with oxygen under high pressures and temperatures to produce a syngas that consists of carbon monoxide and hydrogen. During gas refining, the carbon monoxide is converted to CO2 using steam, and the hydrogen is separated. The pilot gasification plant will use 160 t of brown coal and deliver 3 t of hydrogen gas, while emitting 100 t of CO2. CCS will not be a feature of the pilot phase but has been described as an "essential component" of the commercial phase.
The gas will then be transported to the facility at the Port of Hastings, to be liquified and then shipped to Japan.
"Australia is well placed to become a global leader in hydrogen production and this pilot project is a crucial step towards making this vision a reality," said Matt Canavan, Minister for Resources and Northern Australia. "This project promises to be of huge benefit to both nations and particularly the state of Victoria, which has the opportunity to develop an alternative and value-adding use of its abundant brown coal reserves in the Latrobe Valley. The use of hydrogen is part of Japan's vision of a clean energy future and any emissions from the pilot project will be fully offset, with commercial-scale operations required to use carbon capture and storage to ensure a low emission source of hydrogen."
The liquification facility is due to be completed by June 2020. The pilot phase will demonstrate the fully-integrated supply chain for a year between 2020 and 2021, and the decision to progress to a commercial phase is due to be made in the 2020s.