A CONSORTIUM led by Siemens Energy has successfully operated a gas turbine with 100% renewable energy in what it says is a world first. The achievement opens promising prospects of using renewable hydrogen in hard-to-decarbonise industrial sectors such as cement, steel, and refining.
Hyflexpower is an EU-funded project working to demonstrate that renewable hydrogen can serve as a flexible means of storing energy. It also aims to demonstrate that its possible to convert an existing gas-fired power turbine to operate using renewable hydrogen. The power-to-hydrogen-to-power technology that the Hyflexpower consortium is developing could serve industrial sites by supplying them with electricity from renewable sources such as solar and wind.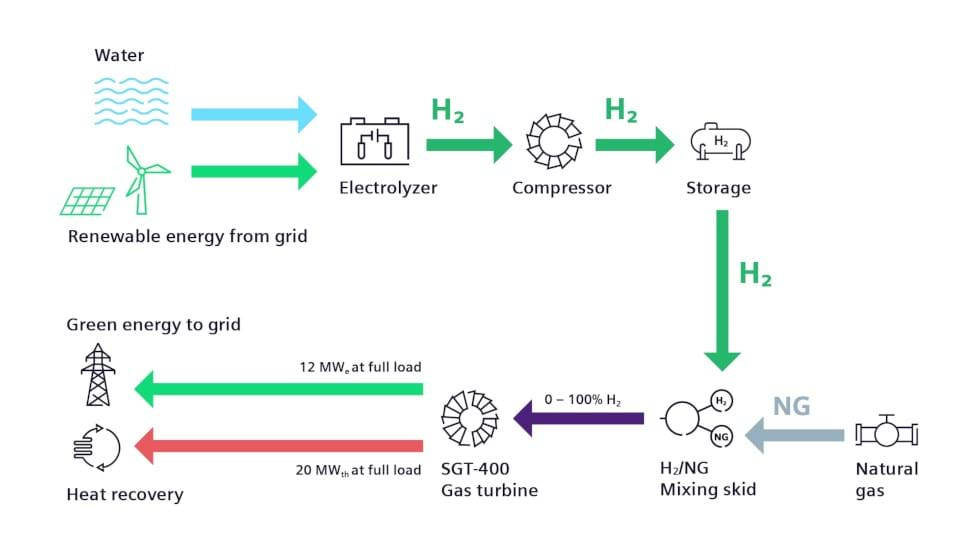 The project involves paper packaging company Smurfit Kappa. At the company's site in Saillat-sur-Vienne in France, hydrogen is produced by a 1 MW electrolyser and stored in a 1 t tank, and then used to power a Siemens Energy SGT-400 industrial gas turbine.
In 2022, an initial series of tests enabled the gas turbine to operate with 30% hydrogen, mixed with natural gas. The demonstrator has now proven that Siemens's turbines can be fuelled with 100% hydrogen, as well as with natural gas and any blends in between.
Ertan Yilmaz, Hyflexpower coordinator at Siemens Energy, said: "Together, we have made history by successfully demonstrating an industrial gas turbine powered by 100% green hydrogen. This achievement proves that a fully decarbonised, flexible, and reliable energy industry is not only possible but achievable. It also opens a world of possibilities for the energy industry of the future."
He added that the SGT-400 turbine could save up to 65,000 t of CO2 emissions when operating with 100% green hydrogen. The turbine is also equipped with a dry low emissions combustion system that reduces NOx emissions from both gaseous and liquid fuels.
Following the recent success with electricity generation, the consortium now aims to expand operation to industrial heat production. It will also explore scaleup and commercialisation of decarbonised electricity generation.
With a €15.2m (US$16.3m) budget, the Hyflexpower received two-thirds of its funding from the EU's Horizon 2020 research and innovation funding programme.