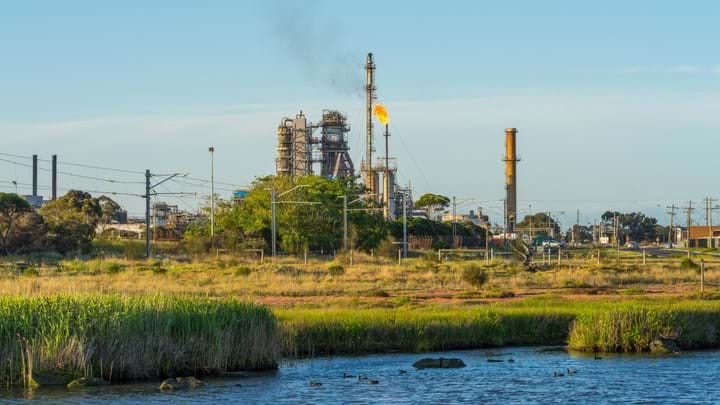 EXXONMOBIL is closing its Altona refinery in Victoria, Australia. The decision comes hot on the heels of BP's plans to shut the Kwinana refinery and has elevated concerns about fuel security and the future of downstream manufacturing in Australia.
The US major said its Altona refinery, which began operations in 1949 and employs around 300 staff, is no longer economically viable and will be converted into an import terminal. BP made the same decision in October for its Kwinana refinery in Western Australia. Together they bring the number of refineries closed in Australia to four since 2012 and will leave the country with just two operating facilities.
Covid-19 and the resulting drop in travel has severely disrupted fuel demand and refinery operating models, heightening long-running concerns about fuel security in Australia. In December, the Federal Government introduced a package of measures to prop up the sector, protect jobs and secure supplies. Australia currently imports around 90% of its liquid fuels.
Angus Taylor, Minister for Energy and Emissions Reduction, said ExxonMobil's decision is extremely disappointing. And further disappointment could follow. Of the two remaining refinery owners, only Viva Energy, which runs the Geelong site in Victoria, has accepted the Government's support package. Ampol, the owner of the Lytton plant in Brisbane, is still reviewing it.
Concerns have been raised about the closure's impact on downstream manufacturers, including the local Altona chemicals industries. Tim Watts, an MP of the opposition Labor Party, took to Twitter to ask: "How many jobs will be lost now in chemical manufacturing?"
Tim Kennedy, National Secretary of the United Workers Union, told The Age that local plastics producers would likely have to source feedstocks from China.
Steve Bell, CEO of plastics maker Qenos, which uses feedstocks from Altona told The Australian Financial Review that the implications of the shutdown are about "jobs, the economy, and the future of energy-intensive, value-adding manufacturing in this country." He added that the decision reinforced the need for the Government to get the policy settings right on gas to secure competitive prices for manufacturers and protect jobs.
Innes Willox, CEO of the national employer association Ai Group said: "Beyond petrol and diesel, a range of petrochemicals are critical inputs for many other businesses. We don't want to see a wider collapse."
Australia is incredibly rich in natural resources and there have been consistent calls for the Government to help support and create domestic industries that add value to these resources rather than continue to export gas and ore to Asia.
Willox said the closure of Altona puts further pressure on the Government to develop long-term plans to rebuild Australia's industrial and economic recovery.
"We will not create the jobs of the future we all crave if we don't get the basic building blocks right," he added.
Kennedy said the Government has failed to secure jobs in advanced manufacturing or create new domestic industries in the likes of renewables technologies that refinery workers could move into.
"This is a failure of vision. If we want to be a country that can ensure a secure and decent job for everyone who wants one, the Federal Government needs to invest in just transition and quality jobs of the future," Kennedy said.
A Parliamentary report published last year said that the remote location of Australia's oil production compared to its refineries and their processing configuration means much of the country's crude is exported while its refinery feedstocks are imported.
The refinery closures are part of a wider change across the industry, exacerbated by Covid-19 and the shift towards electric cars.
Shell announced last year that it will close many of its refineries and integrate those that are left into its chemicals businesses.
Ben van Beurden, CEO of Shell, said: "We will end up with fewer than ten refineries, compared to 55 around 15 years ago, but they will be set up to serve the changing needs of society."