Experts warn of supply chain concerns and bottleneck threats
FOLLOWING three highly-encouraging Covid-19 vaccine trials, the light at the end of the tunnel suddenly appears brighter and closer. As efforts get underway to manufacture and deliver vaccines across the world, attention now turns to a spiderweb of supply chains, bottleneck threats, and cold-chain challenges.
In November, Pfizer, Moderna and AstraZeneca (AZ) all reported positive results from their phase 3 clinical trials. As we go to press, the UK became the first country to authorise the use of a vaccine for Covid-19 – providing the greenlight for Pfizer and BioNTech's mRNA vaccine BNT162b2.
Authorisations are expected to follow elsewhere in coming weeks and months, including for AZ's viral vector vaccine AZD1222, and Moderna's mRNA-1273.
A network of supply chains criss-crossing the globe must now co-ordinate to produce and deliver billions of doses to patients, and experts have warned that meeting demand and navigating as-yet unseen bottlenecks will hamper efforts.
"The whole thing, from supplies of cell culture and raw materials to getting sufficient plasticware, syringes, and needles: you're talking about a huge surge in demand on worldwide supply chains," says Tim Clayton, Director of biopharmaceutical firm Antev, and a member of IChemE's Covid-19 Response Team.
"We don't know exactly where all the bottlenecks are going to be, but we expect to see a lot becoming apparent," he adds.
Filling capacity and cold distribution are most likely to hamper efforts. The latter is an inherent challenge for mRNA vaccines which must remain frozen at very low temperatures to prevent them from spoiling.
Manufacturing networks
Pfizer has internalised its manufacturing in the US, though the stages of production are divided between plants in three states. Raw material manufacturing takes place in St Louis. The template DNA for the mRNA vaccine is manufactured in a cell culture process and purified though a series of steps using chromatography and filtration. It then passes to Pfizer's Andover manufacturing facility where the DNA is incubated with mRNA building blocks in a reaction vessel to make the mRNA drug substance, which is then purified.
It then heads to Pfizer's Kalamazoo site for formulation, fill and finish. The mRNA substance is combined with other raw materials through a series of mixing steps, including impingement jet mixing to encapsulate the drug in a lipid nanoparticle. Sterile filtration follows, and the bulk vaccine is transferred to an aseptic filling line where it is added to a sterilised vial.
For vaccines produced outside the US, Pfizer's development partner BioNTech will manufacture the raw materials in Mainz, Germany. Rentschler, a German contract manufacturer, will perform the purification steps. The material is then frozen and sent to Pfizer's site in Puurs, Belgium, where it is thawed, formulated and filled into vials. DermaPharm of Germany and Polymun of Austria are contracted to manufacture the bulk lipid supply used for encapsulation. Speciality chemicals firm Croda is contracted to supply four excipients for the vaccine.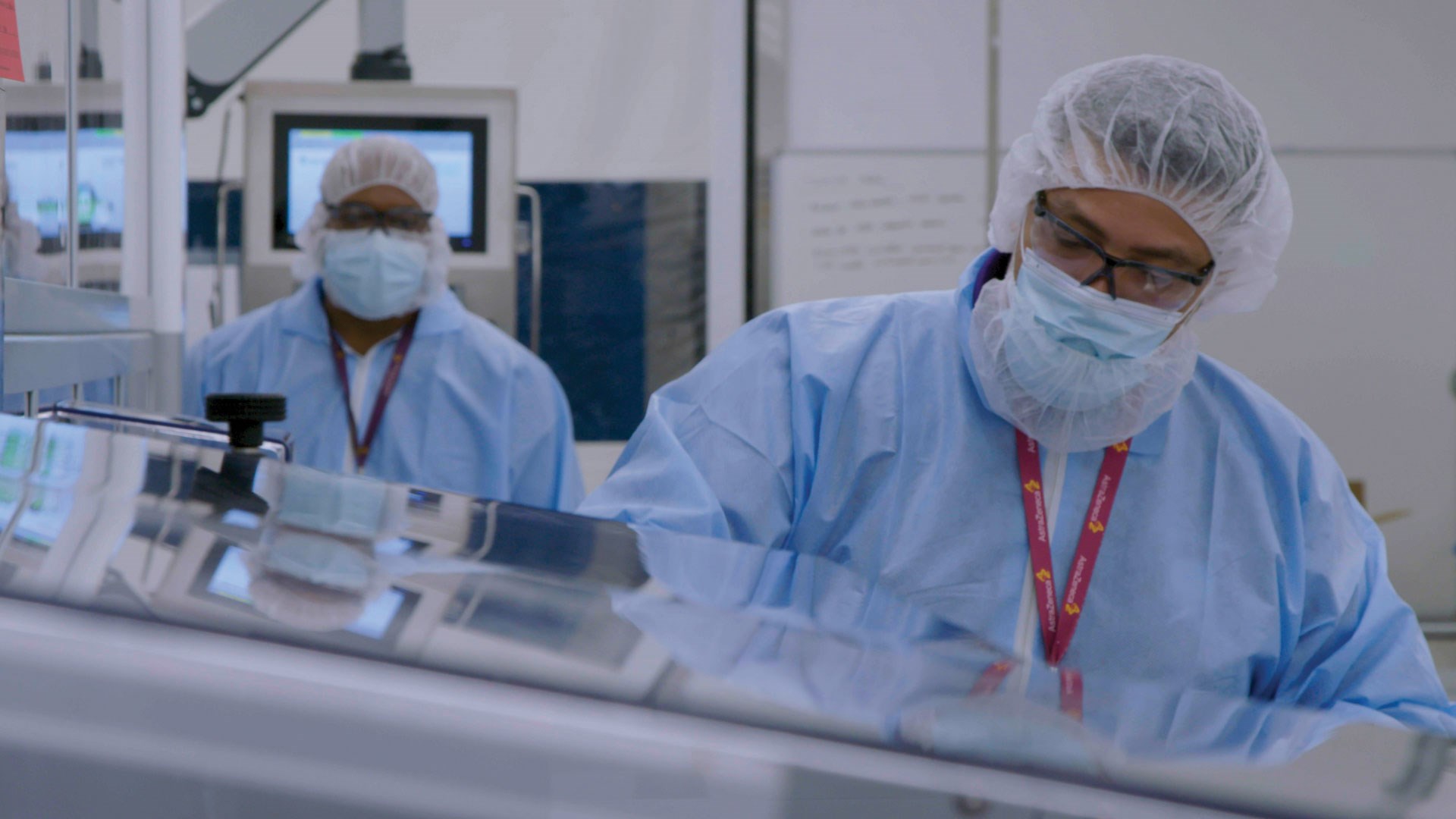 Astrazeneca
Pharm it out
Moderna is more reliant on contract manufacturers. Lonza will produce the drug substance at its Portsmouth site in the US and Visp site in Switzerland. Lonza declined to provide detail on Moderna's production process, noting only that it has three stages and is a hybrid of biologics processes and enzymatic synthesis. Other contracted manufacturers include CordenPharma, which is providing lipids from operations in France, Switzerland and the US; while Catalent will provide fill/finish services in the US and Spain's ROVI has partnered with Moderna to build additional fill/finish capacity.
AZ says it has built more than a dozen regional supply chains to meet demand for its treatment, once it is approved. The company declined to name which firms it is working with to manufacture its vaccine. Its website notes that it will use multiple manufacturing facilities across each stage of production and finishing, and that to accelerate the transfer of production and supply it is working with more than 20 supply partners in more than 15 countries.
Its production process involves growing host cells in a series of single-use bioreactors of increasing scale. These cells are then infected by a virus seed to produce the vaccine molecule. There follows a series of filtration and membrane chromatography steps to harvest and purify the vaccine. It is then combined with buffers to produce a final formulation that is then filled into vials for storage and distribution at a more convenient 2-8°C.
Adrian La Porta, Technical Director at engineering consultancy Bryden Wood and a member of IChemE's Covid-19 Response Team, is confident that the three vaccine developers will meet their production targets but he says supply issues may arise that hamper an even rollout across the world.
"If you're looking to transfer a vaccine process from one country to another, you would need chemical engineers or bioprocess engineers skilled in good manufacturing practices.
"There is a limited number of people that are very highly qualified in scientific and engineering disciplines that are quite specific to the industry."
Clayton says industry will get a better understanding of the production scale needed in around a year once it becomes apparent how long the vaccine provides protection for.
This will dictate whether industry needs capacity to produce billions of regular booster shots, or whether "you just vaccinate people as they're born as part of the childhood vaccination programme."
Further development?
What remains to be seen is whether manufacturers will task process engineers with optimising production processes that, through necessity, have been developed at breakneck speed.
"While they will be validated to be safe and effective, they may not be the most efficient processes," La Porta says. "For instance, they may have sacrificed yield for time."
However, there may be regulatory barriers to optimising processes because changing production risks invalidating approval. The "process defines the product" notes Clayton, adding that switching equipment supplier also risks regulatory ire. For example, production might have to be halted if supplies of a specific brand of single-use reactor are interrupted. 
In the longterm though, Clayton says: "If manufacturers are going to need to supply vaccines every year or every two years, they are going to look for ways to improve the efficiency of their processes."
Pressed on this, a Pfizer spokesperson said the company is considering whether to use lyophilisation – or freeze-drying – of its vaccine to overcome having to transport and store it at around -70°C.
This ultra-low temperature is expected to hamper the supply of vaccine to people in countries with irregular power supplies or poor infrastructure such as road networks that would prevent disparate communities from receiving deliveries of unspoiled vaccines.
Other concerns raised include potential shortages of specialised glass vials capable of withstanding ultra-low temperatures; and shortages of carbon dioxide to produce the dry ice used in cold storage. Clayton said he is worried about impacts to the natural world. Squalene used in vaccine adjuvants is sourced  from shark livers while the blood of horseshoe crabs is used to screen drug batches for contaminants. Quite reasonably, calls have been made for the wider development and use of synthetic alternatives.
Next steps
Clayton and La Porta both note there are also pressing considerations when it comes to the next wave of vaccines. Coming treatments could provide broader protection or fill gaps in protection missed by the first wave. They may be cheaper to produce or easier to store. Under these circumstances, governments may switch suppliers, and engineers may be required to help repurpose production plants.
Looking ahead, La Porta asks: "will things ever be the same again?"
"If we can reduce the time to develop a vaccine from ten years to ten months, why can't we do that for other drugs? There's a hope that this could have a long lasting and positive impact on pharmaceuticals."