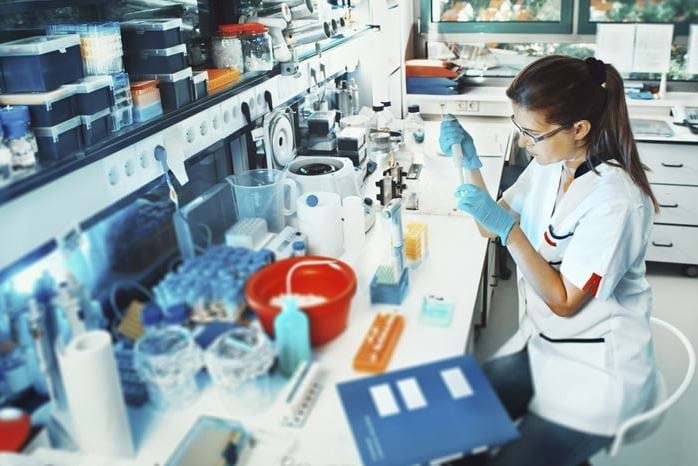 ASTRAZENECA says it could begin production of a vaccine for Covid-19 by the end of the year after joining forces with researchers at Oxford University.
Researchers at the Jenner Institute and Oxford Vaccine Group are developing a recombinant adenovirus vaccine to fight Covid-19. The vaccine has already shown promising results in animal trials and on 23 April the first stage of human trails began involving more than 1,000 people. Advancement to late-stage trials could take place by the middle of the year.
Pascal Soriot, CEO of AstraZeneca, told BBC that the efficacy of the vaccine should by understood by June or July; that the company will have the final submission ready for the authorities to approve the treatment for emergency use by Q4; and that public vaccination could begin by the end of the year. Soriot noted this is a "stretch goal" but reasoned that the Oxford research group is one of the best in the world and its technology has previously been validated with the production of vaccines for Ebola and SARS.
Bottlenecks in supply chains have hampered responses to the pandemic, with shortages of PPE and testing kits drawing widespread criticism. Adam Hawthorne, a member of IChemE's Covid-19 Response Team, has raised similar concerns about the UK's ability to rapidly manufacture a vaccine at large scale though noted that chemical engineers are well placed and available to help.
Expectations have been that it would take 12-18 months to have a vaccine ready for use. Michael Head, Senior Research Fellow in Global Health at University of Southampton, said having a vaccine manufactured at a huge scale in just a few months would be unprecedented.
"Thus, there is no real scientific reference point to think this definitely can happen – we can only watch on, and hope that the Oxford optimism comes to fruition.  It would certainly be an astonishing achievement," Head said.
Soriot told the Financial Times: "We will build up capacity – we have an agreement with the [UK] Government and to do this and we will prioritise the UK in terms of building this capacity." AstraZeneca is part of a Government vaccine taskforce that was formed on 17 April to help rapidly scale-up vaccine production. This involves the UK BioIndustry Association which is conducting a vaccines manufacturing audit to determine organisations that have the capability and capacity to manufacture vaccines.
Responding to AstraZeneca's partnership with Oxford, Charlie Weller, Wellcome's Head of Vaccines, said: "If we are to get the Covid-19 vaccine the world so desperately needs within a year, we need to start building manufacturing capacity now, so it's very encouraging to see preparations underway. But this effort must be global, not national. As long as Covid-19 is out of control somewhere, it is a threat everywhere."
Oxford University said under the new agreement, the partners will seek to provide the UK with access to the vaccine as early as possible and will work with global partners to distribute it internationally, particularly to make it available and accessible for low and medium income countries.
There are more than 70 vaccine candidates currently under active development, researchers from the Coalition for Epidemic Preparedness Innovations (CEPI) reported in a paper in Nature last month. Other efforts to accelerate the development and manufacture of vaccines includes a consortium of companies including GSK and Pfizer that are collaborating with the Bill & Melinda Gates Foundation.