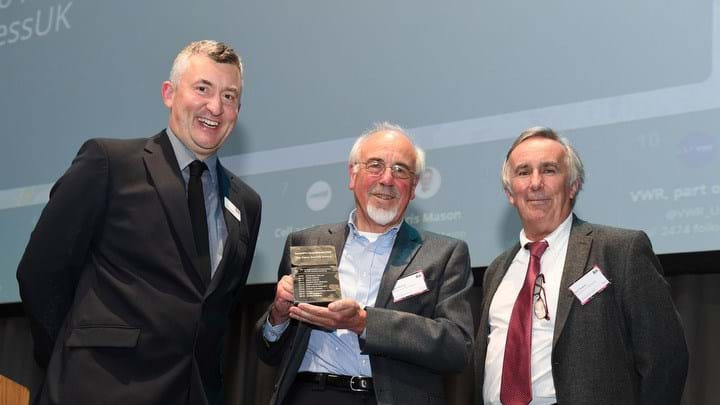 ICHEME Fellow Alvin Nienow has received the Peter Dunnill Award in recognition of his outstanding achievements in the field of bioprocessing.
This lifetime achievement award is given annually and was presented to Nienow, Emeritus Professor of Biochemical Engineering at the UK's University of Birmingham, by the UK BioIndustry Association (BIA) in November 2018. His research relates to the physics of stirred-tank bioreactors (STRs) and the impact that mixing has on organisms and their productivity in industry. This has led to the publication of highly-cited peer-reviewed papers and commercial consultancy including the development of single-use bioreactors.
"Chemical engineering has brought significant improvements to bioprocessing by making the practical application of the huge developments in biological science more rigorous and quantitative and cheaper," Nienow said. "At a fundamental level, even the basic ideas of mass and heat balances, unit operations, transport phenomena and process control, especially when applied to new areas such as animal and stem cell culture have been vital for the rapidity with which their commercialisation has been scaled up."
On collaboration between disciplines, Nienow added that it is important that biochemical engineers and biological scientists work together from a very early stage of development to maximise the impact of their work.
"This interaction has to adopt a 'no silly questions' approach; the engineer can ask very basic biological questions and vice versa, and they must be answered with care, and respectfully."
BIA established the Peter Dunnill award following his death in 2009. Dunnill, also a Fellow of IChemE, was a pioneer of biochemical engineering. Among his contributions, Dunnill helped lay the groundwork for the multi-billion dollar biopharmaceutical industry with his team's analysis of the unit operations needed for commercial manufacture. Nienow and Dunnill published research together and helped establish the structure of the biochemical engineering undergraduate course at UCL, which began in 1973.
"I was particularly pleased to receive an award named after Peter Dunnill as he was strongly involved in introducing me to biochemical engineering, including prior research showing that turbulent flow caused significant damage to enzymes," Nienow said. Nienow agreed to co-supervise new research into the topic in STRs but damage could not be duplicated. After leaving UCL, his work has shown that mammalian, insect and stem cells and plasmids are more robust than perceived, a finding which he says is very important for improving industrial-scale bioprocessing.
"I still thank Peter for encouraging me to get involved in such a fascinating and rewarding topic of ever-increasing importance if the costs of new therapeutic treatments are to be reduced sufficiently for them to be made available with consistent quality to the large number of people who need them."
Nienow was awarded IChemE's Moulton Medal in 1983 (best research paper) and the Donald Medal in 2000 (lifetime award for biochemical engineering), and received the Lifetime Award of the European Federation of Chemical Engineers Working Party on Mixing.