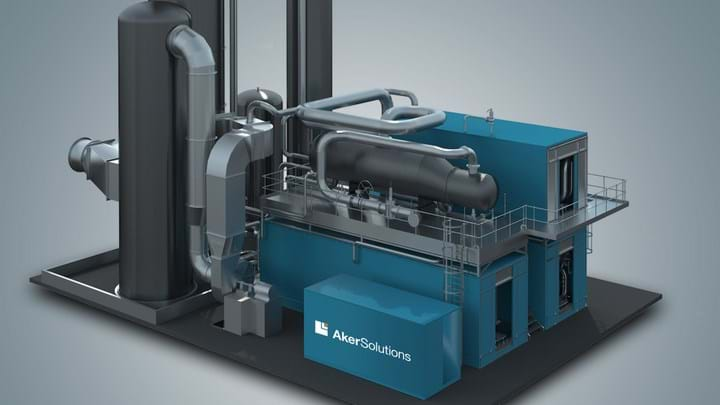 Aker Solutions
AKER Solutions has signed an agreement with Twence to supply modular carbon capture technology to Twence's waste-to-energy plant in Hengelo in the Netherlands.
The technology is called Just Catch and it is capable of capturing between 10,000–100,000 t/y of CO2 depending on the size of the operation. The standardised design can be used in a range of different industries, including fossil power plants, cement factories, and waste-to-energy.
Twence converts 1m t/y of waste from households and other sources to energy. With the Just Catch system installed, Twence will be able to capture 100,000 t/y of CO2 at its Hengelo site. Once it is captured it will be liquified and supplied to local users of greenhouses to increase yields of plants and vegetables, who currently use CO2 produced by burning fossil fuels. The system is due to be in operation by 2021.
"To eliminate our impact on the environment, we needed an easy, inexpensive and time-efficient solution to capture the carbon we produce," said Marc Kapteijn, Managing Director of Twence. "We also needed to be able to trust the technology and process to be as environmentally friendly, robust and effective as possible. Just Catch satisfies all our requirements."
Aker Solutions has plenty of experience with carbon capture technology as it was part of the world's first large-scale carbon capture and storage project off the coast of Norway in 1996 and is also currently involved in the concept studies for carbon capture at Norcem's cement factory in Brevik, Norway. The new system has a standardised design consisting of three process containers and one electro and instrument control module. The four process container modules can be delivered by truck in a single shipment.
 "Our goal is to make carbon capture accessible and affordable," said Luis Araujo, Chief Executive Officer of Aker Solutions. "CCUS is one of the three main pillars in Aker Solutions' decarbonisation strategy. The other two are decarbonisation of oil and gas facilities and offshore floating wind."
In an interview with gasworld, Oscar Graff, Vice President and Head of CCUS at Aker Solutions ,said that the system uses an improved amine-based post-combustion process that can capture around 90% of the CO2. The water/amine solvent is heated by steam to around 120oC and the use of steam results in a low energy consumption. The solvent is non-toxic, non-corrosive, and biodegradable.
"Our engineers have made a ground-breaking job in the development of Just Catch," said Graff in a statement. "It has reduced the capture plant footprint by about 90% and thereby reduced the cost of materials and fabrication significantly. With our proprietary technology and solvent which absorbs the CO2 from the flue gas, we have the most efficient, robust and environmentally friendly CCUS technology on the market."