Wendy Wilson reports on the actions from the IChemE Member Engagement survey
IN March 2019, all IChemE members were invited to take part in a wide-ranging member engagement survey. The survey was jointly commissioned by the Institution's Trustee-led Member Engagement Working Group and IChemE Congress. More than 1,500 people participated in the survey, and following the analysis of the responses received, the findings were published in The Chemical Engineer (Issue 937/8; July/August 2019). These findings were also used as input into the IChemE Strategy 2024.
Table 1 summarises the ten key improvement areas that were identified, as published in The Chemical Engineer, along with the intent behind them and the recommended next actions. A number of the actions such as Programme SMART, learned society, and IChemE100 are receiving a lot of publicity so this article will focus primarily on some of the other action areas.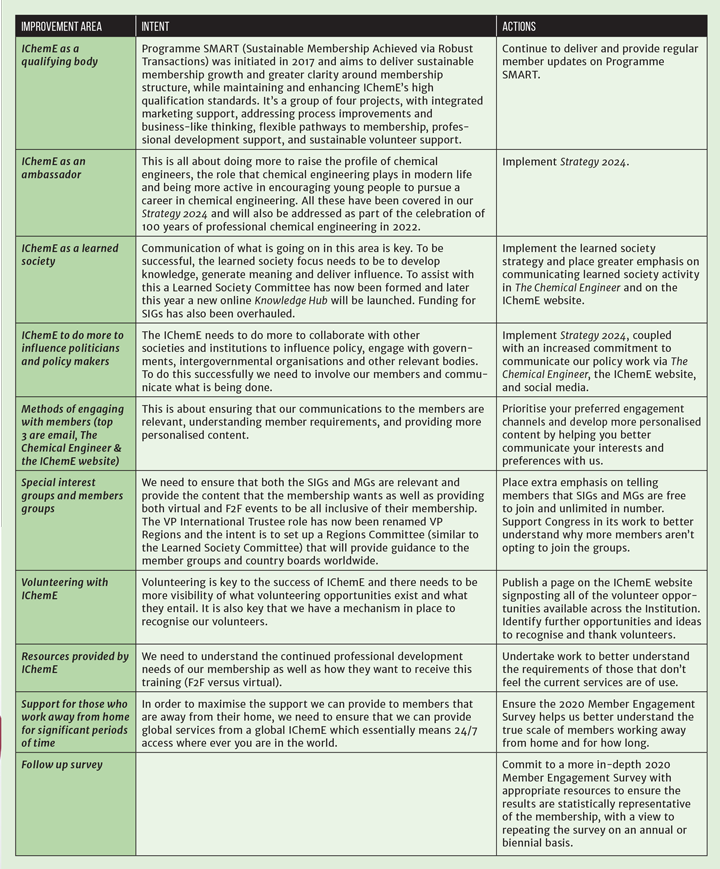 IChemE as an ambassador
Following the launch of Strategy 2024 in August last year, a lot of time and effort has been made to communicate the strategy to the membership. There has also been a series of articles in The Chemical Engineer focussing on careers in chemical engineering. Future plans in this area include revisiting the whynotchemeng programme as well as working with members to deliver on the three key topic areas agreed by the Learned Society Committee: responsible production, major hazard identification and management, and digitalisation. We will also be looking to leverage our involvement with other PEIs and EngineeringUK to help raise the profile of chemical engineering-based career paths and to support collaborative opportunities, such as support for World Engineering Day on 4 March.