We asked our reader feedback panel to tell us how they have been impacted by the coronavirus pandemic. 232 readers from across the world and IChemE membership grades responded.
The majority of respondents (65%) are working or studying remotely from home with only 4% reporting no impact to how they were working. 10% report that they are still travelling to work but that special measures have been put in place, and 5% report being furloughed or have lost their job. The rest are retired have a combination of work scenarios. Of those still working, 11% said they are likely or highly likely to be furloughed or lose their job within the next two months, while 25% are unsure if they will be.
For those that are still working or studying, 21% have had their duties changed. 47% say that their workload is the same, 25% report decreased workload, and 28% have increased workload.
Almost a third rate their mental health as either fair or poor since the outbreak, and 5% of people say that this has interfered with their ability to work, or accomplished tasks "very often" or "extremely often", with 19% reporting "somewhat often".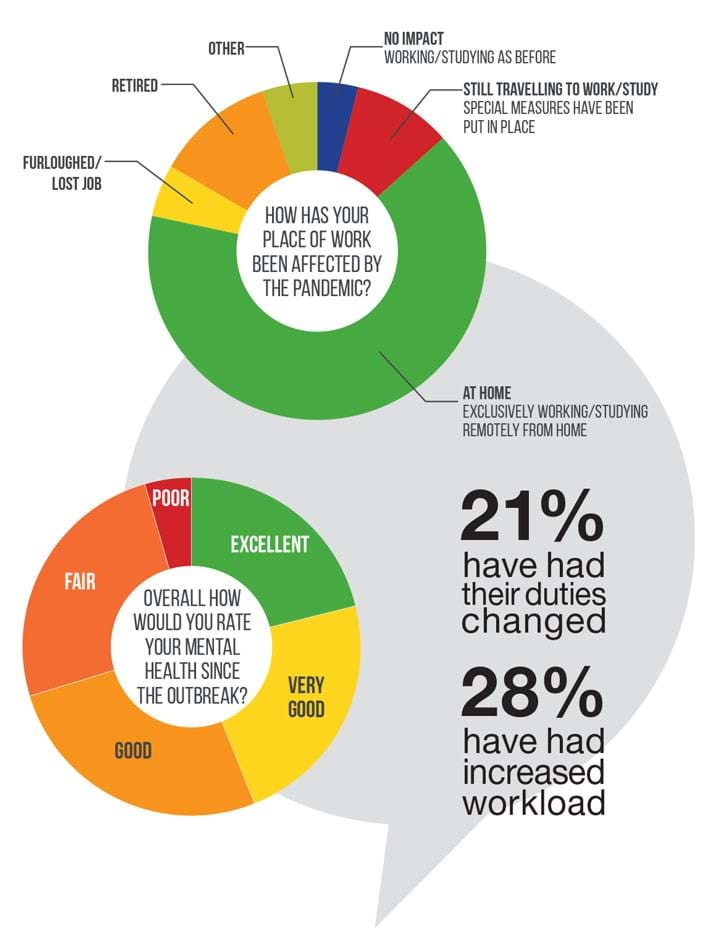 Online resources
We asked members of our reader feedback panel to recommend any activities or resources that the wider community might find useful during these extraordinary circumstances. Many recommended keeping up with exercise, learning to play a musical instrument, gardening, DIY and of course using video chats to stay in touch with friends and family. Here's a selection of the rest.
CPD
"I have been reviewing technical papers and working on relearning some of chemical engineering basics that got rusty."
KNOVEL
This online resource is free to IChemE members and includes hundreds of resources including books, technical information, interactive equations and analytical tools. www.icheme.org/knowledge/knovel
GET CHARTERED
Readers noted they are using this time to start or make progress on their applications for getting chartered. Watch IChemE's Get Chartered video playlist on YouTube for more information: https://bit.ly/34DMrgK 
"SIG webinars are very useful for keeping in touch with new developments and as part of my self-appointed CPD."
SPECIAL INTEREST GROUP RESOURCES
IChemE Members are free to join as many SIGs as interest them. You can sign up to coming webinars or watch recordings of archived webinars and conference papers. Visit: https://www.icheme.org/membership/communities
Volunteering
Readers told us that they have been volunteering in their downtime; and that the stories of scientists and engineers lending their skills to fight the pandemic are some of the most inspiring they have heard.
ICHEME
The voluntary Covid-19 Response Team is looking for member volunteers. See Claire Macleod's explanation (p23) for more information, including how to get involved. You can also visit the dedicated coronavirus information hub: https://www.icheme.org/membership/coronavirus-information-hub
ATSE
Australia's national learned academies have launched a database of experts that can help during the crisis and has urged engineers to register if they can help: www.science.org.au/covid19/experts
BIOINDUSTRY ASSOCIATION
The BIA is conducting a vaccines manufacturing audit to determine organisations that have the capability and capacity to manufacture vaccines. It is asking for companies to come forward to complete a questionnaire at: https://www.biacovid19.org/developing-solutions.html
IPSE
The UK chapter of the International Society for Pharmaceutical Engineering is creating a database of skills and resources for those needing pharmaceutical knowledge, equipment and consumables. Register with and/or search the database here: https://ispe.org/uk-affiliate/covid
ENGINEERS AUSTRALIA
The institution has created a page providing links to various Covid-19-related resources, including to calls for engineering industry assistance. www.engineersaustralia.org.au/covid-19/update
HELPFUL ENGINEERING
Join an online community of thousands of engineers from across the globe who have connected together to design innovative ways to fight the virus. https://www.helpfulengineering.org/
Beyond engineering
SKILLSHARE
If you want to learn a new skill outside of engineering, SkillShare offers a free 14-day trial for a variety of classes including photography, animation and creative writing. www.skillshare.com   
COURSERA
In response to the pandemic, this online learning platform has made a number of its courses free, including on poetry, mental health, and understanding public health. https://bit.ly/2yvWRmy
EdX
Find thousands of subjects to study from organisations as varied as IBM to MIT, ranging from introductory courses to full Master's degrees. www.edx.org/course
DUOLINGO
Learn a language for free (paid upgrades are available) using this app that turns lessons into a game. www.duolingo.com