Amanda Jasi speaks to companies that have begun producing hand sanitiser, to help prevent the spread of coronavirus
AS the coronavirus pandemic has sparked shortages in hand sanitiser, companies around the world have bolstered manufacture of the hygiene product by building new production lines or retooling existing ones.
Amongst chemical producers now producing hand sanitiser to contribute to efforts are ExxonMobil and Arkema, which are making the product to distribute to US states and in Europe, respectively.
Chemical dosing system supplier WES is operating on a smaller scale, producing hand sanitiser which it uses in-house, provides to clients, and donates to charity.
Exploiting IPA production
"As Covid-19 really got underway we realised there was an increasing demand not only at our plants, but in healthcare and our first responders," says Jennifer Dunphy, chemical engineer and Operations Manager at ExxonMobil's Baton Rouge complex. The site is home to the world's largest single unit for producing isopropyl alcohol (IPA), a key ingredient in hand sanitiser production.
Exxon therefore decided to produce the hygiene product at the Baton Rouge site, using a formula published by the US Food and Drug Administration (FDA). The formula comprises four main ingredients: a choice between IPA and alcohol (ethanol) that is no less than 94.9% ethanol by volume; glycerin; hydrogen peroxide; and sterile water. These ingredients are blended together to produce sanitiser.
Excluding IPA, Exxon sources the sanitiser ingredients from a third party. Exxon announced in April that it has increased IPA manufacture by about 3,000 t/month, to help meet increased demand.
To produce the thousands of gallons of sanitiser needed to meet internal demand, and to help others, Dunphy says the workers at Baton Rouge employed a mixing skid unit – a portable unit that can be moved between businesses, which has all of the equipment required to achieve its purpose.
"We put all the effort on this and got the right engineers, the right technical group, the right product representation-type group to look at it, and were able to put our skid unit – that had been designed for another end-use – into the production of hand sanitiser," says Dunphy. "In general, we made some changes in regards to pressure relief, raw material injection, and loadout enhancements."
Additionally, the mobile unit was made a more permanent fixture at the Baton Rouge site.
"We were making hand sanitiser within weeks of the idea," notes Dunphy.
At Baton Rouge, the hand sanitiser product is packaged into 300 gallon (1,364 L) totes – "rigid intermediate bulk containers engineered for the mass handling, transport, and storage of liquids," explains Dunphy.
"The totes work for our internal use, because people can go down and fill their bottles up, but if you're talking about delivering to hospitals and to first responders, you need it in much smaller quantities."
"We aren't packagers, we're a large petrochemical complex," comments Dunphy. "[But] we have a packaging plant right up the road at our Port Allen Lubricants Plant, they can package it, and into quart bottles now."
Exxon says it pioneered an automatic filler for quart-sized (946 mL) sanitiser bottles to help speed up operations. The quart bottles are distributed to entities that don't have storage space for large containers or that need the smaller size for quick distribution.
According to Dunphy, Exxon has committed to producing around 606 kL – enough to fill nearly 5m 100 mL bottles – within a matter of months. "But… we're constantly looking at ways to make the unit more robust, and to be able to increase our production, so we may get there sooner," she adds.
Exxon has already donated sanitiser product to healthcare providers and first responders in Louisiana, New Jersey, New Mexico, New York, Pennsylvania, and Texas. Additionally, the company has donated IPA to New York and Louisiana. To Louisiana, Exxon donated enough IPA to produce nearly 100,000 8oz (236.6 mL) bottles of hand sanitiser.
Dunphy comments: "This is, to me, where engineering and the ability to be able to help really comes together. It's been quite the motivator for the plant to be able to do this so quickly and get it out to the community."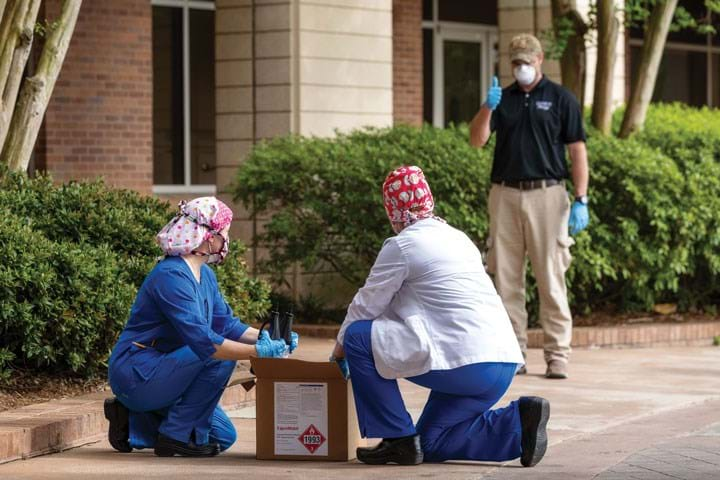 ExxonMobil
No modifications necessary
According to Philippe Leduc, a chemical engineer at Arkema, "The production line dedicated to the production of hand sanitiser by Arkema is a multi-purpose pilot line installed in one of our R&D centres located in Pierre-Bénite, France". The reactor employed is glass-lined.
Leduc is responsible for managing pilot lines at Arkema's research and development (R&D) centre.
"No technical changes have been necessary to start producing the hand sanitiser, but rather organisational changes. Mainly the re-allocation of our staff who were dedicated to other activities in this pilot, and that we needed for continuous production."
"Our pilot equipment is designed and compatible with highly flammable raw materials such as those used in this case, in the recipe for the hydroalcoholic solution," notes Leduc.
According to Leduc, Arkema produces hand sanitiser following World Health Organization (WHO) published guidelines for local production of small-scale hand sanitiser production, adapted for large-scale production. The ingredients it employed are ethanol, glycerol, and hydrogen peroxide. It sourced its hydrogen peroxide internally, from its plant in Jarrie, France. The other ingredients were supplied by the company's regular third-party suppliers.
He adds that the company was able to produce 98 t of sanitiser within five weeks, which was ultimately delivered, in France, to the university hospitals of Grenoble, Colmar, Strasbourg, Nevers, Evreux, as well as several homes for the elderly in the Lyon region, and to Arkema sites in France and Europe.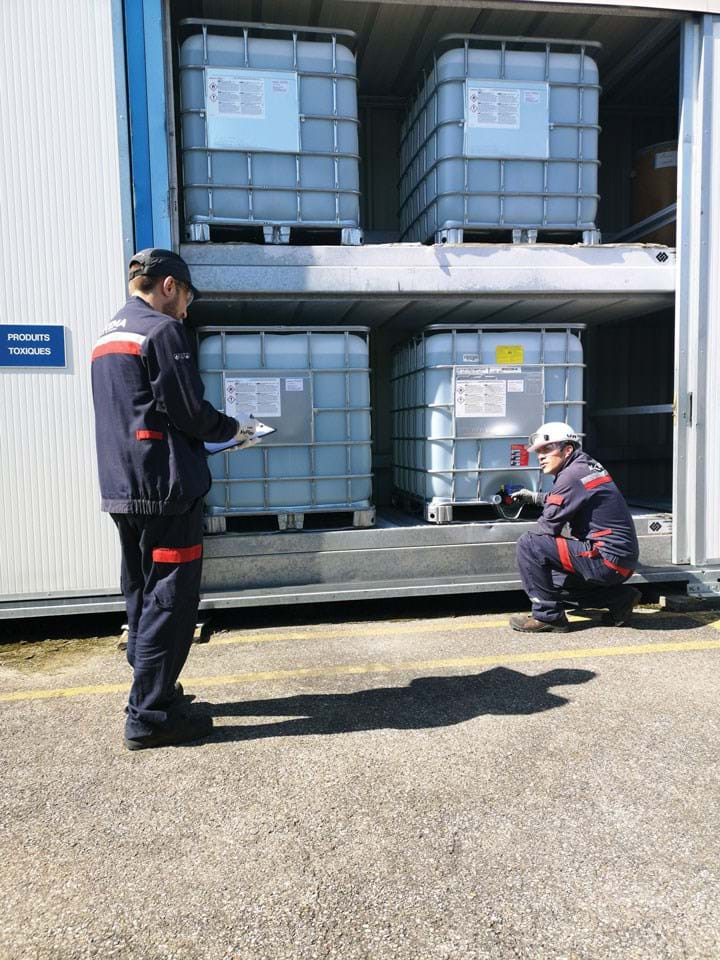 Arkema
On a smaller scale
Kevin Wheeler is the Managing Director of WES, which specialises in designing, building, and configuring equipment systems used to deliver chemicals into processes, ie dosing systems. WES' customers include Thames Water, Wessex Water, and the Royal Navy.
Wheeler is qualified as an engineer and has been running WES for 30 years. He also has a technical support role and is called upon to oversee his engineering team's designs, concepts, and theories.
"As the coronavirus crisis became apparent, our customers began to designate us as key workers to carry out their work – because we work in water, sewage, utilities, and defence," says Wheeler. "We then carried out the risk assessments internally to see how we could work safely. It's at that point that we identified that we needed to get hold of hand sanitiser for our employees first, and we just couldn't buy it."
WES therefore decided to produce its own hand sanitiser. Thinking about how to go about this Wheeler says "we realised that we probably already had the equipment in-house – either within our hire fleet of chemical dosing equipment, or within our training equipment here – to adapt that to mix alcohol and a second constituent that is required to add moisture back to the skin."
WES' hand sanitiser formula employs two ingredients, which it sources from third-party companies: surgical spirit (ethanol) at about 92% alcohol content, and organic aloe vera gel. The latter imparts high viscosity to the hand sanitiser – making the gel more like its commercial counterparts – as well as moisturising capabilities. WES maintains an alcohol by volume concentration of 65–68% in its final product, 5–8% above WHO's lower threshold.
"We did some trials and realised mixing the two chemicals together needed a lot more effort, input, and energy than we anticipated, so we set up two individual dosing pumps," says Wheeler. "One was a diaphragm pump, to deal with the alcohol, and one was a peristaltic pump, to deal with the aloe vera gel, which is a very high viscosity."
Wheeler explains a diaphragm pump operates using a reciprocating mechanism and valves to pump fluid. A peristaltic pump – better for more viscous fluids and more constant liquid delivery – employs a rotor and rollers to pump fluid through a flexible tube.
The two pumps are fed from storage containers which house the sanitiser ingredients. The surgical spirit is in 20 L drums – "which is the most efficient volume we're able to buy in," says Wheeler – and the aloe vera gel in a similar-sized container.
"The delivery pipework from each pump then joins into a 'T' with static mixers inside the pipework downstream of the pipe 'T'.
"A static mixer is a name given to a device that mixes constituents without any moving parts," explains Wheeler. "They are normally fitted within a section of pipe and have 'blades' that create turbulence within the pipe to force the different fluids to combine.
"In this instance – because of the relatively low volumes and thus small pipework (<1/2" [1.27 cm]) – we used disposable mixer elements designed for mixing glues and inserted them into our common pump delivery tubing."
The discharge from the common solution pipe then is received by another container.
"We found that when we mixed [the aloe vera gel] with the alcohol, there was a reaction between the alcohol and some of the organic constituent in the aloe vera, that left a white residue," says Wheeler. He adds that "the volume of residue is less than 0.1% of the solution and is a natural residue from the aloe vera...[which]...settles within 6–8 hours."
Once the residue has settled at the bottom of drums, WES ensures that it dispatches hand sanitiser product above the level of the by-product, leaving it behind for disposal.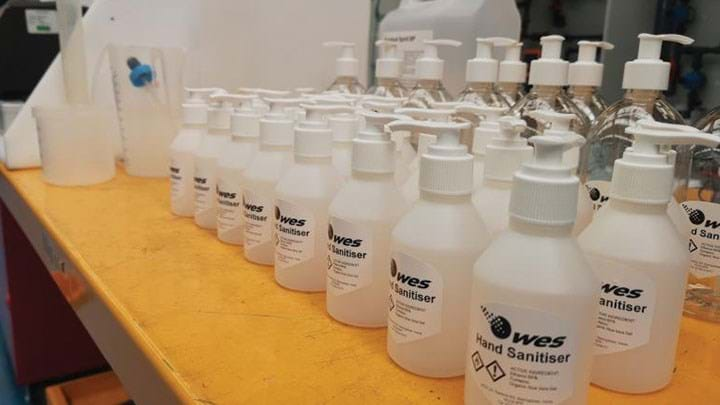 WES
According to Wheeler, WES produces about 100 bottles per week of hand sanitiser, each containing 150 mL. About half of the product made is used internally or given to WES' clients. Surplus product is donated to Basingstoke Voluntary Action (BVA), which supports local charitable, voluntary, and community groups. BVA distributes the sanitiser it receives from WES to the charities that it works with, says Wheeler.
Wheeler comments: "Our expertise has been entirely the ability to quickly adapt existing equipment and processes to an emergency need, in the accurate metering, mixing, and batching of chemicals.
"That's exactly what we did. We're not process engineers, we're not chemists either, but we were able to adapt our engineering skills to build equipment to make [sanitiser] up in batches."
In addition to producing hand sanitiser, WES uses the same equipment setup to produce disinfectant sprays. The spray is made using water and a 14% concentration of sodium hypochlorite that is diluted down to 0.5%, the optimum percentage for killing bacteria and viruses on surfaces. For production, the company flushes through the equipment, because different ingredients are being mixed, and recalibrates the dosing pumps to enable the correct concentration of product.
WES produces about 20 L per week of the disinfectant spray, dispensed into 250 mL spray bottles. The company uses the spray internally and has provided a batch to Thames Water.
Efforts to produce sanitiser even include companies in luxury goods and alcoholic beverage producers, donating the product to those who need it, and helping to keep people safe as the world continues to face the ongoing health crisis.