Huai Nyin (Grace) Yow and colleagues discuss the engineering challenges specific to pharmaceutical projects
IS engineering a pharmaceutical project more challenging than for other industries? An engineering project, generally, has a defined development path: conception; design (P&IDs, design calculations, equipment selection, 3D-model and software writing); procurement; build; installation; commissioning; operational testing; and lastly but not least, client handover.
Engineering of a pharmaceutical project is very similar, with added detail of validation activities and compliance for regulatory approval. This is because ultimately the drug, and its production process, must be given the regulatory approval stamp before the drug can help its intended users. And by definition, a regulatory-approved drug has successfully passed all testing and clinical trials, with the results independently assessed to confirm that the drug is safe and effective for its intended users.
In this article, we will present a selection of key engineering practices to consider when designing or engineering a pharmaceutical project. We will provide a brief overview of how these engineering topics relate to the qualification process, which is required for regulatory approval.
Qualification overview
Figure 1 presents the typical qualification process for a pharmaceutical project: user requirement specification (URS);  requirement traceability matrix (RTM); impact assessment (IA); design qualification (DQ); factory acceptance test (FAT); site acceptance test (SAT); installation qualification (IQ); operational qualification (OQ); performance qualification (PQ); and cleaning validation. Figure 1 contains a brief explanation of each step, alongside its relationship with the development of an engineering project. Once the conception process and client URS are completed, we can begin our design by considering the following topics.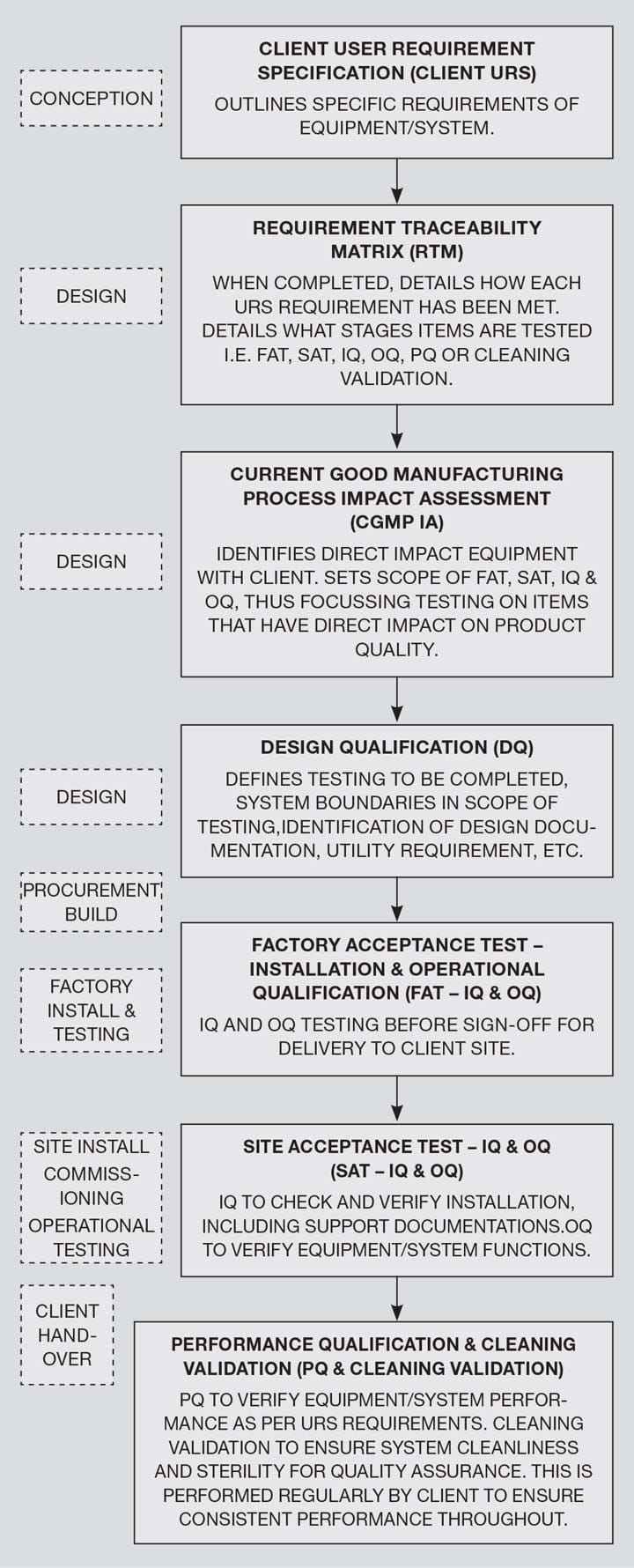 Design – standards and guidelines
The first thing to consider is the site or company standards, and the market in which the drug will be sold. Each country will have its own regulatory process. Therefore, it is important to understand which standards to follow in our design. A few common standards and guidelines typically applied in pharmaceutical projects to ensure quality acceptance and assurance of the manufactured drug are:
American Society of Mechanical Engineers: Bioprocessing Equipment (ASME BPE) Standards.
International Society for Pharmaceutical Engineering (ISPE) Guides.
Good Manufacturing Practice (GMP) Standards.
Good Automated Manufacturing Practice (GAMP) Standards.
Food and Drug Administration (FDA) Code of Federal Regulations (CFR).
EudraLex – European Drug Regulatory Legislation.
Medicines & Healthcare products Regulatory Agency (MHRA) Guidance.
International Pharmacopoeia.
European Pharmacopoeia.
US Pharmacopoeia.
Japanese Pharmacopoeia.
Note that compliance to more general standards and regulations (eg CE marking, ATEX Directive 94/9/EC, Health & Safety at Work Act 1974, etc) is still compulsory, where applicable.
Process and pipework design – product and services
Here, the process design begins. Read and dissect the URS. Talk to the client and its development partner(s). Capture everything in written format, so that discussions and decisions are clear. This information will feed into the RTM and CGMP IA. Most of the time, the client already has a design vision in mind. It will be helpful to understand that vision.
Make sure the properties of all chemicals, process, and utilities requirements (including pipework specifications and flow paths) are fully understood. A few examples include vapour pressure effect on net positive suction head (NPSH) of pumps, water/steam quality determining single or double tubesheet heat exchanger, product sedimenting/creaming effects governing pipework size and vessel design, etc.
Do consider any sampling and testing requirements at this stage, which will typically be required for the clean utilities (eg clean/pure steam, sterile gases, purified water, water-for-injection (WFI)), filters, etc. Also, do consider any sterilisation requirements for microbe reduction. For final product sterilisation, this should be performed as close to packaging as possible. Obtaining this knowledge and understanding will benefit the project in the long run.