THE clues to Sheffield's rich engineering heritage are on show throughout the city. As I walk from the train station to the launch of a new pilot plant at the University of Sheffield's engineering building, I pass The Bessemer pub, named after the 19th century inventor whose steelmaking process helped establish the city as a major industrial centre.
As a result of Bessemer's work, you'll find swords crossed on Sheffield United's crest; Sheffield's ice hockey team is called the Steelers; and of course there is the Crucible Theatre, home to the Snooker World Championships. And that's just the references in sport and entertainment.
Now while Sheffield's steel industry has lost some of its lustre, when you first lay eyes on the Diamond Building, home to the University of Sheffield's engineering faculty, you are left in no doubt that engineering in a wider sense strives to remain front and centre.
Shine bright
The £86m Diamond building opened in 2015 and stands prominently at a busy crossroads in the city centre, its glass and anodised aluminium façade strikingly different from the surrounding architecture. It is home to seven engineering departments and 5,000 students.
The launch of the Diamond Pilot Plant (DiPP) is a major addition to the engineering faculty's building, which already boasts a VR teaching space known as "the cave" (computer aided visual environment, a 3D-printing 'makerspace' workshop run by students for students, and a Mindsphere digitalisation facility sponsored by Siemens.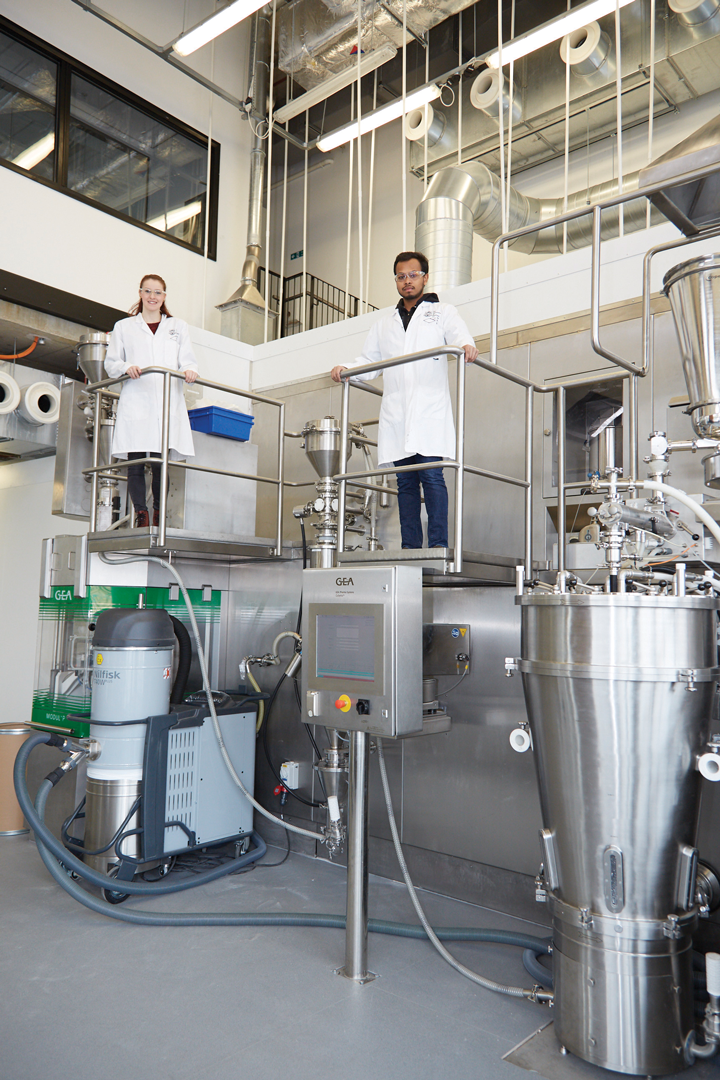 The first thing that strikes you when you enter the building is how bright and wide-open it is. Nothing appears to be tucked away or hidden. The pilot plant stands behind a high, wide glass window – it's like being at an aquarium, but inside are technicians operating shiny steel process kit. In the Diamond Building, engineering is deliberately on show.
I'm one of a handful of press and guests the university has invited for the official launch. Notable are the senior executives from industry – including AstraZeneca, GEA, GSK and Nestlé – who along with senior staff from the faculty are invited to offer their own remarks on the importance of the new facility.
One theme that shines through is the evolution of industry – particularly the pharma sector's shift to continuous processing – that the new pilot plant represents.
As Jim Litster, IChemE Fellow and head of the department for chemical and bioengineering, puts it: "The pharmaceutical industry is undergoing the most significant change in manufacturing processes in the last 30 years. It is tremendous that our students can use this cutting-edge technology in their education at MEng, MSc and PhD level studies.
"The new continuous powder processing plant emphasises the importance of complex particulate products, and formulated products more broadly, in modern chemical engineering - and we are reflecting this in our new curriculum. It is truly research-led teaching."