Claudia Flavell-While charts the contribution of P&G's Victor Mills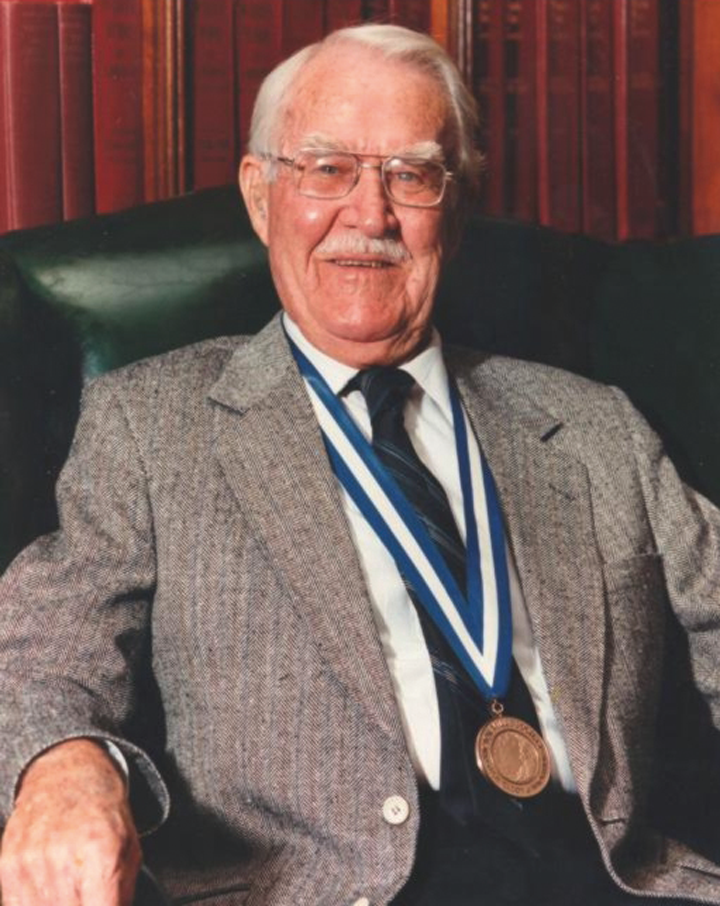 Chemical engineers who change the world usually do it very quietly, their contribution overshadowed by the chemist who made the initial scientific breakthrough, the significance of their work receiving broad recognition only a long time after their deaths, if at all.
Not so Victor Mills. Vic Mills, as he's more commonly known, was a legend in his lifetime. A chemical engineering graduate of the University of Washington (UW), US, he spent his career working for consumer products giant Procter & Gamble (P&G), and was instrumental in developing some of P&G's most iconic products. His legacy lives on, and not only in the products he developed and improved. His former employer still operates the Victor Mills Society – an elite club for the most accomplished scientists working at the company, membership to which remains the highest innovation award P&G has to bestow and a much-coveted accolade for the company's engineers and scientists.
Over the course of his 35-year career with P&G, Mills became head of the exploratory products division, which allowed him to improve a multitude of existing processes and products, and develop a whole lot more. He drastically cut the production cost of Ivory soap, stopped the oil from separating out of Jif peanut butter, and solved a particularly annoying problem with Duncan Hine cake mixes, which caused the cakes to clump. Mills also developed the production concept for Pringles crisps – without it, Pringles would be neither uniform in shape nor would they stack. However, the innovation for which most remember him, and which many readers of tce will have experienced at some point during their lives, is the world's first commercially successful disposable nappy. Victor Mills is the man who gave the world Pampers.
Clean getaway
Born in 1897 in Nebraska, he served with the  US Navy during World War I then moved to Hawaii where he worked as a welder. While he initially planned to study civil engineering, Mills was persuaded to consider chemical engineering, and that is what he read at UW. It was at university that Mills met another chemical engineer who changed the world, Waldo Semon, who's best remembered for developing PVC and certain synthetic rubbers. 
Semon was a fellow graduate of UW and one of Mills' teachers during the brief time Semon spent as a lecturer before joining BF Goodrich. The two stayed in touch, and when Semon ran into difficulties with the synthetic rubber he was working on, Mills was able to produce a special blend of Ivory soap flakes that helped Semon solve the problem.
Indeed, Ivory soap was one of the first products Mills worked on after joining P&G in 1926 as one of the first-ever chemical engineers at the company. His challenge was to reduce the production costs. At the time the soap was produced using a batch process, which was time and labour intensive. Mills invented a continuous hydrolyser process that enabled the continuous production of the base soap stock. He is also credited with developing a continuous hydrogenation process for the production of edible oils.
The transfer market
His ability to transfer innovations from one product family to another stood him in good stead when he was asked to work on P&G's cake mixtures. The cakes did not always mix properly and turned out lumpy. Mills' solution was to take the kinds of machines used to mill soaps to very fine flakes, and run cake mixture through them. It worked: the new, finer cake mixture no longer clumped and Duncan Hines mixtures turned from a problem brand into the US market leader within three years. There was one casualty, though: Mills' family, which had been roped into help test the product until Mills had found the right settings for the mills, may well have received an overdose of cakes in the process.
The concept of Pringles, to which Mills was a chief contributor, equally owes a lot to the soap-production process. Unlike regular crisps, which are cut from potatoes and fried in whatever shape they happen to have grown, Pringles are made from finely ground potatoes that have been mixed into a slurry, pressed and baked. This gives them their unique shape, facilitates the even distribution of flavourings, and also makes for a denser product – which equates to fewer lorry loads and a more efficient distribution process.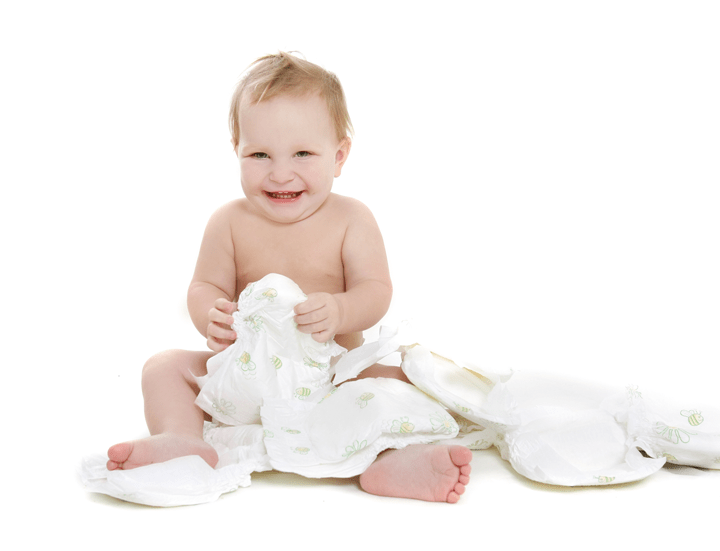 Dry run
Mills' crowning glory, the disposable nappy, came fairly late in his career. Mills was 60 years old and had been with the company for 31 years when, in 1957, he was asked to think up some new and exciting ways to use paper. P&G had recently acquired Charmin Paper Company and needed new products to get good use of its newly acquired paper production. 
Mills, who had recently become a grandfather for the first time, had always hated washing nappies. Given the desire for a new product using paper, Mills came up with the idea of using shredded absorbent paper in a nappy that could be thrown away after use. Paediatricians also liked the idea; nappy rash caused by wet skin was a real problem, and the task of washing cloth nappies was causing a considerable workload for hospital laundry services.
The exploratory products division at P&G swung into action. The task was to find a product with sufficient absorption for the task, which didn't leak and kept the baby's skin reasonably dry. One of the first actions was to visit a toy shop and procure a Betsy Wetsy – a 'realistic' urinating doll popular during the 1950s. The doll helped the engineers with the early product development. Further product testing was supplied courtesy of Mills' three grandchildren who Mills had to drive to a holiday in Maine. Bob Duncan, another member of the development team assembled by Mills, further tested the nappies on his twin babies.
The early nappies were very basic, essentially rectangular pads of tissue paper with a rayon liner and polyethylene outer. Some of the early models still had to be fastened with pins, and their price – the equivalent of 40 cents each – was too high for the average consumer, but, even so, there was instant interest.
Following product tests in Rochester, New York, in 1959, for which 37,000 nappies had to be hand-sewn, Pampers disposable nappies were commercially launched in Illinois in 1961, the year Mills retired.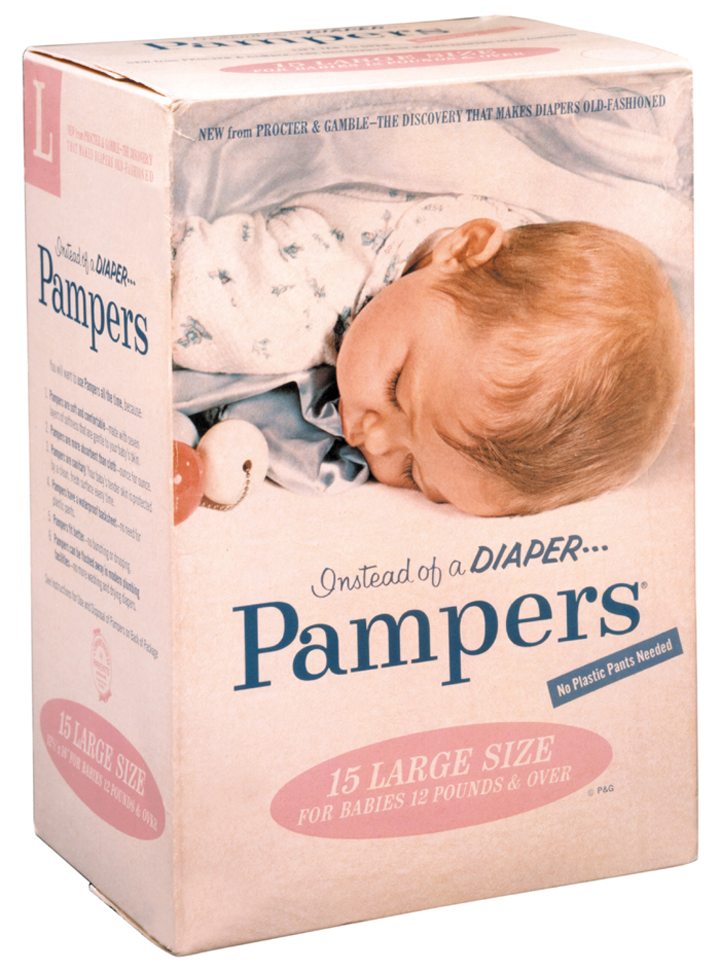 More user friendly
Further product development soon made the nappies more user friendly. For example, by replacing the pins with adhesive tapes and improving the fit, and therefore leak-resistance, around the legs.
Advances in the production process soon brought down the price. Soon demand was soaring, though the very demanding requirements for the production facilities meant that P&G was not able to roll out Pampers across the whole of the US until 1970. However, Mills was able to obtain a sufficient supply to use the nappies on his granddaughter, who was born in 1962.
Mills was not, strictly speaking, the first person to develop a disposable nappy – that honour belongs to Marion Donovan, an enterprising housewife and mother who, in the 1940s and 1950s, progressed from making waterproof nappy covers to developing the first fully disposable nappy. However, her innovation never took off, whereas Mills' revolutionised infant care throughout the developed world. Despite some questions over their sustainability and environmental impact as opposed to cloth alternatives, some 90% of babies in most industrialised countries wear disposable nappies. Worldwide, the business is thought to be worth $29b/y. 
Of course, disposable nappies have seen huge further development since their initial launch and Mill's retirement. The most significant of these advances was the replacement of the shredded paper that formed the nappies' core with superabsorbent polymers.
The patent for using superabsorbent polymers in nappies was independently filed in 1966 by both Carlyle Harmon of Johnson & Johnson and Billy Gene Harper of Dow Chemical. Superabsorbers work like a lattice that expands to absorb liquids, and they can hold up to 300 times their weight in water.
The polymers increased the absorbent power of nappies, yet made them much thinner. It was a significant advantage because it allowed shops to display many more nappies (until then, available shelf space had been a severe bottleneck) while halving transportation costs. In addition, superabsorbers made for a better product; until then, skin wetting still proved to be a problem because paper nappies, once they are wet, allow a certain amount of moisture to soak back through the surface. This is particularly problematic when the nappy comes under pressure; and a baby sitting on its bottom exerts as much as 5 kilopascals of pressure on the nappy core.
Replacing paper – the original driver of the invention – with superabsorbers has vastly improved the product; nappies today hold almost twice as much liquid as they did in Mills' day, while taking up a fraction of the shelf or lorry space. What is more, they keep a baby's skin perfectly dry and barely leak at all.
However, none of this diminishes Mills' original invention – and the world as well as his former employer rightly still remembers the man whose innovative mind got right to the bottom of parenting challenges.
---
Originally published in May 2011