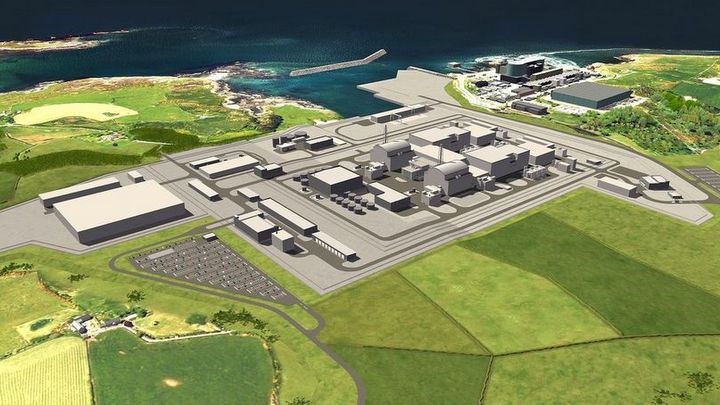 Horizon Nuclear Power
HITACHI has announced the decision to suspend indefinitely its UK nuclear power station construction project Wylfa Newydd, on the Isle of Anglesey, Wales. Experts have warned that this could lead to a UK energy crisis.
The company also announced that it would suspend its other nuclear UK-based project in Oldbury. Construction was to begin after Wylfa was completed.
Separately, in November last year Toshiba announced the winding in of a nuclear power plant project in Moorside, UK. Out of six sites that were identified for construction in the UK this leaves only Hinckley under construction whilst Bradwell and Sizewell are yet to be given the go-ahead.
Hitachi made the decision to suspend its UK nuclear project as it could not reach an agreement with the UK Government on project financing and related commercial arrangements.
Last year it was announced that the UK government would share the cost of the Wylfa Newydd plant with Hitachi and the Japanese Government. The UK was to invest £5bn (US$6.4bn) in what was expected to be a £16bn project.
Leon Flexman, Corporate Affairs Director at Horizon Nuclear Power (HNP), told BBC News that Wylfa was costing Hitachi £1m per day, "a huge ask for any private company". HNP is a 100% subsidiary of Hitachi, and is undertaking the UK nuclear project.
If Wylfa goes forward it would generate 2.9 GW of energy, 6% of the UK's current electricity needs. Together Wylfa and Oldbury would have generated 5.8 GW of energy. Suspension risks that generating capacity as well as up to 9,000 construction jobs.
Greg Clark, Secretary of State for Business, Energy and Industrial Strategy, said: "Nuclear has an important role to play as part of a diverse energy mix but must be at a price that is fair to electricity bill payers and to taxpayers. We will work closely with Hitachi and the industry to ensure that we find the best means of financing these and other new nuclear projects. And our commitment to Anglesey – with nuclear, renewables, and the deep expertise that it has, a real island of energy – will not be changed by this decision."
Duncan Hawthorne, CEO of HNP, said that the company will "keep the option to resume development in future" and a Hitachi spokesman further told BBC News that the suspension "is not a stop".
Expert opinions
Following Hitachi's announcement many experts have expressed concerns and commented on the UK's need for nuclear energy.
"Hitachi's announcement, coming so soon after the Moorside fiasco, raises the very real prospect of a UK energy crisis," commented Justin Bowden, GMB National Secretary for Energy.
Matthew Fell, Chief UK Policy Director at CBI, said: "The loss of new nuclear projects could leave us more heavily dependent in the long-run on fossil fuels, which could risk our legally binding climate targets. The Government needs to build on its support for new nuclear power by giving individual projects the certainty they need, alongside measures that deliver a mix of low-carbon and renewable technologies."
The Nuclear Industry Association said: "The urgent need for further new nuclear capacity in the UK should not be underestimated, with all but one of the UK's nuclear power plants due to come offline by 2030. If we want a balanced generation mix, Government must work with industry to deliver that vital capacity on this site. At stake is our ability to provide bulk, low carbon power, energy security, and the potential loss of the chance of thousands of highly skilled, well paid jobs in Wales and North West England.
"Without a diverse low carbon mix and with increasing demand to power electric vehicles, we run the risk of becoming more reliant on burning fossil fuels to produce our electricity."
Jenifer Baxter, Head of Engineering at the Institution of Mechanical Engineers, said: "This is sad news for North Wales and the UK energy industry. The construction of the plant, and its operation, were expected to provide hundreds of highly-skilled engineering apprenticeships and jobs in North Wales for decades to come. This is an area with few of these well-paid jobs and this plant would provide an important economic boost to North Wales.
"When built, it would have provided around 6% of UK electricity demand, all reliable low-carbon electricity, helping the UK meet its decarbonisation targets under the Climate Change Act. The reduction in nuclear power in the UK is a loss to our ability to decarbonise rapidly. This decision to pause development of one of our major nuclear energy sites combined with the decision to leave Euratom as part of Brexit will damage the long-term outlook for the nuclear manufacturing supply chain in the UK." 
Matt Barley, Chair of regional advocacy group Nuclear South West, said: "We will continue to work with industry partners and will do what we can to ensure that the impact can be managed, and we remain confident that a solution can be found for new nuclear development in the Wylfa and Oldbury sites.
"Nuclear energy remains the only solution for truly reliable, independent baseload generation that supports our country's commitment to a low carbon future, and the nuclear industry presents a huge opportunity for the UK economy. In the South West, the nuclear industry remains buoyant, with strong progress in Hinkley Point C, Magnox and the defence nuclear estate."
However, not all commentary about the decision has been negative.
Doug Parr, Chief Scientist for Greenpeace UK, said: "The government's thinking seems to have finally caught up with reality. If the UK's ageing energy policy is at last opened up to scrutiny, we must ensure that the main question is not how best to make the taxpayer cough up for new nuclear. There is little justification for spending our money on this outdated technology when even the government now acknowledges that renewables are cheaper, quicker to build, and cleaner."