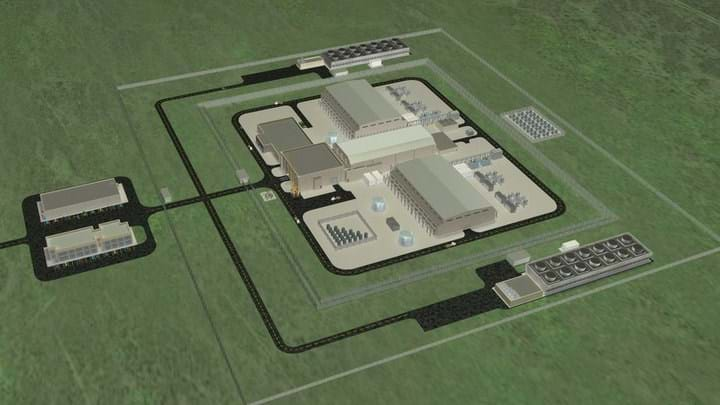 NuScale
NUSCALE Power has selected BWX Technologies (BWXT) to manufacture NuScale's small modular reactor (SMR). The announcement marks the transition of the nuclear technology into the manufacturing phase.
NuScale's SMRs are the first and only of their kind to undergo Design Certification review by the US Nuclear Regulatory Commission (NRC). The designs completed Phase 1 of the NRC's review in April 2018, after NuScale submited their application in early 2017.
BWXT is a supplier of nuclear components and fuel to the US government and nuclear power industry. Following an 18 month selection process that involved reviewing applications from 83 companies across 10 countries, NuScale chose BWXT to refine its reactor design for manufacturability, assembly, and transportability.
NuScale said that BWXT would start work on this first manufacturing phase immediately and continue through till 2020. According to NuScale, BWXT expects to contract Precision Custom Components, a Pennsylvania based manufacturer of custom fabricated equipment, for component manufacturing.
The Nuclear Energy Agency estimates that the SMR market will be worth more than US$100bn by 2035. And, according to the US Department of Commerce, every US$1bn of US exports represents at least 5000 jobs. NuScale said that once approved their plants would create thousands of jobs during manufacturing, construction, and operation. They also said that this might pave the way to the US being re-established as a global leader in nuclear technology. 
John Hopkins, CEO of NuScale, said: "BWXT's established industry experience was important for us, and so was choosing an American company. Our technology will bring immense economic prosperity for people here at home, while improving the quality of life for those all across the world by providing resilient, carbon-free electricity."
Rex Geveden, CEO of BWXT, said: "NuScale's unique SMR design can be factory-made and offers scalable power based on need. We are excited to work with NuScale to help make their ground-breaking design a reality."
This step into manufacturing is the first phase in brining NuScale's pioneering technology to market. NuScale will contract companies for the remaining phases, preparation for fabrication and fabrication, at a later date.
The US is currently competing with other countries, including Russia and China, to globally commercialise SMRs. NuScale is currently the US frontrunner. The US NRC is scheduled to approve NuScale's Design Certification application in September 2020 and the company's first customer, Utah Associated Municipal Power Systems, is on track to deploy the country's first SMR plant in the mid-2020s.
Small modular reactors
SMRs are modular nuclear power plants, smaller than traditional nuclear powerplants. SMRs are considered to be those plants smaller than 300 MW. Traditional reactors can be much larger, such as the one under construction at Hinkley Point C, which will be capable of generating 3,260 MW of energy. SMRs can be manufactured in factories and then transported in modules to sites. There are several benefits that SMRs could offer the nuclear industry. For example, compared to traditional reactors SMRs offer enhanced safety, as well as cheaper and faster fabrication. Furthermore, the modularity means the number of units used can be tailored to suit onsite power requirements and long outage periods can be avoided through unit-by-unit maintenance and refuelling. SMRs are also well-suited for use in combination with renewable energy as it is simpler to change their energy output to compensate for fluctuating levels of wind and sunlight throughout the day.
In the future these smaller reactors could extend the use of nuclear power for example to smaller towns unsuitable for larger reactors, or to countries where power production is decentralised. They could also widen nuclear power use into combined heat and power for district heating, or for dedicated niche applications such as desalination.
However, there are still challenges to be faced before SMR commercialisation is possible. For example, new regulations and licencing will need to be put in place to address the novel method of manufacture and deployment, as well as operations.. In addition, though designers stress the enhanced safety SMRs offer, this is yet to be validated.
There is growing international interest in SMRs and commercialisation could be facilitated with the right measures in place. Earlier this year the UK government announced a number of measures expected to support SMR development in the 2018 Nuclear Sector Deal.