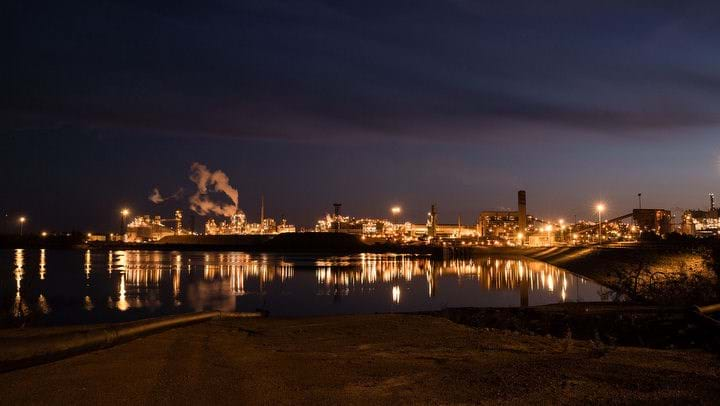 South32
CHEVRON and Woodside Energy are to supply South32-operated joint venture (JV) Worsley Alumina with a total of about 100 petajoules, PJ (1.75m t) of liquefied natural gas (LNG), to power its operations.
Located in Western Australia, Worsley Alumina is an integrated mining and refinery complex that produces white alumina powder for aluminium metal production.
As per a signed domestic gas sales agreement, starting from mid-2019, Chevron Australia will supply Worsley with approximately 60 PJ of equity domestic gas, over the term of the agreement. Chevron will supply the gas from across its leading Australian domestic gas portfolio across the Gorgon, Wheatstone, and North West Shelf facilities.   
Separately, Woodside Energy, Australia's largest natural gas producer, signed a long-term gas sale and purchase agreement with Worsley to supply it with about 40 PJ of pipeline gas over the term of the agreement. Woodside will supply Worsley with gas from its portfolio of domestic gas facilities, including the North West Shelf, Pluto, and Wheatstone.
The duration of the agreements was not disclosed.
Australian newspaper WAtoday reports that the new agreements are to replace expired ones and South32's energy mix will not change.
According to WAtoday, LNG exports are more lucrative for gas companies, but spokesmen from both companies said that they welcomed the new agreements.
Reinhardt Matisons, Executive Vice President of Marketing, Trading, and Shipping at Woodside, added: "Our agreement with Worsley Alumina, which makes a significant contribution to jobs and prosperity in its local community, is a further demonstration of Woodside's commitment to supplying domestic gas to consumers in Western Australia from our diverse supply portfolio."
Al Williams, Managing Director of Chevron Australia, said that the recent agreement is a "clear demonstration" of Chevron's commitment to delivering reliable energy to meet growing local and global demand.
He added: "Our investment in Australia has enabled the development of an affordable, reliable and ever-cleaner energy supply for current and future energy users in Australia. Natural gas is playing a substantial role as a cleaner alternative for local customers while supporting jobs and strengthening the economy." 
"We are working to increase the supply of natural gas into Australia and international energy markets to help realise the objective of affordable solutions to delivering additional energy the world needs while reducing emissions globally."
Natural gas is a flexible fuel and can therefore be used to power Australia's most vital industries and manufacture products essential to modern life. According to recent estimates by the Australian Government, Australia's LNG exports have helped to significantly reduce global emissions. In 2018, the country's total LNG exports had the potential to lower emissions of CO2 equivalent in importing countries by around 148m t, if the exports displaced coal consumption in those countries.
Worsley Alumina is a JV between South32 (86%), Japan Alumina Associates (10%), and Sojitz Alumina (4%).