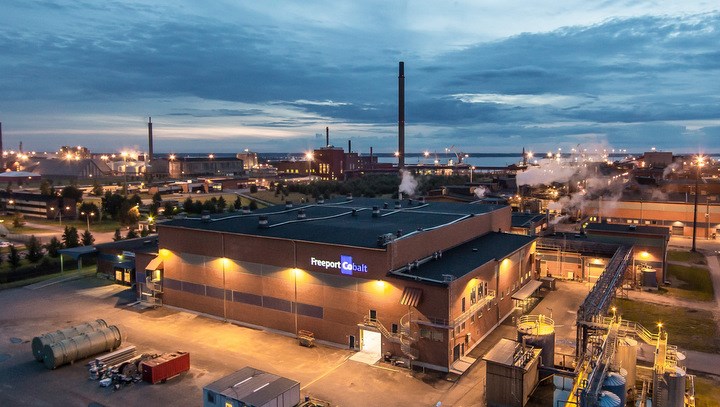 Freeport Cobalt
INTERNATIONAL mining company Freeport-McMoran has agreed to sell Europe's largest cobalt refinery to Umicore, a global materials and recycling company.
The state-of-the-art cobalt refinery, located in Kokkola, Finland, is the largest cobalt refinery outside of China, where almost all of the world's cobalt is processed.
For US$150m, plus the value of the working capital at the time of close, Umicore will acquire the 15,000 t/y refinery in addition to its related cobalt cathode precursor business. The precursor business represents 60% of the refinery's historical revenues.
Under the agreement, Freeport will separate its cobalt business – Freeport Cobalt – prior to completing the transaction and with its partners retain remaining operations in Kokkola. The retained cobalt business is a leading producer of cobalt fine powders, chemicals, catalysts, ceramics, and pigments.
Transaction completion is expected by the end of 2019. Lundin Mining, a partner in Freeport Cobalt is entitled to 30% of the transaction proceeds.
The acquired operations will supply precursors for Umicore's cathode materials production plant in Nysa, Poland. Operations are due to begin in the second part of 2020. According to the Financial Times, Umicore is Europe's largest producer of cobalt-based battery cathodes, a key component of electric car batteries.
Marc Grynberg, CEO of Umicore, said: "This acquisition underlines our commitment to support the rapid growth of our battery materials customers in Europe and supply them with locally-produced materials of the highest quality with a certified and clean origin. I am proud of Umicore's contribution to the accelerating transition to cleaner mobility in Europe and the rest of the world."