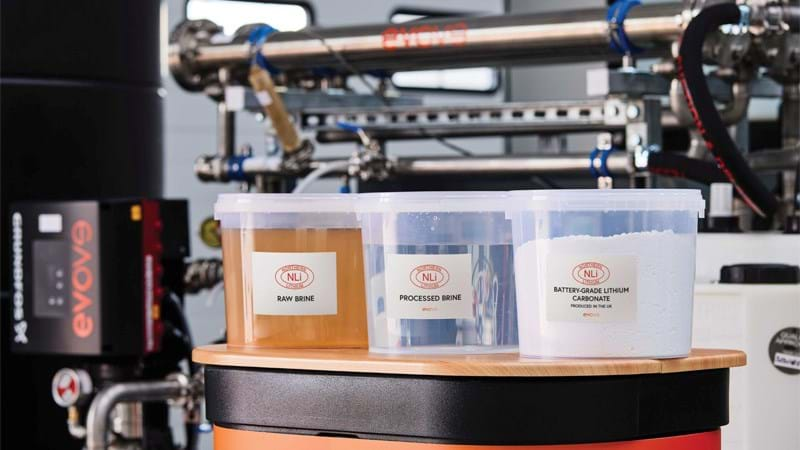 Evove
ENGINEERS have piloted a process that uses membranes to produce battery grade lithium carbonate from UK saline brines, a move that could improve materials security and offer an alternative to lithium produced using water- and energy-intensive extraction processes.
The trials have involved a direct-lithium extraction process piloted on UK brines from Northeast England and the results are so promising that the partners say they are already working on a commercial-scale processing plant.
The UK is estimated to need 80,000 t/y of lithium carbonate by 2030 to meet its demand for battery materials, according to the UK Critical Minerals Intelligence Centre. Nick Pople, managing director of Northern Lithium, a mining firm that extracted the brine, said: "Our goal is to reach commercial production of between 5,000 to 10,000 tonnes of battery-grade lithium per year from several production areas across the Northern Pennine Orefield over the next decade."
The lithium carbonate was produced at a pilot plant at Evove's test centre in Widnes. The trials took place during August and produced around 2 kg of battery-grade lithium carbonate at a purity level above 99.5%, which the partners say confirms the commercial potential of Northern Lithium's saline brines.
The first stage of Evove's direct lithium extraction process uses nanofiltration membranes rather than conventional adsorption techniques. The process developer says a coating on the membrane that strips the raw brine of divalent ions creates an ideal feedstock for isolating the lithium from other salts. The second and third stage involves ion exchange to first polish the brine by removing the last traces of divalent ions and then refining to battery-purity.
The UK does not currently produce lithium so has to rely on imports. Major producers include Australia (~54%) whose recovery processes involve mining lithium-containing rocks which are crushed, ground, and heated in energy-intensive processes to extract the lithium. Chile (~24%) relies on an evaporative pond method to extract lithium from brines but this is slow and water intensive.
"The material produced by Evove's DLE membrane filtration technology confirms the purity of our brines and ability to deliver a commercially viable solution. It is a huge step forward and gives us the green light to quickly begin scaling up activities," Pople said.
The two companies say they are already working on a commercial-scale processing plant that would allow Northern Lithium to start full-scale battery-grade lithium production at its first County Durham site and expect it will be operational within two to four years.
Reacting to the news, Nusrat Ghani, the UK's minister for industry and economic security said: "This is another exciting milestone for our domestic supply of critical minerals and the UK's car industry as we look to ramp up our electric battery production."
The successful trials follows Weardale Lithium becoming the first firm to extract lithium from brines in Northeast England using a direct lithium extraction and crystallisation (DLEC) process at laboratory scale. Last year, Cornish Lithium commissioned the UK's first pilot plant to directly extract lithium from brines, receiving £24m from the UK Infrastructure Bank in August having warned it could go bust without extra funding.