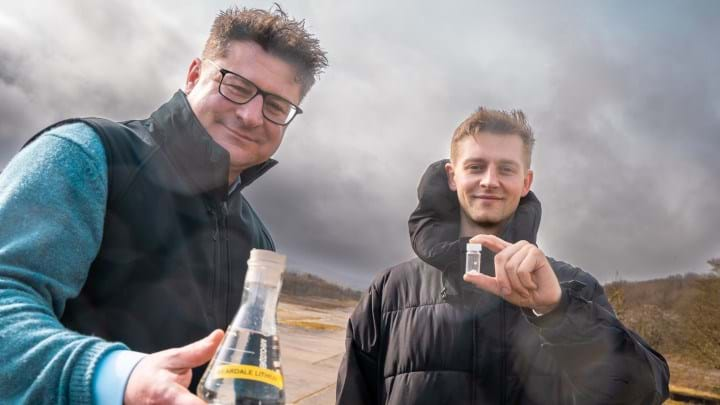 Watercycle Technologies
TAKING a step in developing a UK lithium supply chain, natural resources company Weardale Lithium has announced successful extraction of lithium carbonate from geothermal brines in County Durham. The company said it was the first time that lithium carbonate had been produced from geothermal brines in the North East of England.
Stewart Dickson, CEO of Weardale Lithium, said: "The supply of domestic lithium is of strategic importance to the UK's net zero ambitions and production of high-value batteries for electric vehicles…Whilst there is still much to do, we have made significant steps towards being able to generate a domestic supply of lithium in the North East that will support vehicle electrification in the years to come."
Lithium carbonate was produced at laboratory scale in trials using Watercycle Technologies' proprietary direct lithium extraction and crystallisation (DLEC) process. The milestone result followed Weardale Lithium's trials of multiple direct lithium extraction (DLE) processes, which confirmed that geothermal brines in the Eastgate boreholes could be used for lithium production.
Watercycle Technologies, Weardale Lithium's partner and a spin-out of the University of Manchester, UK, is a deep tech company focused on developing sustainable, high-yield, low-cost, mineral extraction and water treatment systems. Its DLEC process selectively removes lithium ions from complex brines using mixed matrix hollow fibre adsorption membranes, before the lithium is concentrated, polished, and crystallised.
Seb Leaper, CEO of Watercycle Technologies, said: "We have developed a process that produces zero waste, is water-neutral, and requires 95% less land than conventional lithium extraction processes. All that will be left after operations are a few manhole covers, and so the natural beauty of the Weardale region will be preserved for future generations as well."
The milestone allows Weardale Lithium to progress with stepwise scaleup of lithium extraction trials and supports the decision to invest in construction and operation of a DLE pilot demonstration plant for test-scale lithium production. The modular pilot demonstration facility will be located on a brownfield, former cement works at Eastgate.
For commercial scale, Weardale Lithium is targeting 10,000 t/y of lithium carbonate production, which could generate around 125 new full-time, highly skilled jobs. The company estimates that commercial production would generate more than £1bn (US$1.2bn) gross economic value for the North East region.  
Currently, there is no production or refining of lithium in the UK or EU, although a demonstration plant to validate sustainable production of lithium hydroxide from mica is being built in Cornwall.
Weardale Lithium said domestic supply could lead to lower transport costs, robust supply chains, and reduced environmental impact compared to foreign suppliers. The milestone it achieved with Watercycle Technologies is a step to advancing the possibility of domestic lithium, as well as that of an integrated battery supply chain industrial hub in North East England.
A more sustainable competitor
Leaper said that the UK is well positioned to be a leader in sustainable lithium battery production. He said that there are currently two main sources of lithium around the world, brines such as in South America, and hard rock mines, as in Australia.
In South America, lithium is extracted using an evaporative pond process that is slow, offers low recovery, and is "incredibly" water intensive, said Leaper. He added that, conversely, hard rock mining requires high temperatures and is energy intensive.
"This is where there's an opportunity, in other parts of the world such as the UK, to look at the lithium sources in geothermal brines that are present beneath the ground in Weardale, for example. And using direct lithium extraction technologies such as ours enables these resources to actually become economically viable and compete with current sources, but in a more sustainable way."
DLE technologies require less energy and water than conventional methods for extracting lithium, offering a route to more sustainable production. Weardale Lithium plans to further enhance sustainability by relying on renewable sources to power the process.
Funding support
The Advanced Propulsion Centre, which is helping to accelerate the transition to a net zero automotive industry, supported Weardale Lithium's trials through its Automotive Transformation Fund, created to support large-scale industrialisation. Through the fund, up to £850m will be invested in developing a high-value, end-to-end electrified automotive supply chain in the UK.
Julian Hetherington, director of Automotive Transformation at APC said: "Projects such as this are vital in securing upstream supply to support the UK's forecast demand of over 97 GWh of automotive batteries by 2030, and could support a significant proportion of the forecast 57,000 tons per annum of UK lithium carbonate needs by that time."
Another company exploring DLE in the UK is Geothermal Engineering, which was earlier this year awarded funding that will enable it to start producing power at its first deep geothermal electricity and heat project in the UK. According to the MD of the company, Ryan Law, trials at the site show that there is an opportunity to develop a zero carbon, domestic lithium industry linked to the plants. Geothermal Engineering has found significant concentrations of lithium in the deep geothermal fluid at the United Downs site in Cornwall.