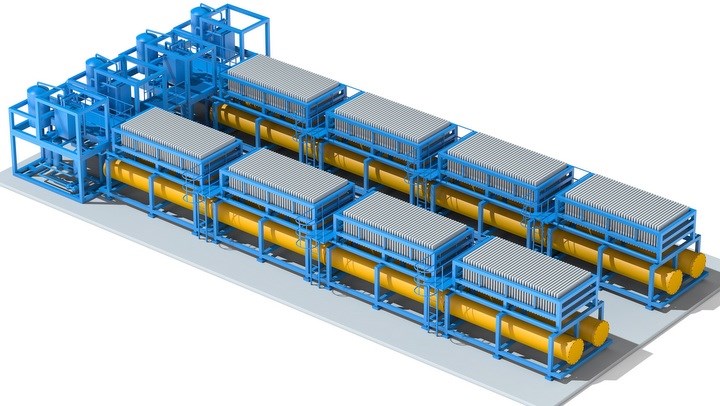 Thyssenkrupp
THYSSENKRUPP has launched industrial-scale water electrolysis technology to make hydrogen production economically feasible for large projects using renewable energy.
Hydrogen has a lot of potential in a low-carbon future, such as energy storage in the gas grid, clean fuels, and the production of sustainable chemicals such as ammonia and methanol when renewable energy sources are used. Thyssenkrupp has developed an economical electrolysis unit that can produce hydrogen on large scales. The technology uses a large active cell area of 2.7 m2 and achieves an efficiency greater than 82% through "zero-gap" technology, where almost no gap is left between the membrane and the electrodes.
Sami Pelkonen, CEO of the electrolysis and polymers technologies business unit at Thyssenkrupp Industrial Solutions said: "With our water electrolysis process, we have successfully brought a technology to market maturity which is of major significance for the energy transition. Green hydrogen as a clean, CO2-free starting point can be used in a variety of ways: for energy storage, mobility, and the production of sustainable chemicals."
The technology is available in pre-fabricated skid-mounted modules so that it can easily be deployed and integrated into existing plants. The modules can add up to any desired project range, potentially into the range of hundreds of megawatts.
Roland Käppner, head of energy storage and hydrogen at Thyssenkrupp Uhde Chlorine Engineers said:
"Based on decades of experience in developing and building electrolysis plants, we have designed our product to [be] easy to deliver and install, highly efficient, with minimized investment and operation cost. And we have an industrial-scale supply chain of 600 MW per year already in place."
The technology has already been commissioned successfully as part of Thyssenkrupp's Carbon2Chem project, which aims to use emissions from steel production as raw material for chemical production. The hydrogen already present in the flue gas can be used for ammonia synthesis, but additional hydrogen is needed for methanol production.