Inaugural conference addresses production and consumption
THE inaugural International Sustainable Production and Consumption Conference (ISPCC) took place on 4–5 October, in Manchester, UK. Engineers, scientists, social scientists, and even lawyers from around the globe came together to discuss how to achieve more sustainable production and consumption.
The conference was launched in collaboration with Sustainable Production and Consumption, an IChemE journal published by Elsevier. Adisa Azapagic, professor of chemical engineering and analytical science at the University of Manchester, UK, acts as its editor-in-chief.
Conference chair Azapagic opened the proceedings. In her opening remarks she mentioned the diversity of the conference attendees' backgrounds and highlighted the importance of this multidisciplinarity in dealing with sustainability challenges. This was very much in keeping with the conference aims.
The aims, Azapagic said, were: "To stimulate dialogue between different disciplines, to facilitate interactions between technology consumption and policy perspectives, and to think about how we can help identify sustainable solutions for both production and consumption."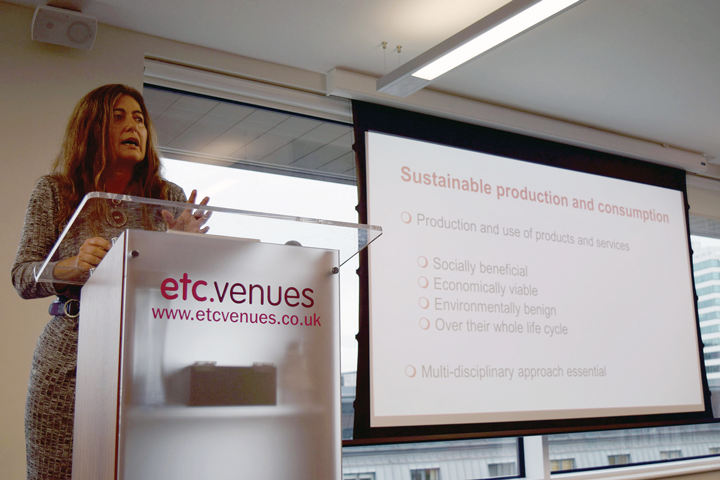 The need for change
Many of Earth's natural resources, for example fossil fuels and minerals, are finite. They can therefore place limiting factors upon industrial processes, and production and consumption. But regardless of dwindling supplies, resource demand continues to rise as developed countries seek to maintain living standards, and developing countries move towards industrialisation. In addition to issues of supply and demand, current production and consumption practices have led to environmental degradation, air pollution and climate change, as well as increasing amounts of waste.
A milestone in the acceptance and management of these issues was the 2015 Paris Agreement. Almost all of the world's nations signed the agreement which calls for signatories to take actions to combat climate change. These nations now aim to keep the increase in global temperature well below 2°C above pre-industrial levels. To achieve this, governments are instituting policies to limit greenhouse gas emissions, and technologies are being developed to remove greenhouse gases from the atmosphere.
If there was any doubt about the huge scale of the challenge facing society, the reality was made abundantly clear by UN climate scientists in October. They warned that limiting global warming to the stretch target of 1.5°C requires rapid and unprecedented changes to society (see p8).