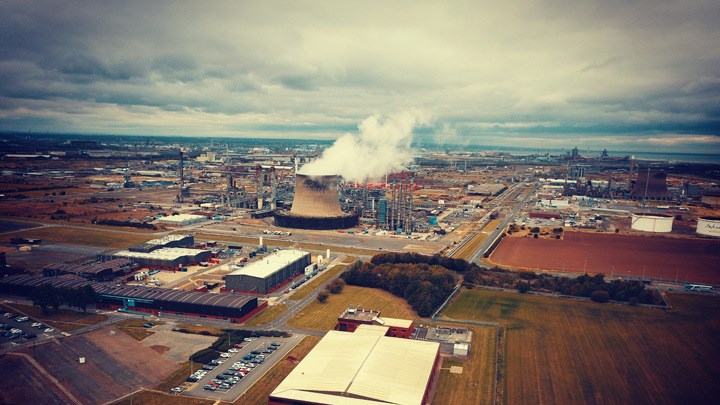 A CONSORTIUM operated by BP is pitching for the UK Government to support the development of a net zero cluster in Teesside that could capture up to 6m t/y of industrial emissions.
The project is an expansion of the Clean Gas Project announced in 2018 to construct a new gas-fired power plant along with full chain CCS technology to bury the CO2 produced under the North Sea. This has now grown to include a transportation and storage system to gather CO2 from other industries in the region including fertiliser, bioethanol, hydrogen and waste-to-energy plants. The project has been renamed Net Zero Teesside.
The consortium consists of Eni, Equinor, Shell, and Total – with BP as operator. Alongside the widening of scope for this project, MoUs have been signed with three operators in the region – CF Fertiliser, BOC, and Sembcorp Utilities – to evaluate the technical and commercial case for capturing CO2.
The consortium partners are members of the Oil and Gas Climate Initiative (OGCI), which picked Teesside from among 50 candidate sites across the UK to host its original CCS project. The region is a major process industry hub producing chemicals, plastics, metals, fertilisers and industrial gases.
Teesside's industry cluster is the fourth largest emitter of CO2 in the UK, according to Government figures. It produces 3.1m t/y, compared to 4.3m t/y for Grangemouth, 8.2m t/y for South Wales, and 12.4m t/y for Humberside.
Andy Lane, Managing Director of Net Zero Teesside, said the region is uniquely positioned to become the UK's first decarbonised cluster.
"The formation of such a powerful partnership led by BP demonstrates the industry's commitment to the UK Government's net zero targets. We're hugely excited to see Teesside back at the forefront of UK industry and want the project to progress further."
The Government announced in its budget this week that it would spend £800m (US$1bn) establishing two CCS clusters in the UK by 2030 as it seeks to achieve its legally-binding target for the UK to be net zero by 2050. The OGCI has said with Government support the Teesside project could start up in the middle of the 2020s.
In September, Drax, Equinor and National Grid Ventures launched a campaign called Zero Carbon Humber, lobbying Government to support the region's development of CCS and the hydrogen economy. The HyNet project in northwest England is also vying to be the UK's first net zero carbon industrial cluster. Plans are to gather and capture CO2 from industry in the region and bury it offshore, while providing hydrogen produced from natural gas to decarbonise industry and homes.
Commenting on the potential of the Teesside project, Tees Valley Mayor Ben Houchen said the project could drive around £500m in local investment and safeguard and create 5,500 jobs.
"Net Zero Teesside represents the next step in our ambitions for Teesside, Darlington and Hartlepool to become a pioneer in clean energy," Houchen said. "It will act as a beacon for new technologies and further investment as other companies are attracted to our area, while helping the UK achieve its clean energy potential."