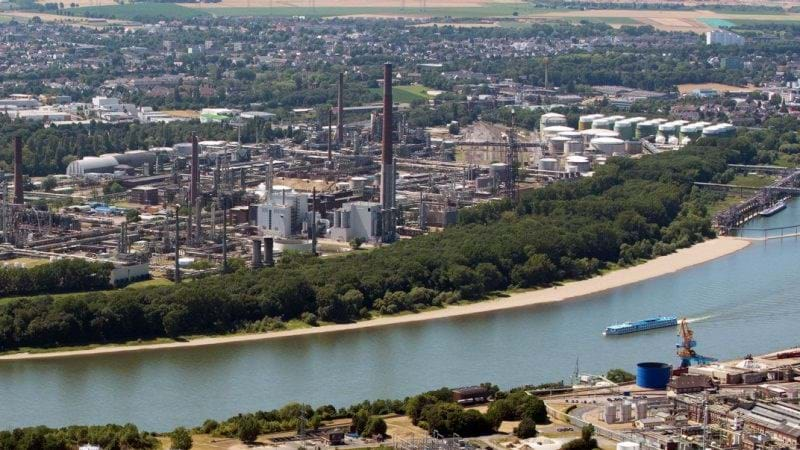 SHELL and ITM Power have announced a plan to build the world's largest hydrogen electrolysis plant at Shell's Rheinland refinery in Wesseling, Germany.
The 17m t/y refinery uses around 180,000 t/y of hydrogen obtained through steam-reforming natural gas, to process and upgrade the refinery's products. The new electrolysis plant, called 'Refhyne', will produce 1,300 t/y of hydrogen, and will be fully integrated into the refinery's processes. As well as providing some of the refinery's hydrogen, it will enable Shell and ITM Power to test the technology and explore applications in other sectors.
Refhyne will use a polymer electrolyte membrane technology process and will have a peak capacity of 10 MW. ITM's electrolysis technology uses a stack of electrolysis cells with proton exchange membranes to split the water.
"This new unit at Rheinland enables hydrogen to be made from electricity rather than natural gas. A unit of this kind brings a flexibility that can help the stability of the power grid, thereby facilitating more use of renewable electricity," said Lori Ryerkerk, executive vice president of Shell Manufacturing. "In addition, if powered by renewable electricity, the green hydrogen will help reduce the carbon intensity of the site – a key goal for us."
The project partners, which as well as Shell and ITM include SINTEF, thinkstep and Element Energy, have received €10m (US$12.2m) in funding from the EU's Fuel Cells and Hydrogen Joint Undertaking, a public-private partnership to support research and technical development of fuel cell and hydrogen technology. The total investment in the project is around €20m.
The partners will now begin the detailed technical planning and process. Refhyne is expected to start up in 2020. If successful, Shell plans to expand the facility.
"The Rhineland 10 MW system will be the largest PEM electrolyser in the world. It represents the maturing of PEM technology for large scale, industrial applications.  We are honoured to be working with Shell and the project team to deploy this plant at one of Europe's flagship refineries," said Graham Cooley, CEO of ITM Power.