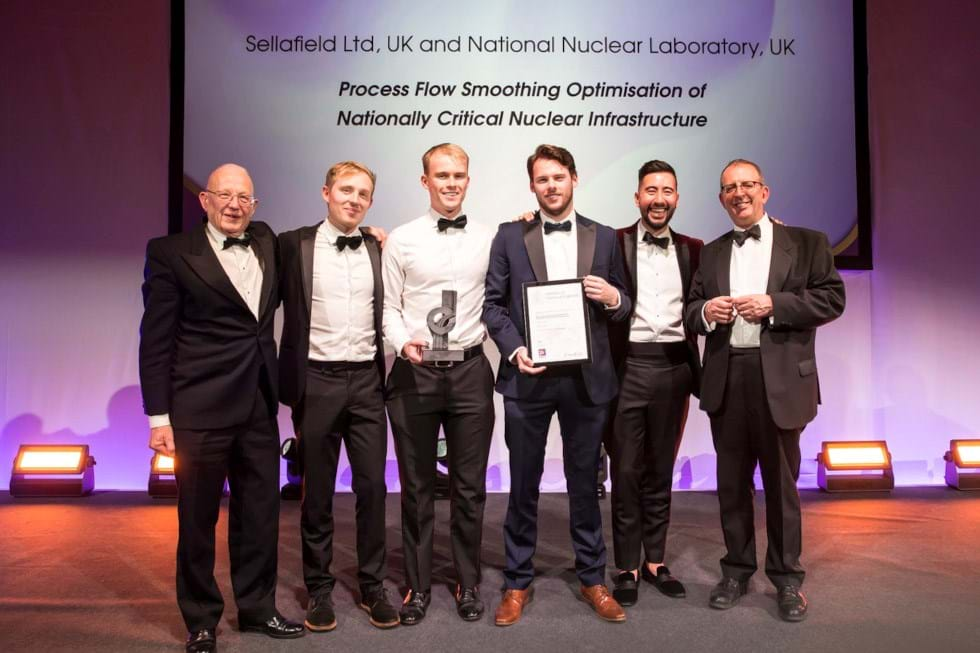 SELLAFIELD and the National Nuclear Laboratory were awarded IChemE's Outstanding Achievement in Chemical and Process Engineering Award for developing a digital twin of a crucial nuclear waste processing plant which has enabled them to radically improve its performance and extend the life of the facility.
The Site Ion Exchange Effluent Plant (SIXEP) plant in Cumbria, UK, treats radioactive effluent from operations across the huge Sellafield nuclear reprocessing site. The UK Government describes SIXEP as the "kidneys" of the site, filtering waste from water and making it safe to discharge to the sea.
The challenge for engineers is that the plant was commissioned in 1986 – it was originally designed to cease operations in 2011, but needs to be kept going until a replacement comes online in 2030. The team says the plant has struggled to maintain steady operations since it was commissioned. This has been caused by variations in process operations at plants that feed waste to SIXEP and sub-optimally configured level and flow controllers within the facility. If SIXEP were to become inoperable the UK would be forced to either emit more radioactive effluent to the sea or cease all discharges from SIXEP, which would halt remediation at one of Europe's most hazardous nuclear facilities.
Twin it to win it
To overcome this, the team developed a model in gProms using first principles, requiring the entire facility to be replicated in terms of mass and energy balances for each unit operation, its tanks, filtration systems, pump, reactors and sand-bed columns. The model also incorporated plant operations automated through the control system and those implemented manually by operators.
Using the digital twin of the plant, the team identified five areas to improve the plant control system which allowed them to reduce flow surges through the sand beds and ion exchange beds. They have decreased cyclic loading on the plant and stress placed on aged pipework, and reduced the time that SIXEP experiences severe fluctuation from more than 20% of the time to less than 2%.
The team says the success of its model allows SIXEP to extend its operations and be more efficient. Speaking to The Chemical Engineer after the award was announced, the team said the improved maturity of modelling software enabled it to overcome the longstanding problems.
"Collaboration and buy-in was key to delivering new ways of working and implementing new solutions in a facility that has already had a long history of successfully reducing discharges," said Felipe Basaglia, Performance Assurance Lead at Sellafield Ltd.
"This project could not have been carried out without the support of the plant to try out new approaches and the hard work and dedication from Sellafield Effluent Management Strategy (SEMS) team, operators, system engineers, technical authorities as well as the excellent collaborative working relationship with our colleagues from the National Nuclear Laboratory."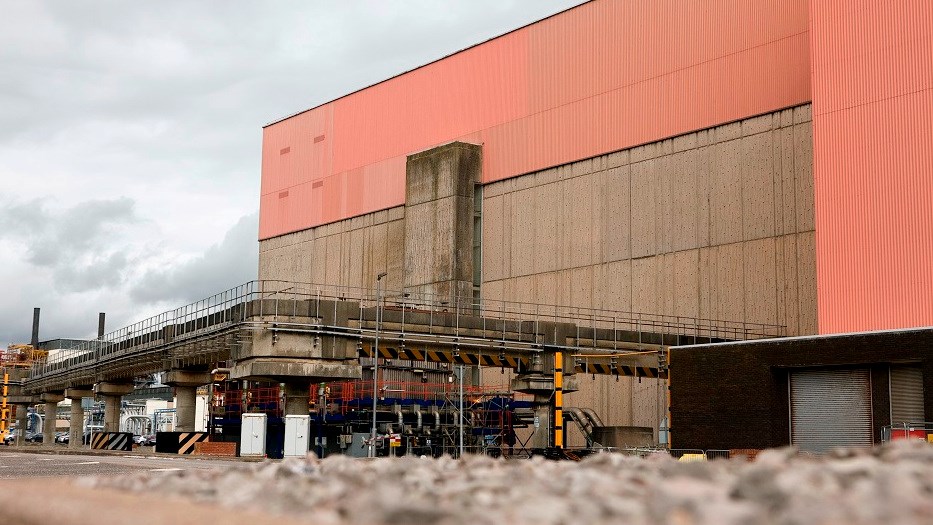 Asked what the award means for the team, Basaglia said: "Receiving international recognition from IChemE is an incredible honour and is testimony to the vision, commitment and dedication of the team in embedding and utilising new technologies such as gPROMS to support plant operations, hopefully inspiring other organisations to do the same."
IChemE Awards Head Judge, Keith Batchelor said: "In the midst of 14 worthy winners across different fields of engineering, this project stood out because it supports almost all UK nuclear activities which are set to become increasingly important as we grapple with current energy issues and the need to safely increase nuclear contribution as we move towards net zero. Most critically, it protects local and international populations from the significant impact of effluent discharged to sea. Well done to Sellafield and the National Nuclear Laboratory."
The Sellafield team has formed an international community of practice with Washington River Protection Solutions (WRPS) in the US, which manages radioactive waste stored at the Hanford nuclear site which played a leading role in the development of the atomic bomb during the Second World War.
The Sellafield team had previously scooped the Water Award and its entry was judged the best overall winner across all the non-individual categories.
Waste not
The Sustainability award was won by a joint project from the Department of Sewage Treatment Plants and Networks, Dubai Municipality, and Alserkal Group in the UAE for their integrated recycling programme that processes about 18 million gallons of fat, oil and grease waste from thousands of hotels and restaurants annually. The project has reduced greenhouse gas emissions and sea pollution, improved public health, and lowered the costs of sewer infrastructure for the region.
Sellafield also won the Process Safety Award for its work to safely remove highly hazardous waste from the 1960s-built Magnox Swarf Storage Silo (MSSS) on its site.
Commenting on the winners, IChemE President David Bogle said: "I particularly welcomed the focus on sustainability across the award categories, which clearly demonstrates how chemical engineers are already contributing to addressing some of society's major challenges due to their knowledge, innovation and commitment."
Outreach and individual winners
The Chemical Engineering Research Society (CERS) of the University of New South Wales, Australia, took home the Public Engagement Award for its work to empower research students and create a collaborative, diverse and inclusive place for the chemical engineering research community. Within its inaugural year, it connected more than 250 members, established relationships with over 40 companies, and raised more than A$18,000 to support events.
Emma Claxton, Process Engineer at PM Group won the Young Industrialist Award. She was praised for her technical competence and enhancement of safety standards, while her work in robotics is making labour-intensive drug therapies more freely accessible. She is also driving positive change for women in chemical engineering and inspiring young women into STEM roles.
Thomas Heenan from University College London won the Young Researcher Award in recognition of contributions to research and enterprise. Heenan has published more than 60 articles with more than 1,800 citations, and strongly believes that the translation of fundamental research into tangible, real-world applications is important, while advocating for open-source publishing. He has established several data archives that are freely available to all.
The Awards ceremony took place in Manchester, UK, on 17 November and was hosted by television and radio host Reverend Richard Coles.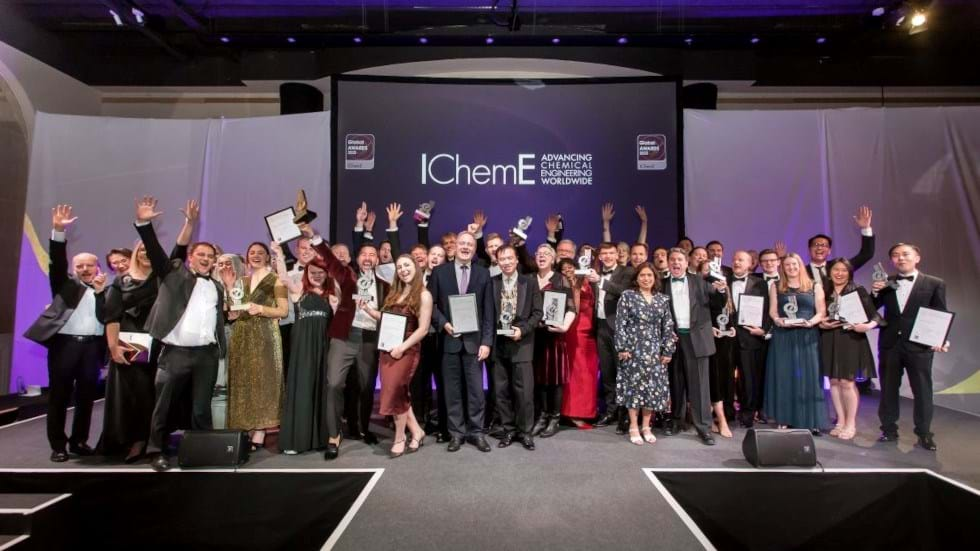 List of winners
Outstanding Achievement in Chemical and Process Engineering Award
Sellafield Ltd and National Nuclear Laboratory, UK – Process Flow Smoothing Optimisation of Nationally Critical Nuclear Infrastructure
Best Consultancy Award
Wood – Wood Consulting: Shaping a Sustainable Future
Business Startup Award
Metcelerate – Metcelerate: Professional Formation for Minerals Engineers
Diversity and Inclusion Award
WSP – WSP: Diversity and Inclusion Award
Energy Award
C-Capture – Innovative Carbon Capture Solvent Technology
Industry Project Award
Dow and University of Illinois – Urbana Champaign – Sustainable Processing of Quantum Confined Materials
Innovative Product Award
TRU-MK7, New Zealand – New Generation of Joint Supplement
Oil and Gas Award
University College London – Methane to Valuable Chemicals  
Process Automation and Digitalisation Award
BP and Veolia WTS – Anti-fouling Treatment with Dynamic Predictive Modelling
Process Safety Award
Sellafield Ltd – MSSS – the Beginning of the End
Public Engagement Award
Chemical Engineering Research Society (CERS); University of New South Wales (UNSW), Australia – The Inaugural Year of CERS UNSW
Research Project Award
North Carolina State University, Norwegian University of Science & Technology and SINTEF Industry – 2nd-Generation Carbon-capture Polymer Membranes
Sustainability Award
Department of Sewage Treatment Plants and Networks; Dubai Municipality and Alserkal Group – Implementation of FOG Recycling Program
Team Award
Sellafield Ltd and Loughborough University – Collaborating to Develop Nuclear Chemical Engineering Skills
Training and Development Award
Harbour Energy – Fostering Process Safety Culture Through Innovation
Water Award
Sellafield Ltd and National Nuclear Laboratory – Process Flow Smoothing Optimisation of Nationally Critical Nuclear Infrastructure
Young Industrialist Award
Emma Claxton – PM Group
Young Researcher Award
Thomas Heenan – University College London