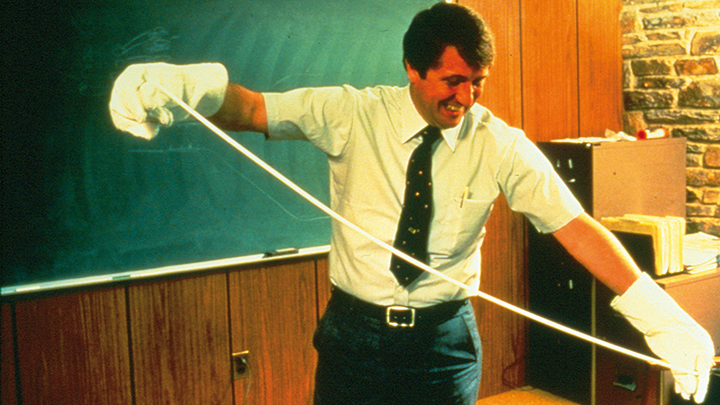 ROBERT "Bob" Gore, chemical engineer and renowned inventor of Gore-Tex has died at the age of 83.
Gore was best known for his invention of Gore-Tex fabrics and their use in the world's first waterproof breathable clothes. In 1969, Gore had been researching a new process for stretching extruded polytetrafluoroethylene (PTFE) into pipe-thread tape. After many unsuccessful attempts to heat and slowly stretch the material, Gore gave the material a sudden yank and discovered the technique had caused the material to expand by 1,000 times and transformed it into a microporous structure that made it waterproof and windproof, yet breathable.
Gore-Tex has become synonymous with outdoor clothing. Yet the technology has gone on to find a wide range of applications including for synthetic blood vessels, materials used in facial reconstruction, dental floss, and guitar strings. To learn more about Gore, the development of his technology and how it has shaped our modern lives, read his profile here in our series Chemical Engineers Who Changed the World.
Gore was born in 1937 and studied chemical engineering at the University of Delaware, US before gaining his master's degree and doctorate in chemical engineering at the University of Minnesota, US. His early work on PTFE for his father's business saw the company's cable technology land on the moon during the historic Apollo 11 mission.
Gore become Chairman Emeritus of the Gore company in 2018 after 57 years on the board, including as Chairman and President. The company has annual revenues of US$3.7bn. During his career, Gore was honoured with many awards including from the American Chemical Society, and he was elected to the US National Academy of Engineering and the National Inventors Hall of Fame.
His legacy includes the development of the University of Delaware's science and engineering laboratories, which were funded with donations from Gore and his wife Jane in 2013 and named in their honour.
Gore died of cancer on 17 September, reports The New York Times.