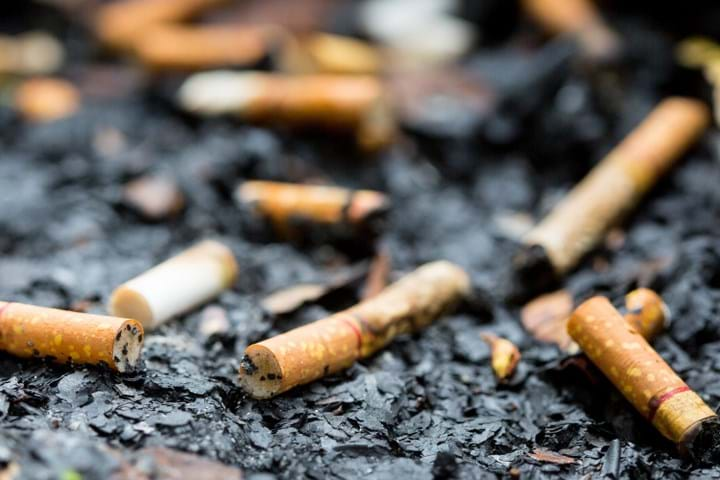 STREETS worldwide could be made greener and cooler by incorporating waste cigarette butts into asphalt, according to researchers.
The world has a big cigarette butt problem. Around 6trn are produced every year, creating a persistent form of litter that releases a toxic chemical load into the environment.
As a possible solution to the problem, a team of researchers from RMIT University, Australia, hopes to encapsulate butts within the asphalt on which they are often are discarded.
In a study to be published in October, they say that this would not only use and isolate a polluting waste stream, but could also reduce the thermal conductivity of roads. This could make urban areas cooler, reducing the so-called "urban heat island effect" whereby built-up areas retain heat better than their rural counterparts.
Lead author Abbas Mohajerani said: "This research shows that you can create a new construction material while ridding the environment of a huge waste problem."
The researchers tested the effects of incorporating various quantities of butts into different classes of bitumen and paraffin wax, which were then used in asphalt manufacture. Mechanical and volumetric properties were then analysed, including stability, flow, resilient modulus, bulk density, maximum density, air voids, and voids in mineral aggregates.
The investigation revealed that 10 kg/m3 and 15 kg/m3 of waste could be incorporated into a bitumen mix and still withstand light, medium and heavy traffic conditions. In a paraffin mix, only 10 kg/m3 could withstand light traffic. For reference, 1 kg of cigarette butt waste has a volume of between 2–4 L.
A reduction in the bulk density of asphalt concrete was also observed after incorporating butts. This increased the porosity of the material, thus lowering its thermal conductivity. The authors said this could help to reduce the urban heat island effect.
"Encapsulated cigarette butts developed in this research will be a new construction material which can be used in different applications and lightweight composite products," said Mohajerani, who has also previously led research into recycling butts into fired clay bricks, showing that they can reduce energy requirements during firing.
Construction and Building Materials: http://doi.org/cbph