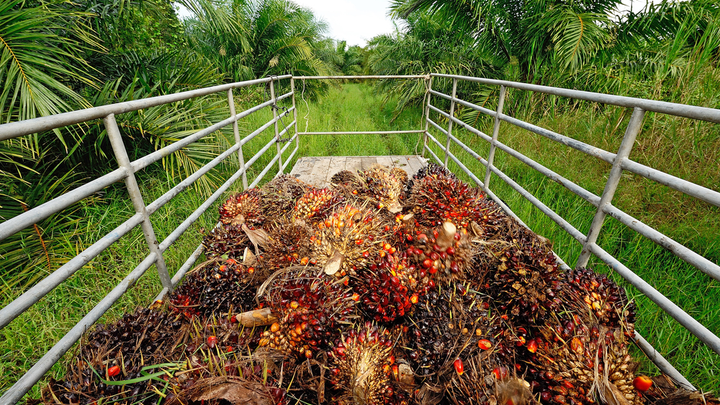 NEW technology has been developed that will convert palm oil waste into building materials and biofuels.
Palm oil is a vegetable oil that is used in a wide range of products including food, cosmetics, and household products. While the long-term sustainability of palm oil production has attracted criticism due to deforestation and environmental impact, mitigating short-term environmental effects of the significant amount of waste produced is also important.
Malaysia is the world's second-largest producer of palm oil and the plantations cover around 12% of total land area. For every 100 t of oil palm fruit that is processed, 22 t of crude palm oil is produced but 67 t of waste remains. This waste is known as POME – palm oil mill effluent – and consists of kernels and husks from fruit, branches, and wastewater. This effluent must be heavily treated before it can be released into the water cycle, and with over 400 mills in Malaysia, dealing with this level of waste is a challenge.
Researchers at the Malaysian branch of Nottingham University have built a zero-waste management system to solve the POME problem. The pilot plant is known as the Integrated Waste Recovery and Regeneration System (REGEN) and contains technology that converts solid biomass waste and POME into building materials and bio-energy.
"Once it is commercialised, our technology will enable palm oil processing facilities to turn oil palm fronds, trunks and empty fruit bunches into dried long fibre for matting, pallets, briquettes and biofuels," said project lead Denny Ng from the university's faculty of engineering. "We can also use the palm debris to make a bio-fertiliser that retains the nutrients from the palm tree, cutting chemical use and creating healthier soil. This in turn improves the palm fruit yield and the quality of the crude oil."
As part of the project, another team at the university has developed a reactor for converting the liquid effluent into water which can either be reused in the milling process, or further purified for drinking water. The development of the integrated anaerobic-aerobic bioreactor (IAAB) was led by Mei Fong Chong at the university's department of chemical and environmental engineering. The reactor also creates a methane by-product which can be purified for use as a biofuel.
"Up to now most mills use a conventional ponding system for the treatment of the effluent but this system is polluting to the environment," said Chong. "The biogas it releases contributes to our global CO2 emissions. Our new IAAB technology processes the effluent efficiently and cleanly, and harnesses a valuable renewable energy source into the bargain."