THE Barrow Group, in the Department of Chemistry at the University of Warwick, UK, has developed a novel, more powerful method for analysing chemical mixtures that is able to assign a record-breaking 244,779 unique molecular compositions within a single petroleum sample. The method could enable analysis of challenging samples in a number of fields.
The ability to assign the compositions of molecules in complex mixtures is a valuable tool in a number of industries. The elemental compositions of molecules can provide data for research, help to determine the viability of a mixture – such as in the petroleum industry – or allow 'fingerprinting' of complex samples, such as oil or environmental samples.
The so-called OCULAR (operation at constant ultrahigh resolution) method, developed by researchers at Warwick,  is a combination of custom-designed experiments and a data processing algorithm, Rhapso, also developed by the group. Using OCULAR, the researchers were able to assign 244,779 compositions within a non-distillable fraction of petroleum which had not been successfully characterised previously, due to its complexity.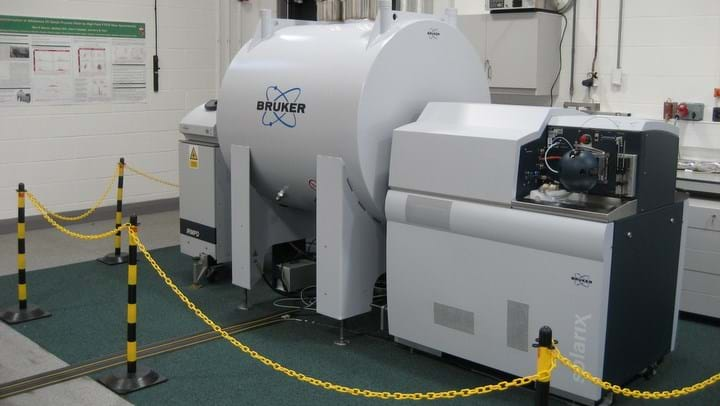 University of Warwick
OCULAR uses Fourier transform ion cyclotron resonance mass spectrometry (FTICR MS), an ultrahigh resolution variant of mass spectrometry – a technique which can be used to characterise the molecules within a mixture. In FTICR MS, the ions of the molecules are detected and show up as peaks within a mass spectrum. Mass spectra show the relative abundance of molecules against the mass-to-charge (m/z) ratio of a molecule. 
Despite their capabilities, FTICR MS instruments have their limitations. For example, the number of peaks detected can be limited and performance can be degraded if too many ions are present. These were some of the key considerations that the researchers took into account when designing OCULAR.
OCULAR overcomes the limitations of traditional ultrahigh resolution mass spectrometry, such as FTICR MS, by collecting molecular data in segments which the Rhapso algorithm then assembles. Compared to traditional methods, OCULAR enables improved instrument performance, ie dynamic range, resolving power, and mass accuracy, which is essential for more challenging samples. Further advantages include enabling detection of an increased number of peaks and overcoming a well-known decrease in the ability to resolve peaks and assign molecular formulae for high m/z ranges.
The new method could enable analysis of mixtures that challenge even the most powerful analytical techniques, said Diana Palacio Lozano, lead author of the study and Research Fellow in the Barrow Group.
Furthermore, the record-breaking number of assignments was achieved using 12 T FTICR MS instead of the highest magnetic field MS currently available (15 T and 21 T). Therefore, even greater improvements could be achieved by using higher fields.
Whilst the researchers used the novel method to analyse a petroleum sample, they believe that OCULAR has potential applications in many other areas such as the life sciences and healthcare, materials, and environmental analysis.
According to Palacio Lozano, the new technique is flexible, and performance can be selected based on research needs.
Palacio Lozano said: "The mass spectrum obtained using the OCULAR method shed further light on the true composition and complexity of the truly non-distillable sample, which, in turn, explains the low yields of vacuum residues in distillation units. We believe that by knowing the real complexity of the sample, it is possible to develop better upgrading technologies."
Mark Barrow, Principal Investigator and Associate Professor in the Department of Chemistry at Warwick, said: "OCULAR can be used with the highest performance instruments to push the analytical boundaries or it can be used with less expensive FTMS instruments to enhance their performance at no extra cost."
"We believe OCULAR can be of significant benefit to many fields, and so use and further development […] is ongoing within our laboratory."
The study was completed with collaboration from Instituto Colombiano del Petróleo (Ecopetrol), Colombia.
Chemical Science: http://doi.org/dbgg