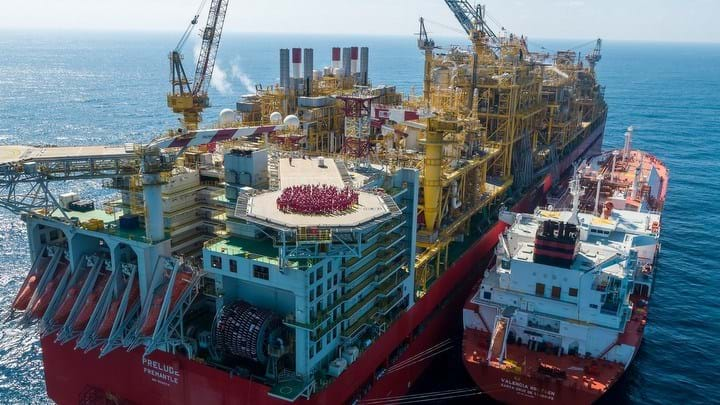 Shell
SHELL has said its huge floating LNG production plant – the Prelude FLNG facility – is not expected to resume full production this year, following a troubled start for the pioneering facility.
Production aboard Prelude – which at 488 m long is the largest ship ever built – was halted in February after an electrical trip and it has not resumed. This fault followed, though was not linked to, an order from Australia's National Offshore Petroleum Safety and Environmental Management Authority (NOPSEMA) for Shell to revise its safety management system.
NOPSEMA issued its order to Shell earlier this year following what is described as three "dangerous occurrences" onboard that involved loss of containment. The spills of hydrocarbon late last year and earlier this year happened during maintenance and plant inspection activities. NOPSEMA blamed deficiencies in Shell's systems for safe isolation of plant. It pointed to inadequate descriptions and training for how to control venting of hydrocarbons, and for identifying or tagging equipment that needs to be worked on.
Shell started operations at Prelude in December 2018, 475 km off the coast of Western Australia. The idea behind FLNG is that a floating plant can be towed to distant or small gas fields from which production would be uneconomical using conventional piped connections to onshore processing plants. Once the field is exhausted, the ship is towed to another.
Shell has remained tight-lipped about the amount of product Prelude has produced since it started operations. It has the capacity for 3.6m t/y of LNG, 1.3m t/y of condensate, and 0.4m t/y of LPG, which is transferred to LNG tankers which then sail the product to customers.
Shell declined to disclose the volume of product that Prelude has produced to date, or the total cost of the facility, which has been estimated at around US$12bn.
Shell said, in an emailed statement, that it continues to work through the process for hydrocarbon restart aboard Prelude "with safety and stability foremost in mind."
It said NOPSEMA lifted restrictions in August that prevented Shell staff from conducting intrusive activities into plant and equipment where loss of containment was a risk, adding that  it is currently being monitored by the regulator for a period lasting 90 days.
"Full production is not expected to resume before year end," Shell's statement reads. "Prelude is a multi-decade project, and our focus is on delivering sustained performance over the long term."