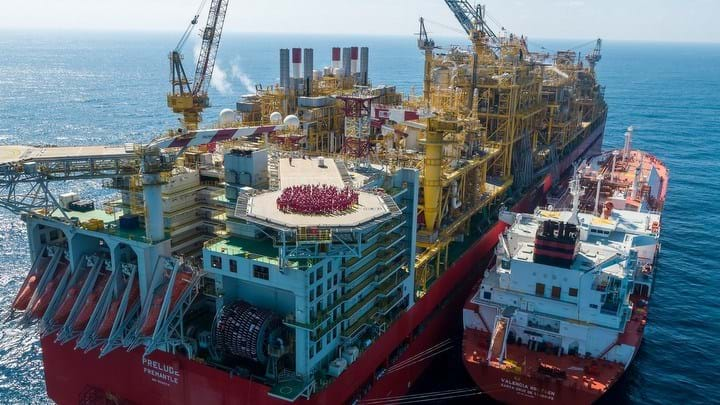 Shell
The first shipment of liquified natural gas (LNG) has sailed from Shell's Prelude floating LNG (FLNG) facility off the coast of Australia.
Prelude is a joint venture between Shell, INPEX, KOGAS, and OPIC. It is located 475 km north east of Broome in Australia and it can produce LNG from remote fields where it would otherwise not be possible to pump it ashore. The gas converted to LNG aboard Prelude is then transported on conventional LNG carriers. The 488 m long ship is the largest ever built. It is six times the size of the world's largest aircraft carriers, and although it cannot move by itself, it can be towed to other sites once a field is exhausted. It has a production capacity of 3.6m t/y of LNG, 1.3m t/y of condensate, and 0.4m t/y of LPG.
It was moored in position in November 2017 and initial production began in December 2018. The first shipment will be delivered to customers in Asia by the Valencia Knutsen although the size of the shipment was not disclosed.
Prelude is the last of eight LNG plants constructed on Australia's eastern and north western coasts over the past decade, costing an estimated US$200bn in total. Consultancy Wood Mackenzie estimated the cost of Prelude to be US$17bn.
Maarten Wetselaar, Integrated Gas and New Energies Director, said: "Today's first shipment of LNG departed from Prelude FLNG, safely. Everyone involved should be very proud of the work taken to reach this important milestone. Prelude forms an integral part of our global portfolio and plays an important role in meeting the growing demand for more and cleaner energy for our customers around the world."
Zoe Yujnovich, Chairman of Shell Australia, said: "Prelude FLNG combines human endeavour and ingenuity from across the globe and here in Australia. We are proud to work with our local communities, suppliers and partners to ensure its safe, reliable operations into the future."