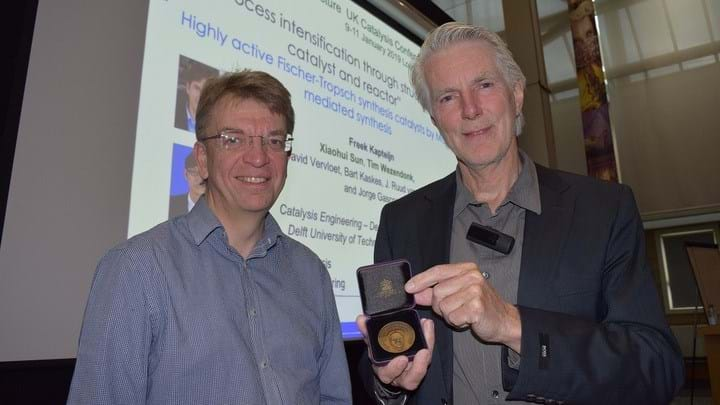 ICHEME has awarded the Andrew Medal to Freek Kapteijn, Professor and Section Head of Catalysis Engineering at Delft University of Technology, the Netherlands.
Named after the late Syd Andrew, a distinguished expert in the field of catalysis, the Andrew Medal recognises a major contribution relevant to the science of formulation of heterogeneous catalysts.
Kapteijn is recognised as one of the founding fathers of catalysis engineering. His pioneering work has introduced new concepts in the field, that will help improve the understanding of structure-performance relationships in heterogeneous catalysis and materials science for years to come.
He has published more than 600 scientific papers in peer-reviewed journals, and with more than 33,000 citations he is listed in the Global Highly Cited Researchers 2018. He has also written 25 patents related to catalysis, reactors and separation processes.
The Andrew Medal recognises both Kapteijn's academic prowess, as well as his work in science communication and advocacy. Throughout his career, he has supported more than 60 PhD students and researchers from many countries.
The medal was presented to Kapteijn at the UK Catalysis Conference in Loughborough on 10 January by Chris Hardacre, Head of the School of Chemical Engineering and Analytical Science at the University of Manchester.
Kapteijn said: "I consider the Andrew medal as a recognition of the field of catalysis engineering. It underlines the importance of the activities of those who combine engineering and catalysis."
After receiving the medal Kapteijn presented a lecture, entitled Process intensification through structuring catalyst and reactor – Highly active Fischer-Tropsch synthesis catalysts by MOF mediated synthesis.