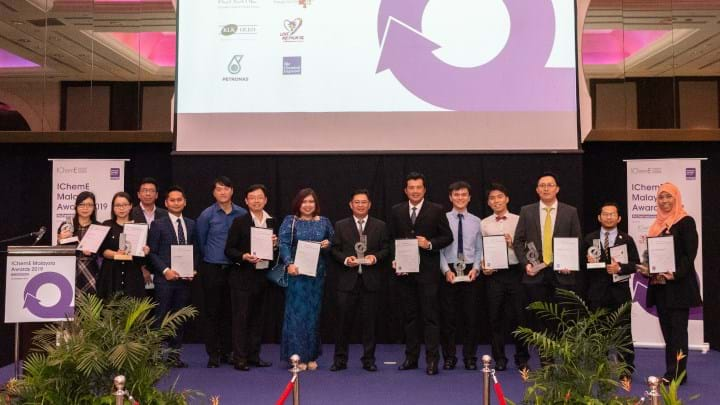 OIL and gas company Petronas scooped four out of the eight trophies given at IChemE's Malaysia Awards for outstanding achievements in the profession in Malaysia.
The event was held at the Sheraton Imperial Kuala Lumpur Hotel in Kuala Lumpur, Malaysia on 14 October. It was attended by special guests the Royal Patron of IChemE Malaysia, Tuanku Zara Salim, and YB Teresa Kok, Minister of Primary Industries.
Petronas dominated in the Oil & Gas Award and Process Safety Award categories.
In addition to winning the Oil & Gas Award Petronas' project Efficient Sampling Using Desorbent Sight Glass (DSG) gained Highly Commended in the Process Safety Award. DSG uses the lean concept to improve difficult and inefficient desorbent sampling processes/activities. These processes are used to analyse para-diethylbenzene to ensure the recovery of high-quality desorbent following draining or venting during operational activity, such as when equipment is emptied out for maintenance repair or following system depressurisation via a relief valve during process upset. Petronas uses para-diethylbenzene to desorb the chemical feedstock paraxylene following separation via adsorption from other xylene isomers.
The sampling process operates in a closed loop, reducing or eliminating safety issues related to handling hazardous liquid chemical and eliminating chemical dumping into the environment. Implementation of DSG could save Petronas up to RM15,000 (US$3588) annually.
Petronas won the Process Safety Award for its entry, Early Warning Analytics Using DRA. Dynamic Risk Analyzer (DRA) is an analytical tool developed by technology company Near-Miss Management. The first of-its-kind warning and risk detection software identifies process problems at the initiation stage, allowing personnel to correct issues proactively and prevent unwanted incidents and accidents. Its implementation has helped Petronas develop a culture focussed on using insights to make the right decisions in time and save RM10.6m, to date.
The company went on to win the Training and Development Award for its project Process Safety R2C2. Based upon the Influence Model for effective change management, the three-year project has transformed the process safety performance and culture at Petronas Chemicals Methanol. Progress includes a steady decrease in minor releases of material and improved culture and knowledge and capability amongst staff, according to the last process safety survey.
Sime Darby Research and Novozymes Malaysia were crowned the winner of the Palm Oil Award and the Sustainability Award for their joint project Enzymatic Assisted Extraction of Palm Oil. The organisations developed enzymes for use in palm oil production that aid the release of oils by degrading cell walls, increasing the oil released and overall oil yield.
The process could enable a 4% increase in production from the same amount of land and reduce greenhouse gas emissions by 9%/t of crude palm oil produced.
The Student Chapter Award went to Monash University Malaysia. The student team was presented with the trophy for forging links between industry and academia and promoting the positive work that chemical engineers do to help address some of society's major challenges.
The final Awards of the evening were presented by Tuanku Zara Salim, a chemical engineer by training. She presented the Young Industrialist Award to Petronas' Irene Lock Sow Mei, and the Young Researcher Award to Monash University's Serene Lock Sow Mun.
Irene Lock Sow Mei is a multi-award-winning chemical engineer who has demonstrated strong leadership qualities, a professional work ethic, and shown that being a leukaemia survivor has not hindered her success.
She has led on numerous utility and wastewater-related projects. She single-handedly innovated the steady and dynamic state simulation models for Melaka Refinery's Utility Water Systems to evaluate adequacy against brownfield modification. Her models have been applied extensively in other projects.
Serene Lock Sow Mun's research areas include multi-scale simulation, modelling, process simulation and molecular modelling. She was commended for inventing software called Hollow Fiber Membrane Prediction Program, which has been a highly sought-after product in South East Asia's oil and gas industry since it was commercialised in 2014.
The software is designed for companies to use during process design, scaleup, optimisation, retrofit, troubleshooting, and performance monitoring in acid gas removal from natural gas. It helps in the production of natural gas that is safe for the public to use. At the same time it enables the effective capture of hazardous gases and stops them from being released into the environment.
Christina Phang, Chair of IChemE's Malaysian Board, said: "Congratulations to all the winners of the IChemE Malaysia Awards 2019. These awards recognise the positive contributions that their research and innovations in chemical engineering are having to solve some of the major challenges we face as a society, not only in Malaysia, but across the world. They are demonstrating that chemical engineering really does matter."
For more information on the IChemE Malaysia Awards visit the IChemE Malaysia Awards webpage.