MINING giant Vale and Brazilian authorities have agreed on a global settlement of about R$37.69bn (US$7.02bn) to repair the environmental and social damage that resulted from the fatal collapse of a Vale dam in 2019.
According to Agência Minas, which provides official news from the Government of Minas Gerais, the settlement is the largest in Latin American history.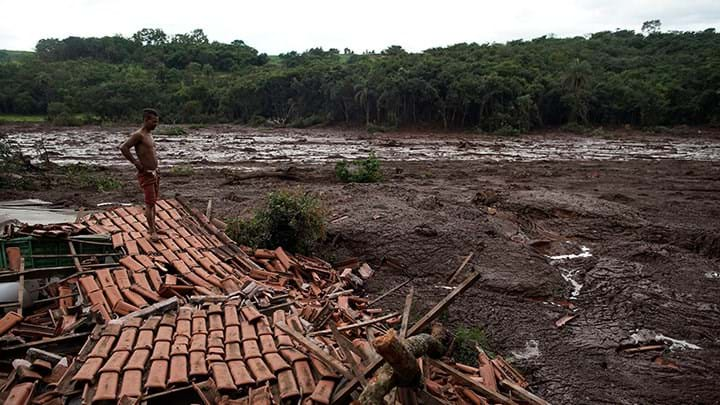 Leo Correa/AP/Shutterstock
On 25 January 2019, a Vale mining waste dam near Brumadinho, Minas Gerais, Brazil collapsed and released a torrent of muddy slurry which killed at least 259 people, including employees, contractors, and members of a nearby community. 11 people are still considered missing.
The agreement ensures that Vale is immediately liable for the damage caused. Agência Minas reports that the total settlement amount includes the costs for socioeconomic and socioenvironmental projects in eight areas.
The use of the settlement funds include meeting direct demand from affected communities (R$3bn); an income transfer programme to replace current emergency aid, which is set to stop at the end of February (about R$6.1bn); investment in the Paraopeba river (approximately R$4.7bn); and ensuring water security (about R$2.05bn). The Paraopeba river, a source of drinking water, is located near the site of the dam collapse and was impacted by it.
Further areas of investment are compensation for damages and environmental repair (minimum R$6.55bn), work to improve mobility (approximately R$4.95bn), and improving public services (about R$4.37bn).
The total settlement figure also includes about R$5.89bn that has already been spent by Vale on various repairs and emergency measures since the collapse occurred. These expenses included supply of water, temporary housing, and advanced resources to help the state tackle the Covid-19 pandemic.
The projects that will be funded by the settlement will be managed by the state of Minas Gerais and judicial institutions.
According to Romeu Zema, Governor of Minas Gerais, the works and service improvements will generate more than 360,000 jobs. He added that this is the largest set of remedial measures in Latin America.
The agreement for the R$37.69bn is intended to end legal disputes with the state, state and federal prosecutors, and public defenders, said Vale's General Counsel Alexandre D'Ambrosio. The settlement guarantees certain and immediate reparations for damages outside of the judicial process which has uncertain results and can take time, says Agência Minas.
A document filed in a German case against TÜV SÜD in response to the collapse expressed similar sentiments about the judicial process, saying that claimants cannot access adequate justice in Brazil because "the local legal system is totally ineffective, which can lead to decades waiting for a decision from the first degree of jurisdiction". TÜV SÜD was the safety inspector for the dam which collapsed.
According to BBC News, the State Government said in a statement that the settlement amount is an initial estimate and Vale will have to pay more, as under the agreement Vale is required to "fully repair all environmental damage".
Eduardo Bartolomeo, CEO of Vale, said: "Vale is committed to fully repair and compensate damage caused by the tragedy in Brumadinho and to increasingly contribute to the improvement and development of the communities in which we operate. We trust that this Global Settlement is an important step in that direction."
More than 8,900 people have already entered civil and labour indemnification agreements with Vale, totalling more than R$2.4bn. More than 100,000 people have received emergency aid totalling R$1.8bn. Vale estimates an additional expense of about R$5.4bn will be settled once judicial deposits are released and R$14.4bn will be added to liabilities associated with Brumadinho's reparation. Last year, Vale was ordered to put aside around R$7.93bn for potential fines related to the fatal collapse.
The recent settlement is separate from individual claims against Vale, including criminal charges. In February 2020, a Brazilian judge accepted homicide and environmental crime charges filed against 16 people – including former Vale CEO Fabio Schvartsman – in relation to the collapse.