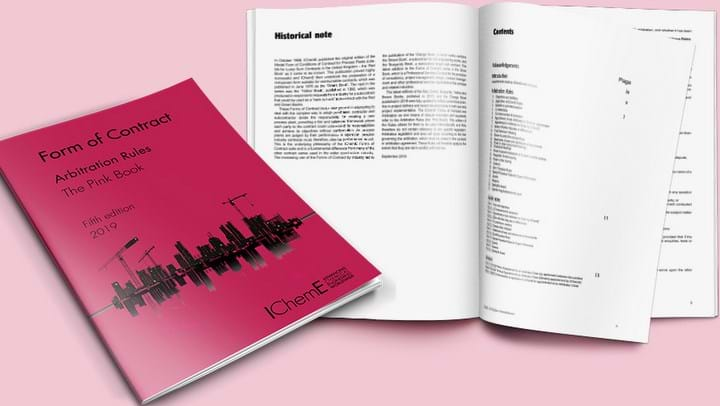 ICHEME has published a new edition of its arbitration rules Pink Book, which offers the latest in arbitration practice and standards for anyone managing an engineering project contract.
The Pink Book can be used along with IChemE's Forms of Contract, and is suitable for UK and international use. The book provides a framework so that each party can understand its responsibilities if a dispute arises. It can be used for tribunals involving three arbitrators, as well as for a sole arbitrator situation.
IChemE has partnered with industry and legal professionals for more than 45 years to produce its Forms of Contract, in order to set the standard for good practice. The Forms of Contract are used in traditional chemical engineering projects, as well as more mainstream construction work.
IChemE Fellow Paul Buckingham, Chair of IChemE's Contracts Committee, said: "Contract disputes cost money, take valuable time to resolve and can damage good relations. IChemE's Forms of Contract are drafted to reduce the likelihood of this happening but, should a dispute arise that cannot be resolved by agreement, the Forms also provide formal dispute resolution procedures as a way of effectively resolving any differences. This new edition of the Pink Book is the first update to IChemE's highly-successful Arbitration Rules since 2005 and brings it in line with other recently-updated IChemE rules, so that it reflects current arbitration practice."