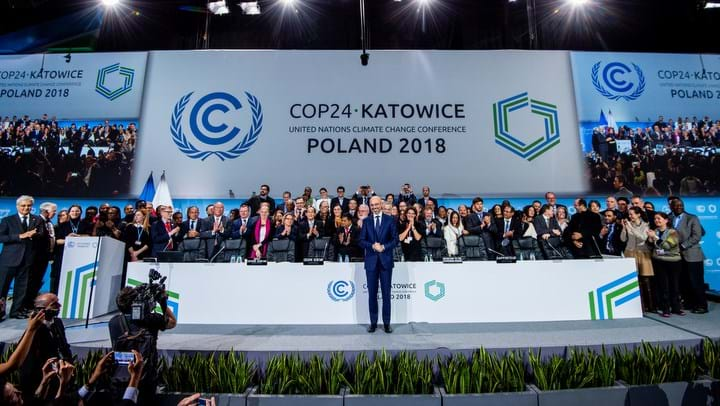 cop24.gov.pl
A SET of rules for enacting the Paris Agreement to limit climate change was agreed by 196 countries at the UN's 24th Conference of Parties climate summit (COP24). However the final rulebook has sparked criticism over vague language and a lack of serious commitments.
COP24 took place in Katowice, Poland from 3–15 December, and was attended by almost 22,000 participants. Katowice is located in a coal-dominated region of Poland and this was emphasised to attendees by the presence of coal in display cases around the pavilions. "There is no plan today to fully give up on coal," said Poland's president Andrzej Duda at the opening ceremony. "Experts point out that our supplies run for another 200 years, and it would be hard not to use them." 
The message on persisting with coal was in contrast to the one delivered by Sir David Attenborough at the opening ceremony. Sir David gave the People's Seat Address, which was based on input from people around the world collected prior to the event. "Right now, we are facing a man-made disaster of global scale. If we don't take action the collapse of our civilisations and the extinction of much of the natural world is on the horizon. The people have spoken. Leaders of the world, you must lead. The continuation of our civilisations and the natural world upon which we depend, is in your hands."
Carbon credits
The main goal for the meeting was to finalise the rulebook for the 2015 Paris Agreement, which was an agreement made at the COP21 meeting to keep the increase in global temperatures well below 2oC above pre-industrial levels.
The rulebook was mostly agreed, but one major component was deferred to COP25 in Chile next year as countries failed to reach agreement. The rules for governing international carbon credit schemes allow richer countries to reduce their emissions by funding carbon-cutting projects in other countries. However, Brazil wanted to take advantage of its large rainforest cover – which is a substantial carbon sink – by trying to water down rules that would prevent "double counting".  Double counting is when the carbon credits are included by both the host country and the purchasing country, and the draft text included a provision to apply adjustments to avoid double counting. Brazil also withdrew its candidacy last month to host next year's talks.
"The last-minute standoff showed that financial interests still trump environmental integrity in some countries, despite the indisputable evidence of the climate crisis" said Gilles Dufrasne, policy officer for carbon pricing at Carbon Market Watch, a non-profit group with expertise in carbon pricing "A few countries prevented the most essential accounting requirements to be adopted. This could blow a hole in the Paris Agreement by allowing nationally-determined contributions (NDCs) to be met through credits with no environmental integrity, while cooking the books." NDCs are the commitment of each party to reduce emissions as part of the Paris Agreement.
Reporting emissions
The rules surrounding transparency of reporting emissions was agreed at the meeting. These reports include information on emissions, progress towards meeting pledges, and climate finance provided or received. Previously, only 44 developed nations were required to provide reports every two years, but the Katowice agreement applies a single set of rules to both developed and developing countries. Developing countries may still be allowed some flexibility in reporting their emissions, although they will have to justify their need for flexibility. The new rule regarding reporting does not come into effect until 2024.
A common reporting format will need to be used, and emissions will be reported in terms of CO2 equivalent (the way of reporting the effects of all greenhouse gases in terms of CO2). However, use of this metric has drawn some concern. A statement from several climate scientists across UK universities said: "This enshrines the practice of combining emissions of long-lived cumulative pollutants such as CO2 with relatively short-lived pollutants such as methane. If only a single number for CO2-equivalent emissions is reported, it will perpetuate misunderstandings about the contributions of different gases to global temperature, leading to an increasingly indefensible split between our climate policy framework and climate science." Myles Allen, professor of geosystem science at the University of Oxford, added that the approach was like "adding your current speed to the distance you have already travelled to get some nonsense measure of 'aggregate distance-equivalent'."
Loss and damage
One component of the Paris Agreement is the five-yearly pledge-and-review cycle. The first meeting to take stock of progress will take place in 2023. Rules finalised in Katowice now include an option for reporting loss and damage caused by climate change, saying that the reports "may take into account efforts to avert, minimise and address loss and damage". Reporting on loss and damage is an important issue for vulnerable developing countries. However, loss and damage compensation has not been included in the section on finance. "With no financial provisions, it clear that the countries are now left on their own to address the impacts of climate change," said Vijeta Rattani, programme manager for climate change at the Centre for Science and Environment, a non-profit organisation based in India.
"To avert the devastating loss and damage of 1.5°C warming, all countries, and particularly those most responsible for causing this crisis who have the greatest capacity to respond, must urgently cut emissions and provide the climate finance needed to poor countries that are still developing," said Gebru Jember Endalew, chair of the Least Developed Countries Group. "This is a matter of justice and a matter of survival."
Mohamed Nasheed, former president of the Maldives, also criticised the lack of provisions for vulnerable countries. "We are not prepared to die. We are not going to become the first victims of the climate crisis. Instead, we are going to do everything in our power to keep our heads above water."
Recognising the IPCC report
Countries clashed over welcoming and acting on the UN's Intergovernmental Panel on Climate Change (IPCC) report on limiting climate change to 1.5oC above pre-industrial levels. The IPCC report concluded that current emissions need to be reduced by 45% from 2010 levels by 2030 in order to reach net zero emissions by 2050. Climate Action Tracker's annual update was delivered at COP24 and said that the world is currently on track for 3oC of warming before 2100. 
Most of the negotiators wanted to welcome the IPCC report, but the US, Saudi Arabia, Russia, and Kuwait refused to "welcome" the report in the rulebook and instead only wanted to "note" it. The UN secretary general, António Guterres, had to intervene to encourage delegates to work around their differences. "We clearly have the know-how and the ability to reach 1.5oC. What we need is the political will to move forward. The IPCC report outlined a catastrophic future if we do not act immediately. We no longer have the luxury of time. To waste this opportunity in Katowice would compromise our last best chance to stop runaway climate change. It would not only be immoral, it would be suicidal."
The final text compromised by welcoming the "timely completion" of the report, "expressing gratitude" to the panel and the scientific community, and "inviting" countries to make use of it.
Ralph Regenvanu, minister of foreign affairs and trade from the Pacific island country Vanuatu, said: "Whether you welcome, or note, or shamefully ignore the science altogether, the fact remains that this is catastrophic for humanity, and party negotiators blocking meaningful progress should have much on their conscience."
Commitments to tackle climate change
Aside from negotiating the rule of the Paris Agreement, several announcements were made throughout the summit with countries and organisations committing to tackle climate change. Ralph Hamers, CEO of ING bank, announced a collaboration with four other banks. The banks, which have a combined loan availability of €2.4trn (US$2.7trn), committed to measuring the climate alignment of their lending portfolios. The World Bank also pledged to double its investment for low-carbon projects to US$200bn over the period 2021–2025.
The UK government announced a £100m (US$126m) increase in funding for renewable energy projects in sub-Saharan Africa, along with £170m of funding towards a net zero cluster of heavy industry in the UK by 2040. The UK, along with Italy, has also put in a bid to host the COP26 meeting in 2020.
The High Ambition Coalition, a group of developed and developing countries, issued a statement committing to "step up our ambition by 2020". Six new countries and regions also signed up to the Powering Past Coal Alliance (PPCA), bringing the number of members to 80. The PPCA aims to advance the phasing out of coal power generation.
More to do
The completion of the rulebook has generally been welcomed, but some have said that it lacks sufficient commitment.
Manuel Pulgar-Vidal, leader of WWF's climate and energy practice, said: "World leaders arrived in Katowice with the task of responding to the latest climate science which made clear that we only have 12 years to cut emissions in half and prevent catastrophic global warming. They've made important progress, but what we've seen in Poland reveals a fundamental lack of understanding by some countries of our current crisis."
Alden Meyer, director of strategy and policy at the US-based Union of Concerned Scientists (UCS), said: "While some rulebook elements still need to be fleshed out, the agreement lays a solid foundation for implementation and strengthening of the historic accord reached in Paris three years ago. It could also help facilitate US re-entry into the Paris Agreement by a future presidential administration."
Rachel Cleetus, policy director in the Climate and Energy Program, and lead economist at UCS, said: "In Katowice, world leaders failed to adequately address the needs of people suffering from climate change right now. The barely adequate outcome in Katowice means there's much work ahead to ensure countries live up to their responsibilities to put more ambitious action on the table by 2020. Every fraction of a degree avoided matters. Children around the world, including those who inspired us by their climate strikes this week, will hold countries accountable to do their homework and come prepared to ace the exam on robust climate action." 
Greta Thunberg, a 15-year old Swedish activist who has been organising school strikes to protest against inaction on climate change, addressed the delegates at the summit. "You only speak of green eternal economic growth because you are too scared of being unpopular. You only talk about moving forward with the same bad ideas that got us into this mess, even when the only sensible thing to do is pull the emergency brake. You are not mature enough to tell it like it is. Even that burden you leave to us children."