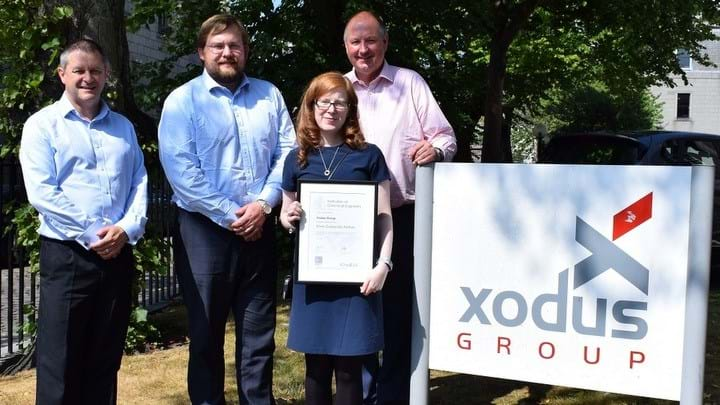 ICHEME has presented its Silver Corporate Partner Award to energy consultancy Xodus Group, in recognition of its commitment to supporting the professional development of chemical engineers and promoting the profession to school pupils through outreach activities.
IChemE's deputy president, Andrew Thompson, and chief executive, Jon Prichard, presented the Silver Corporate Partner certificate to Caroline Laurenson, Xodus' senior consultant and IChemE Accredited Company Training Scheme manager. The presentation took place at Xodus' head office in Aberdeen on 26 July.
Xodus provides support to process engineers by holding technical coaching sessions and hosting in-house training on the unique aspects of upstream oil and gas. It also works closely with local primary schools to encourage pupils to consider a career in engineering, and helps undergraduates to develop key skills by providing industrial placements.
IChemE deputy president Andrew Thompson said:
"Xodus is dedicated to ensuring its process engineers are reaching their potential and are the best they can be. This is evident in their dedication to sharing knowledge and expertise - through internal training sessions, supporting engineers in getting Chartered, and encouraging them to take on volunteer roles that benefit the profession. Through all this, engineers at Xodus have become exceptional role models for the next generation of chemical engineers. Congratulations to everyone at Xodus for this Silver Corporate Partner Award."
Steve Swindell, managing director of Xodus Group said:
"This award recognises our achievements in meeting IChemE's standard for commitment to the chemical engineering profession, and its standards for the training and professional development of our staff. We are honoured to receive this title which has only been possible due to the hard work and dedication of our team."