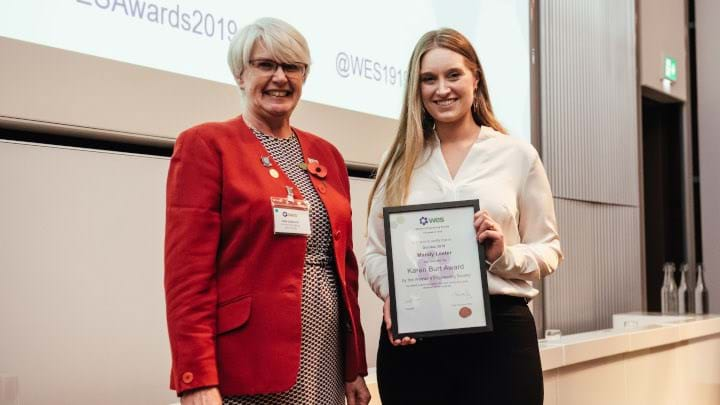 Women's Engineering Society
MANDY LESTER, Chartered Member of IChemE, has won the 2019 Karen Burt Award for her commitment to engineering, addressing sustainability in the water industry, and inspiring current and future engineers.
Lester was nominated for the award by IChemE and presented with it on 30 October at the Caroline Haslett Lecture and WES Awards ceremony. The event was held at One Birdcage Walk in London, UK, the home of the Institution of Mechanical Engineers. 
The Karen Burt Memorial Award is a prestigious award given by the Women's Engineering Society (WES), a professional learned society and networking body for women engineers, scientists and technologists. It established the award to recognise Chartered Engineers' excellence and to encourage more women to aim for and celebrate Chartered Engineer status. It is presented annually to the best newly chartered female engineer.
Lester is a Senior Process Engineer based in Bristol, working for consultancy Atkins. The company operates in a range of sectors, including water.
Lester has led numerous water treatment projects since joining Atkins in 2015, including managing a project at seven UK water companies – which between them supply around 60% of water to the UK population – to deliver a successful pilot trial evaluating a novel sustainable adsorbent technology to remove pesticides from drinking water.
This sustainable treatment process reduces the use of energy and chemicals, minimising environmental impact and future costs for companies and consumers. Several water companies are investing in the technology.
Currently, Lester is designing a sustainable process for a water treatment system to supply safe, clean drinking water from a major new raw water reservoir to a growing population in the water-stressed South East of England. It will be the UK's first new open water supply reservoir in 30 years.
She is also providing water treatment consultancy for Heathrow Airport's expansion to help them safely and sustainably use rainwater for non-drinking uses, such as flushing toilets.
The judges commended her commitment to becoming a professionally-qualified engineer. With a Master's degree in physics from the University of Manchester, UK, she acquired chemical engineering skills through engineering secondments in the nucleargraduates programme, a comprehensive industrial graduate training scheme created and established by the Nuclear Decommissioning Authority.
Lester obtained further chemical engineering skills working as a Lead Process Engineer at Nuvia and at Atkins.
The award also recognises contributions to the promotion of the engineering profession.
The judges were impressed by Lester's work inspiring the next generation of chemical engineers. She manages junior engineers at Atkins and mentors students studying engineering and maths at the University of Bristol, UK. Additionally, as a STEM Ambassador for the Engineering Education Scheme she organises outreach events for secondary school children and A-level students.
Lester was presented with the award at the WES Caroline Haslett Lecture, delivered this year by Anne Stevens, Independent Non-Executive Director of Anglo-American and former Chief Executive of GKN.
Lester said: "I am beyond thrilled to receive the Karen Burt Award, which is an unexpected but deeply gratifying endorsement, having transitioned into engineering with a scientific degree. I'm proud to be part of a profession that has the power to effect real, positive solutions to the dual challenges of climate change and growing populations.
"Engineers aren't born, they're made – in my case with the support of IChemE along with the many individuals who've inspired me to pursue this hugely enriching career and achieve the gold standard of competence, Chartered Chemical Engineer status.
"We need engineers, and those engineers to be from diverse walks of life, now more than ever. So, I look forward to working more with IChemE and WES to encourage more women to choose a career in engineering."
IChemE Fellow Helen Fennel, member of the nomination selection committee at IChemE and former recipient of the award said: "Mandy studied physics prior to her career in engineering and is an excellent example of how STEM skills are transferable. Her dedication and passion makes her a fantastic engineer and a worthy recipient […]  I hope this inspires anyone considering the career to take a closer look at what you can achieve."
The award is named in memory of Karen Burt, who was an active member and Council office holder in the WES, who campaigned "tirelessly" for the recruitment and retention of women in science and engineering. She was regarded as an expert in the management of career breaks and women "returners" to engineering.
Dame Caroline Haslett (1895–1957) founded the Electrical Association for Women, was the first Secretary of the WES, as well as the first woman to serve on the British Electricity Authority. Haslett was an expert administrator and charismatic speaker, and became the voice for women in engineering in the UK and worldwide.