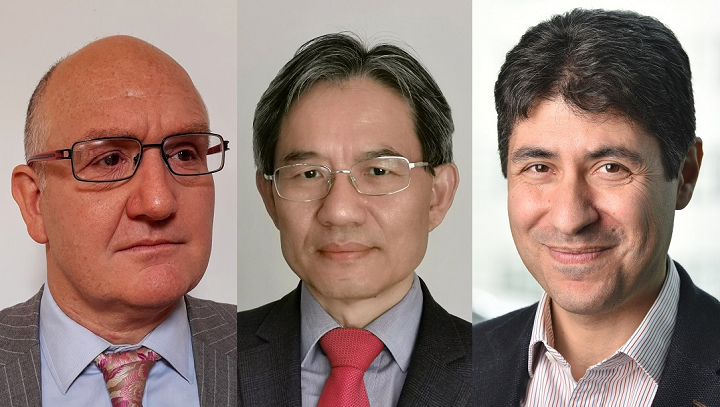 THREE ICHEME Fellows – Yulong Ding, David Edwards and Omar Matar – have been elected as Fellows of the UK's Royal Academy of Engineering.
Ding is the founding Chamberlain Chair of Chemical Engineering at the University of Birmingham and director of Birmingham Centre for Energy Storage. He was elected for his academic leadership and pioneering work in chemical and process engineering. This has led to innovations in new thermal energy storage materials, cryogenic energy storage, engine technology, and temperature regulation technologies for rail and road vehicles that have widespread societal applications to address future global sustainable energy challenges.
His work on phase change materials, and its application at commercial-scale for energy storage in China, was recognised by IChemE at its 2019 Awards ceremony, where the project clinched the evening's overall winning trophy.
Ding said: "I am deeply honoured and truly delighted to be elected as a Fellow of the Royal Academy of Engineering. As a chemical engineer working on energy materials and thermal systems, I look forward to continuing my work and contributing to the profession."
Edwards is Operational Excellence Manager at Thames Water. RAEng pointed to his work on membrane technology, noting his contribution to the innovation, design and build of the largest ultra-filtration plant in the world and the first global desalination reference scheme drawing from brackish-tidal reaches.
Edwards said: "Within the department we have a mixture of operational logicians, engineers and scientists. The activities are varied, which is what makes leading the team interesting. Whether it's evaluating chemical dosing, or optimal energy use on the largest water treatment works in Europe, operating the only desalination plant in the UK, isolating a 250 megalitre service reservoir – that is so large, it has a golf course built on it – or designing and building new assets for future generations, no day is boring."
Edwards added: "The Royal Academy of Engineering has some really inspirational values. The specific aspect that resonated with me is its ambition to promote societal engineering and drive public value through investing in up-and-coming young engineers and plights of the future. I am excited to be a part of this and hope I can use my experience to develop process engineers in my sector, the water industry, and wider."
Matar is Professor of Fluid Mechanics in the Department of Chemical Engineering, and Vice-Dean (Education) of the Faculty of Engineering at Imperial College London. In his election to RAEng, he was cited for his world-leading work on the modelling and simulation of complex, industrially-relevant multiphase flows.
Matar said he is working to develop the next generation of data-driven, physics-constrained, multi-fidelity predictive tools for improving design and decision-making for managing safety and reducing carbon emissions.
"It is a huge honour to be appointed FREng. Many thanks to my research group and collaborators, the Department of Chemical Engineering at Imperial, and the College for their support. I will endeavour to exemplify the RAEng values of progressive leadership, diversity and inclusion, excellence, collaboration, and innovation," Matar said. 
IChemE President Stephen Richardson said: "Congratulations to Yulong, David and Omar for being elected by their peers as Fellows of the Royal Academy of Engineering for their inspirational contributions to chemical engineering. They are leading examples of how their work is positively contributing to sustainable energy storage solutions, tools for safety management and innovative water filtration systems benefiting communities around the world."
Ding, Edwards and Matar join 50 other engineers from across disciplines who were elected to the RAEng. They join almost 1,600 others from industry and academia.
Sir Jim McDonald, President of the Royal Academy of Engineering, said: "The new Fellows who join us today are among the most talented and successful engineers working in the field today…We look forward to working with them and benefiting from their ideas and insight as we strive to inform public debate and provide workable solutions to our shared national and global challenges."