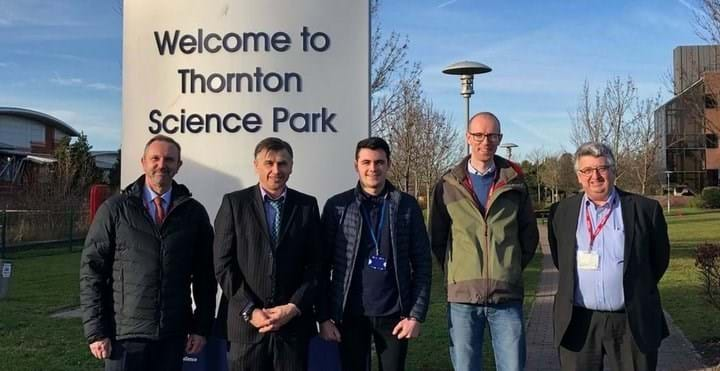 ICHEME, the University of Chester, and major employers in the region are working together to offer the first chemical engineering degree apprenticeship in the UK.
IChemE is working with Chester to ensure that the degree delivered as part of the apprenticeship is accredited. The new Science Industry Process/Plant Engineer degree apprenticeship has been designed in consultation with major employers of chemical engineers in the North West.
Consumer goods giant Unilever is the first employer to offer the apprenticeship. Michael Leary, who joined Unilever working in its Advanced Manufacturing Research and Development (R&D) Centre in Port Sunlight in October 2018, is the first to take part. While working as part of the pilot plant team, he is studying part time at the University of Chester for a BEng degree in Chemical Engineering. Leary, who has straight A grades in Maths, Chemistry and Biology A-levels, is paid by Unilever as a full-time employee during the apprenticeship, and, as with all degree apprenticeships, he does not pay any tuition fees.
He said: "It's a superb opportunity for me. I'm busy but really happy to be learning in both the university and workplace environment. The principles I get from my university studies are reinforced with real-life experience at Unilever, where I work closely with process development engineers, R&D scientists and pilot plant technicians."
Steve Wilkinson, Head of the Department of Chemical Engineering at the University of Chester, said: "This is a fantastic opportunity for Michael and the other degree apprentices, and it fits perfectly with the Faculty of Science and Engineering's ethos at Thornton Science Park, where we work hard to ensure that we produce industry-ready graduates."
Tom Gibbins, AMC and Pilot Plants Manager at Unilever, said: "We're delighted to have partnered with the University of Chester to offer the UK's first chemical engineering degree apprenticeship and to be able to support Michael with the first step in his career." 
Anne Milton, UK Minister of State for Apprenticeships and Skills, welcomed the news: "I am thrilled that the University of Chester and major employers across the region are collaborating to promote STEM subjects and help increase the number of chemical engineers in the North West. Apprenticeships driven by employers rely on the imagination of the FE and HE sector to collaborate and help business and industry get the skills they need. It's great to see one of the first chemical engineering degree apprenticeships get off the ground."
Bill Harper, Immediate Past Vice-President Qualifications at IChemE, has spent the last two years working with the university on this particular apprenticeship model. He said: "I look forward to working with the university to move this forward."