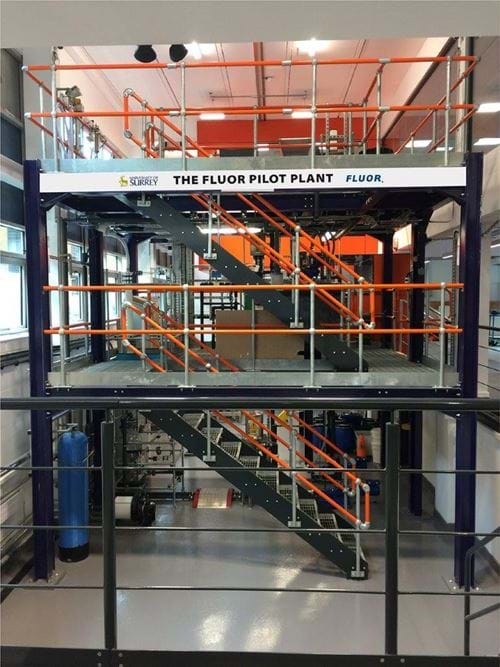 THE Fluor Pilot Plant at the University of Surrey UK, designed to give chemical engineering students manufacturing experience, is now open and being used by undergraduates.
The pilot plant was upgraded earlier this year with a US$300,000 donation from Fluor's philanthropic foundation. Fluor is a long-standing industry partner of the IChemE-accredited chemical engineering department at Surrey. The new pilot plant was designed and built by UK firm Strata Technology.
Surrey president and vice-chancellor Max Lu, who is himself an IChemE Fellow, said that the pilot plant is "improving the quality of the practice learning" for the students, who will have enhanced skills and experience.
The pilot plant employs a relatively simple process to produce pure sodium chloride solution from unrefined salt, but includes several different pieces of process equipment and process control software.
"Our brief from the university was to design and build a facility which would allow students to operate a semi-commercial scale process, in order for them to gain experience of real-world situations and better prepare them for their future industrial careers," said Strata managing director Roger Kimber.
The Fluor Pilot Plant also gives industry experience to trainee chemical weapons inspectors from the Organisation for the Prohibition of Chemical Weapons, headquartered in The Hague, Netherlands, preparing for field work.
David Seaton, Fluor chairman and CEO, said that developing future chemical engineers is in the interests of both Fluor and the UK as a whole.
"Fluor continuously invests in developing future engineers, so we are particularly pleased to work with the University of Surrey to provide third-year students with industry experience by running a small-scale manufacturing plant as part of their practical experience module. Fluor has been operating in the UK for more than 60 years, and today our engineers are working on some of the largest and most challenging energy projects in the industry," he said.