Encourages next generation to tackle the challenges
"Let's start in the most sensible place: the future," said summit moderator David Rowan, Founding Editor of Wired Magazine, at his introduction to the Engineering in an unpredictable world summit on 17 September. There was a strong focus throughout the summit on the importance of encouraging the next generation, and the summit began with that generation addressing the audience. Gitanjali Rao, a 13-year old inventor, spoke of her journey through innovation, describing innovation as the process of building, failing, and learning. She spoke of several of her inventions, including a device to test for levels of lead in drinking water which is faster than conventional technologies. "Our world is facing problems that have never been faced before. It is getting increasingly difficult to address them in the normal, traditional ways that we did in the past. Innovation is needed now more than ever." She stressed the importance of mentorship, and encouraged the audience to seek a mentee and mentor them in the areas they are passionate about, adding that mentorship had been life-changing for her.
Rao was followed by Adrian Vincent Opinion, known as Ryan, a student at the Ateneo de Manila University in the Philippines and winner of the Trust for Sustainable Living Essay Competition. He began by asking the audience what comes to mind when they think of the word "prosperity". "I'm sure the main reason we're all here today is to ensure the continued prosperity of humanity and society. According to the Cambridge Dictionary, prosperity is the state of being successful and having a lot of money. Even our dictionaries define prosperity according to materialistic terms. But what if I told you that a materialistic view of prosperity is actually not sustainable?"
He continued by outlining that engineers have a key role to play in sustainability, particularly by addressing environmental degradation through creating a circular economy, and addressing non-inclusive development, where poorer communities are evicted to make way for large developments.
Around 300 students were among the delegates, including five teams each from the UK, US, and China who had been working on projects in the months beforehand. This included a team from North Carolina State University, US, which developed an affordable wastewater treatment process for coffee producers with byproducts of purified water and fertiliser. The various teams, along with other students, were then put into new, multi-disciplinary, multi-cultural groups for the Collaboration Lab, where they had a few days to develop a new innovative idea. The four finalist teams then presented their ideas and business models to the summit.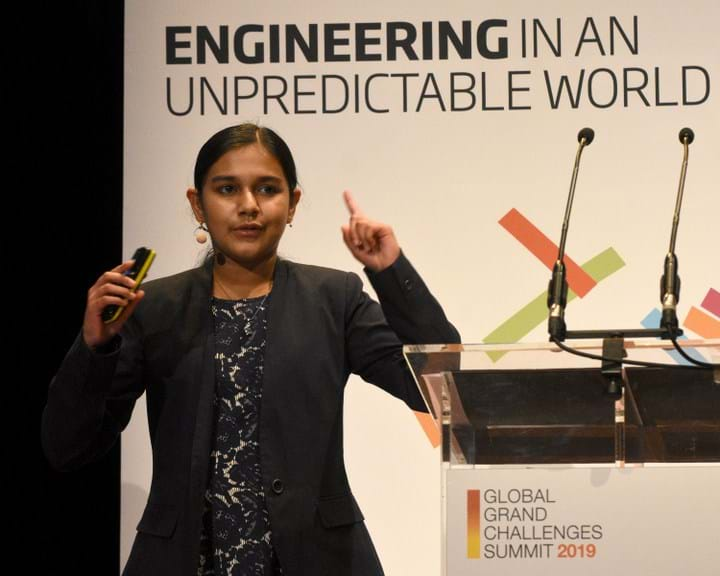 Rob Lacey