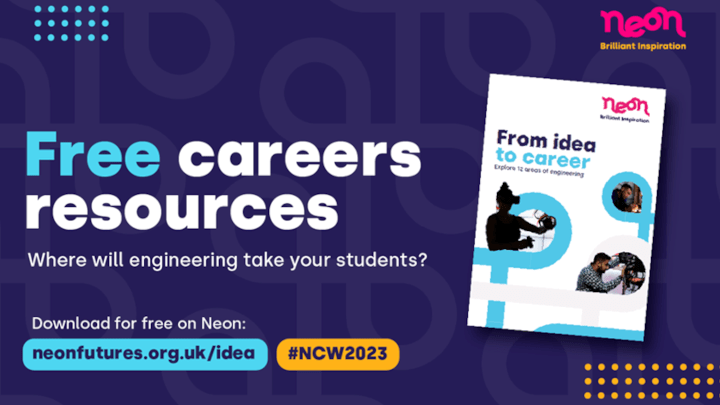 ENGINEERINGUK has launched a new careers resource designed to attract young people into STEM careers in conjunction with National Careers Week.
National Careers Week runs from 6–11 March and aims to make young people aware and excited about future career opportunities.
EngineeringUK's From idea to career is a free, downloadable booklet for young people, teachers, and careers advisors which showcases the breath of rewarding careers available in engineering and technology. It is designed to educate and excite young people about careers in 12 engineering disciplines including chemical, energy, and production and manufacture engineering. For each discipline, the booklet explains what an engineer in that field does, what relevant subjects to study, how to become one, and what jobs you might end up doing.
The booklet maintains a strong focus on environmental sustainability, showcasing how the 12 disciplines link to the UK's net zero targets around carbon emissions and highlighting how sustainability is a priority for every industry. EngineeringUK highlights that environmental sustainability may be of particular interest to young people.
The booklet features Yasmin Ali, who writes a series for The Chemical Engineer where she interviews chemical engineers about their career paths. It also links to IChemE's chemical engineering careers resource Whynotchemeng.
The resource was developed by EngineeringUK's Careers Working Group, which produces a variety of careers resources that can be downloaded via Neon, a website which collates engineering outreach opportunities and careers resources.
Eleanor Ayre, head of careers at EngineeringUK, said: "There are so many exciting, rewarding, and impactful careers that exist within engineering and technology, however young people often aren't always aware that they exist. We're delighted to have worked in partnership with the engineering community, including over 25 professional engineering institutions, to create a resource which showcases the breadth and scope of engineering-related careers."
She added that National Careers Week is an ideal time to inspire the next generation into engineering and technology and encouraged the sector to get involved in showcasing career opportunities.
In recognition of the growing importance of engineering-related careers, National Careers Week will include a dedicated engineering-focussed day on 9 March, which will be supported by EngineeringUK.
Last month, the organisation along with Tomorrow's Engineers launched All routes into engineering. Also available via Neon, the booklet helps young people make decisions about their next steps. It covers routes into the sector including T levels, apprenticeships, degree apprenticeships, and degrees.