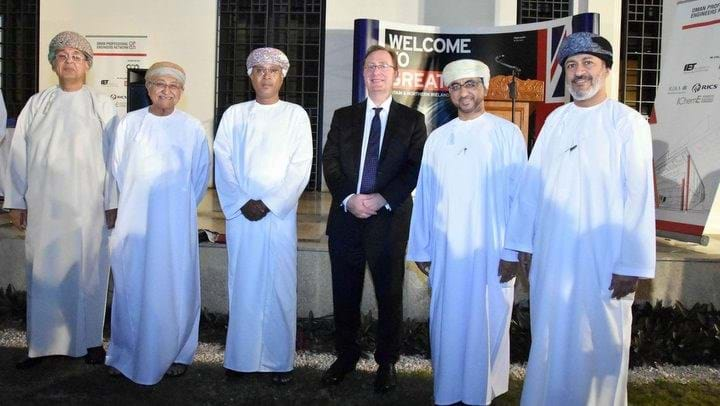 A NEW collaborative engineering network has been launched in Oman with the support of IChemE and six UK professional engineering institutions.
The Oman Professional Engineers Network (OPEN) is a network of engineers, architects, and quantity surveyors living in Oman that work with and are supported by UK engineering institutions  IChemE, IMechE, IET, ICE, IStructE, RIBA and RICS. OPEN was launched by British ambassador Hamish Cowell on 25 February at a British Embassy reception. OPEN pledged to advance engineering in the region, signing a memorandum of understanding with the Oman Society of Engineers.
IChemE's senior ambassador in Oman, Henry Mangkusasono, attended the launch. He said:
"OPEN gives professionals in Oman a new channel to network with experts in engineering and other disciplines. It is an invaluable opportunity for chemical engineers in Oman to come together with these membership bodies to learn new ways to improve knowledge and skills. By working together to continue and enhance professional development, and helping young professionals achieve recognised qualifications, we can help advance the discipline for the benefit of society in Oman."
The first round table meeting of the group was held on 26 February, and discussed plans to aid professional development in Oman, visit universities to advise on accreditation of study programmes, and encourage students to join professional institutions.
Matthew Bishop, founding member of OPEN and managing director of WorleyParsons Oman, said:
"A university degree is the starting point of a life-long journey of professional development. Continuing to update that knowledge, attain practical skills and share best practice through professional development and achieve professional qualifications is essential. We hope OPEN will make a significant contribution to the professional and personal lives of those individuals in engineering, architecture and quantity surveying in Oman."
The launch of OPEN coincides with the UK government's "The Year of Engineering" campaign for 2018. The campaign aims to increase understanding of engineering among 7-16 year olds, their parents, and teachers. It will also support the engineering profession in recruiting the next generation of engineers.