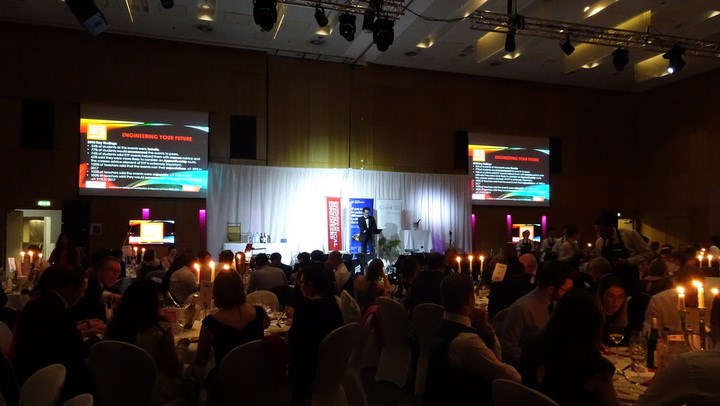 THE annual North West Engineering Excellence Awards Dinner, jointly hosted by IChemE and IMechE, was held in Manchester on 29 March.
The award ceremony was held to celebrate the achievements of engineers in the region and around 200 people attended the event.
Wadoud Hazineh, Chair of IChemE's North West Members Group, announced the nominees and winners of the University Chemical Engineering Design Project North West award and the Young Chemical Engineer North West award.
The University Chemical Engineering Design Project North West award, sponsored by HFL Consulting, was presented by Dariya Nurtazayeva of HFL Consulting, to Hannah Wilkes of the University of Huddersfield.
"In general, I'm absolutely delighted to have won the Design Project award," said Wilkes. "I'm very grateful to the University of Huddersfield and for the excellent teaching that has enabled me to develop these skills. Since the design project is one that draws on so many of the skills learnt whilst undertaking an undergraduate chemical engineering degree, I feel that the award is a credit to the university and the excellent chemical engineering programme that they offer."
Wilkes is currently doing a masters on ultrasound imaging of nanoparticles and the design project involved the design of an ethylene oxide reactor.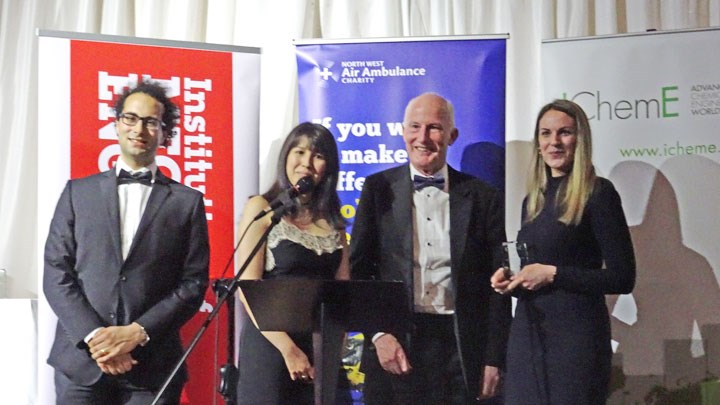 The other nominees for this award were Andrew Owens from the University of Lancaster and Jeremy Mantingh from the University of Manchester. Owens' project focussed on the extraction and distillation processes for the recovery of butanol from fermentation broth, and Mantingh's project involved sustainable production of olefins from methanol.
The Young Chemical Engineer North West award, sponsored by Projex Solutions, was presented by Ken Rivers, President of IChemE, to Nnamdi Nwaokocha, Senior Process Engineer at GHD.
"I'm really delighted and honoured to have been presented with the award," said Nwaokocha. "I feel very fortunate to have found a career in chemical engineering, and an employer in GHD who create a platform for engineers to learn and grown."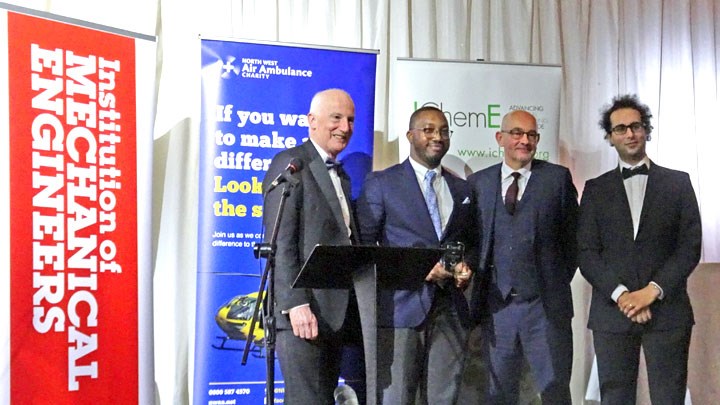 The award is presented to young engineers who have made an excellent contribution to the engineering community. Nwaokocha is Secretary of Warrington and Widnes IChemE branch and is also involved with GHD UK Young Professionals Committee.
The other nominee was Shantell Richards an Energy Engineer from Jacobs. Richards is a committee member of the Manchester IChemE branch and is Jacobs' Communications Champion, and a People's Champion.
The dinner was followed by a talk by Liz Greenwood, Fundraiser for the North West Air Ambulance, and music by Sweet Rhythm, an 18-piece big band.