World on track to exhaust remaining CO2 budget by 2028
ENERGY-RELATED CO2 emissions have peaked due to the pandemic, but the world is still on track to exhaust the remaining CO2 budget by 2028, according to DNV GL's 2020 Energy Transition Outlook.
The fourth annual outlook from DNV GL is a forecast of how the energy transition up to 2050 will take place, based on current trends. A key area of focus in the 2020 outlook is the influence of the Covid-19 pandemic.
Energy-related emissions have peaked
The pandemic has caused an 8% drop in energy demand this year. Recovery will be slow and behavioural shifts such as home working will have a lasting effect. The outlook calculates that energy demand will be 6–8% lower each year to 2050 compared to what it would have been if the pandemic hadn't happened. Global energy demand will peak in 2034 at only 4% higher than current levels and will then decline gradually.
The drop in energy demand will be partially due to increased electrification such as the switch to electric vehicles, and also increased energy efficiency. Electrification makes up less than 20% of the energy mix today, but will almost double by 2050.
Despite energy demand not peaking until 2034, emissions from energy will not continue to rise, partially due to the growing share of renewables in the energy mix. Emissions are expected to be 8% lower this year due to the pandemic, resulting in energy emissions likely having peaked in 2019. This brings peak energy emissions forward by five years compared to the previous forecast. There will be some lasting effects of the pandemic in sectors such as air travel, and this will result in 75bn t less  CO2 emitted by 2050. However, this drop in emissions is not significant enough to help meet the Paris Agreement goals, and a similar drop in emissions would need to occur every year to 2050 to meet the 1.5oC target.
"Clearly that is not sustainable," said Remi Eriksen, CEO of DNV GL, at the launch of the  Outlook. "Emissions reductions this year have come at enormous cost in lives and livelihoods. We can't empty the airliners twice, so how can we get further emissions cuts in the future? There really is an enormous challenge ahead to find ways to decarbonise that are economically sustainable and make a positive social impact."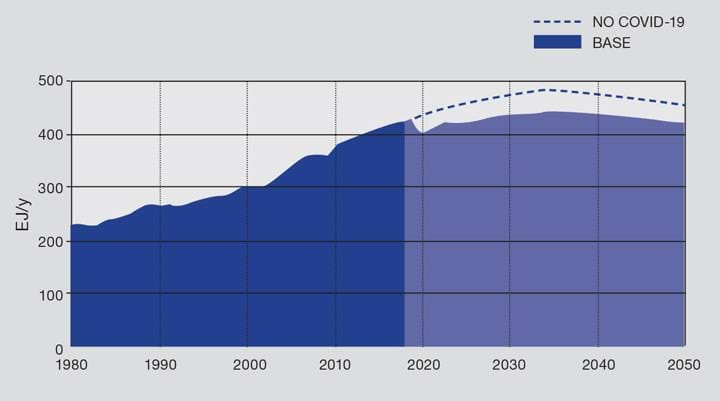 DNV GL. Historical data source: IEA WEB (2019)